This is a developing story.
An earthquake epicentered close to the Iran-Iraq border has killed more than 300 people and injured nearly 6,000, according to Iran's Islamic Republic News Agency (IRNA). The toll has risen rapidly over the course of Monday as rescue efforts continued.
The US Geological Survey said the 7.3-magnitude quake occurred shortly before 10pm local time on Sunday (Nov. 12), and put its epicenter in western Iran, some 32 km (20 miles) southwest of the Iraqi city of Halabjah.
Most of the deaths were reported from western Iran's Kermanshah province, the country's deputy health minister Qasem Jan Babaie told IRNA earlier. The Iranian city of Sarpol-e Zahab, was particularly hard hit, with nearly 240 deaths reported from there, according to The New York Times.
Authorities said eight people have been killed in Iraq, according to Agence France-Presse.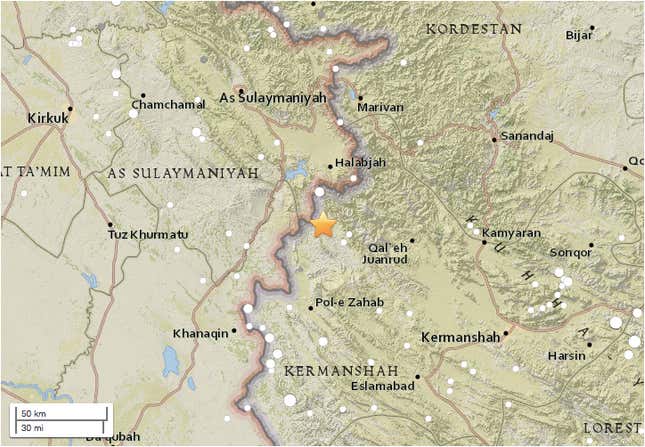 In 2003, the earthquake in Bam, Iran, killed over 25,000 people.