A fifth woman who has come forward to accuse Roy Moore of sexual impropriety says when she was 15, the Republican Senate candidate behaved inappropriately toward her.
By the time she was 16, she said, Moore sexually assaulted her.
Beverly Young Nelson, speaking at a news conference today (Nov. 13) with lawyer Gloria Allred in New York City, gave a detailed recollection of her interactions decades ago with Moore, who was then a local district attorney in Alabama.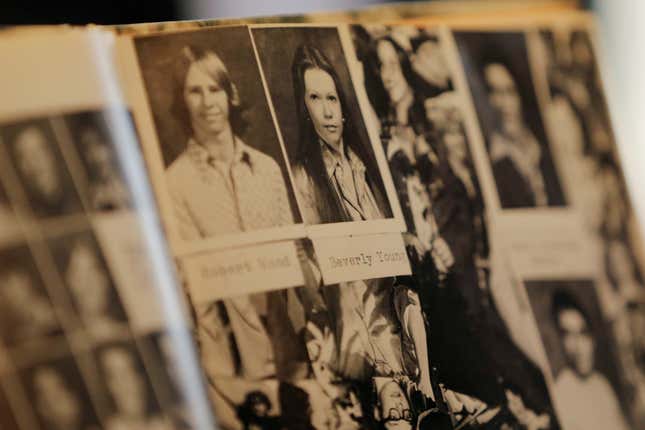 Nelson said she met Moore when she was 15 and began working after school as a waitress at the Old Hickory House in Gadsden, Alabama, where Moore was a regular customer in the late 1970s. Nelson said Moore was at the restaurant almost every night, and would frequently stay until closing time.
From the start, she said he would often pull the ends of her waist-length red hair and comment on her appearance. Nelson said she was attentive to Moore as a customer, but did nothing to encourage his flirtation, because she had a boyfriend and also was not interested in "a man twice my age."
"I did know that he was an important person, and I always treated him with respect," she said.
Nelson said she didn't "attach significance" to his behavior initially because as a "well-developed" teenager, she was already used to men "complimenting" her. One night when she was 16, Nelson said, Moore offered her a ride home, and she agreed to go with him because she trusted him, given his position in the community.
Rather than drive her home, however, Nelson said that Moore instead pulled into a secluded area behind the restaurant, groped her, and tried to force her head toward his crotch. In her telling:
Mr. Moore reached over and began groping me, him putting his hands on my breasts. I tried to open my car door to leave, but he reached over and he locked it so I could not get out. I tried fighting him off while yelling at him to stop. But instead of stopping he began squeezing my neck, attempting to force my head onto his crotch. I continued to struggle. I was determined that I was not going to allow him to force me to have sex with him. I was terrified. He was also trying to pull my shirt off. I thought that he was going to rape me. I was twisting and I was struggling and I was begging him to stop. I had tears running down my face. At some point, he gave up.
Nelson said she either fell out of the car, or was pushed. Before he drove away, Nelson said, Moore warned her to keep quiet about what had happened, employing a common tactic of sexual predators: "He told me, he said, 'You're just a child,' and he said, 'I am the District Attorney of Etowah County. And if you tell anyone about this, no one will ever believe you.'"
Nelson, who gave a tearful recollection of the events she said took place, explained that her decision to go public was not political. She said she and her husband supported Donald Trump for president. "This has nothing whatsoever to do with the Republicans or the Democrats," she said. "It has everything to do with Mr. Moore's sexual assault when I was a teenager."
Nelson also shared her high school yearbook, which Moore apparently signed, writing: "To a sweeter, more beautiful girl, I could not say…Love, Roy Moore D.A."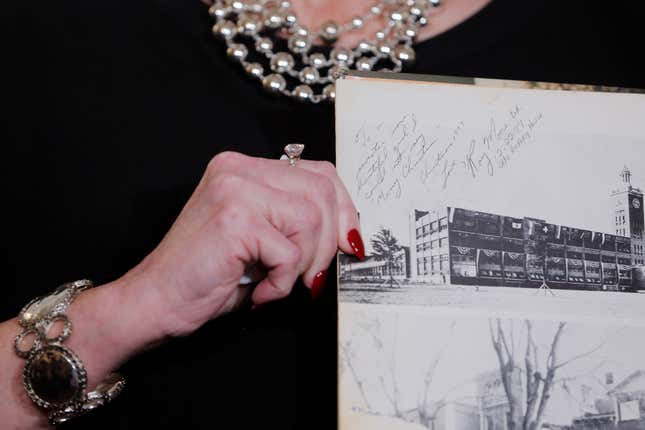 Moore's camp released a statement this afternoon defending the candidate against what it called a "witch hunt."
"We've said this before and we'll say it again: Judge Moore is an innocent man and has never had any sexual misconduct with anyone," the statement said.
Even before Nelson spoke to reporters, more Republicans have been calling for Moore to withdraw from the special-election race to replace US attorney general Jeff Sessions, including Senate majority leader Mitch McConnell, who said he believed the accusers and urged the candidate to step aside.
After Nelson's gave her account, Cory Gardner, chairman of the National Republican Senatorial Committee, said that if Moore refuses to withdraw and still wins the election, "the Senate should vote to expel him."
"I believe the individuals speaking out against Roy Moore spoke with courage and truth, proving he is unfit to serve in the United States Senate and he should not run for office," Gardner said in a statement.
Voters in Alabama could elect Moore on Dec. 12 despite the mounting allegations. A poll by Emerson College released this morning had him leading Democratic opponent Doug Jones by 10 points.
Here is the video of the full press conference:
---
Read next
: