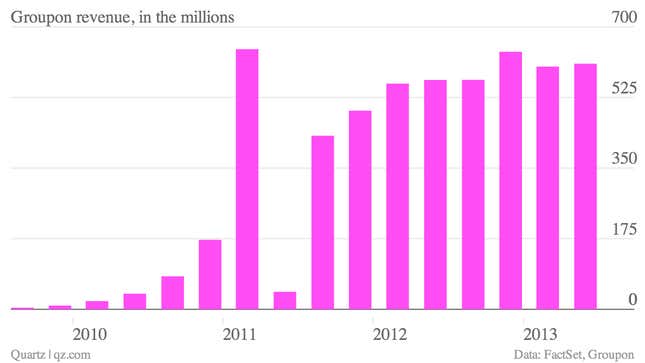 The numbers:  They were decent. Online coupons company Groupon reported earnings per share of $0.02, which met expectations, while revenue came in at $608.7 million, which slightly beat estimates. The company also announced a $300 million share buyback, which helped boost the shares by almost 14% in after market trading.
The takeaway: Groupon also announced it was appointing co-founder Eric Lefkofsky as the company's CEO, ending a search for a chief executive that began in late February after former CEO Andrew Mason was fired. Lefkofsky has been leading the company on an interim basis for the past few months, and Groupon has fared better on his watch. Its billings grew by 30% in the second quarter and almost 50% of its transactions in June in North America came from mobile devices. Another reason Lefkofsky is a good choice: He's one of the largest shareholders in the company and a domineering presence. With Lefkofsky in the wings, bringing in another person as Groupon's CEO might have cramped his or her freedom to lead. To solve that problem, Groupon just picked Lefkofsky.
What's interesting: For the third quarter, Groupon expected it would bring in between $585 million and $635 million in revenue, which is below expectations. The company blamed the summer travel season, which can hurt local businesses that are not in tourist destinations. Given that outlook, the investor reaction to Groupon's next earnings will be interesting. So far, shareholders seem to be happy with Lefkofsky, but we'll see how long that lasts.