Today, Steve Mnuchin and Louise Linton inspected some newly printed $1 bills with Mnuchin's signature on them. Just another day in the life of a US treasury secretary and his wife—unremarkable if not for the fact that the couple are already basically poster children for America's out-of-touch wealthy.
In photos of their tour of Washington, DC's Bureau of Engraving and Printing, Mnuchin grins at the camera and at his wife while holding huge sheets of uncut dollar bills. Beaming back is Linton, who was criticized earlier this year for boasting about luxury brands like Hermes, Valentino, and Tom Ford in a photo of another work outing with Mnuchin.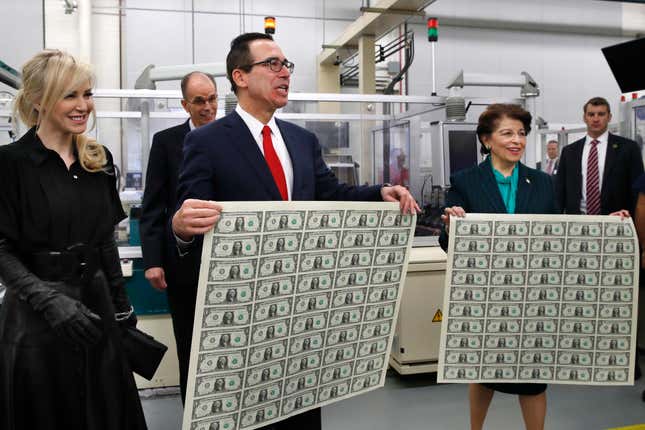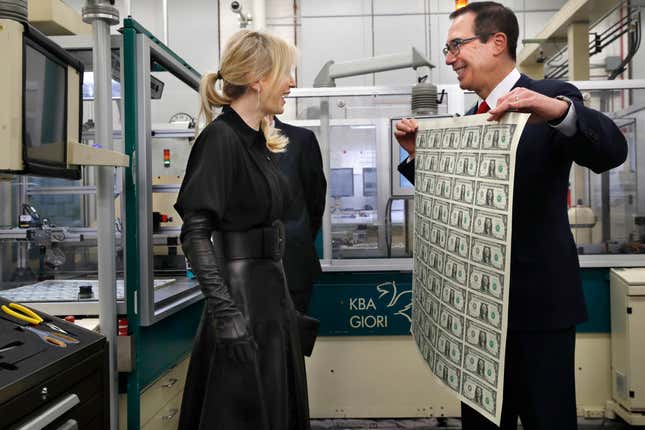 As tax reform moves through Congress, and corporations stand to profit from massive tax cuts, having the couple pose with literal sheets of money doesn't make great optics.
Please send us your captions for this image of the Mnuchin-Lintons and their new wallpaper.