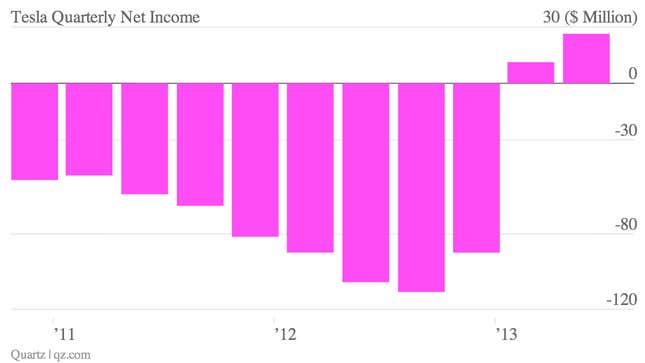 The numbers: Surprise surprise. Tesla defied analyst expectations of a loss, reporting an adjusted profit of $0.02 a share. Even including one-time items, the net loss narrowed to $30.5 million versus $105.6 million a year earlier, driven by strong sales of its flagship Model S sedan. Revenue surged to $405.1 million, while margins improved to 22%. The stock, which has more than tripled this year, rallied almost 15% in after-hours trading.
The takeaway: Model S deliveries totaled 5,150 in the second quarter, surpassing the company's target of 4,500. The Palo Alto-based company began selling Model S sedans to customers in Europe this week and is preparing to export to Asia later this year. In a letter to shareholders (pdf), CEO Elon Musk said the company was on track to deliver about 21,000 cars worldwide and achieve 25% gross margins for the year. He cautioned, however, that R&D expenses would increase significantly in Q3 as the company accelerated product development efforts on the Model X, and specializing the Model S for international markets.
What's interesting: Musk has outlined an ambitious expansion plan, which includes a $150 million capital expenditure in the second half of this year.  Also in the cards is a nationwide network of charging stations slated for 2015 and robotic battery-changing stations that could get cars charged up in minutes for about $50.