You've logged onto your favorite game, and you're ready to shoot and kill your enemies. Before being parachuted into the battleground, you see a banner hanging over your head that reads: "Never forget why you started, and you can accomplish your mission."
It's Chinese leader Xi Jinping's newest catchphrase, taken from his work report presented at a recently concluded Communist Party congress.
Survival-shooter game PlayerUnknown's Battlegrounds (PUBG) is the hottest videogame of the year, selling over 13 million copies globally, and Chinese companies are racing against one another to create their own copycats of it. Chief among them is a mobile version titled Wildness Action, which recently took the top spot in China's iOS store.
In the latest update of the game, released by gaming company NetEase this week, red banners with slogans reflecting China's "core socialist values" are emblazoned everywhere from buildings to bridges to containers. Another slogan, "Safeguard national security, safeguard world peace," can also be seen in the game.
It's a vivid example of the Chinese Communist Party's attempts to both expand and control the country's tech sector and internet. As Xi noted in his work report, "East, west, north, or south, the Party leads everything."
NetEase added the slogans as part of its overhaul of the game's narrative. Previously the game was about fighting to be the last survivor on a deserted island; now, it is presented as a military drill for soldiers who'll be recruited for China's peacekeeping operations. That said, the key elements of the play mode remain the same, and are still uncannily similar to that of PUBG.
The changes came after China's media watchdogs took aim at PUBG and similar survival games, saying they are unlikely to get a license to officially launch in China because they contain too much blood and gore. The violent, competitive spirit behind such games is "against our country's core socialist values… and bad for teenagers' physical and mental health," according to a notice from China's official video copyright association in October.
In response, NetEase published a notice (link in Chinese) saying that the company would comply with official instructions to modify its own survival games, ensuring that they convey core socialist values.
Chinese smartphone maker Xiaomi—which also operates a PUBG-esque mobile game titled Xiaomi Gunfight—released a statement this week (link in Chinese) saying that it would work with censors to modify the game. "Our main theme is to safeguard world peace and defend the motherland," the company said.
Xiaomi Gunfight didn't include slogans with socialist values in the game, but also changed the story to depict a military drill. In the latest version, players who are shot in head don't die; they simply get "eliminated" from the training.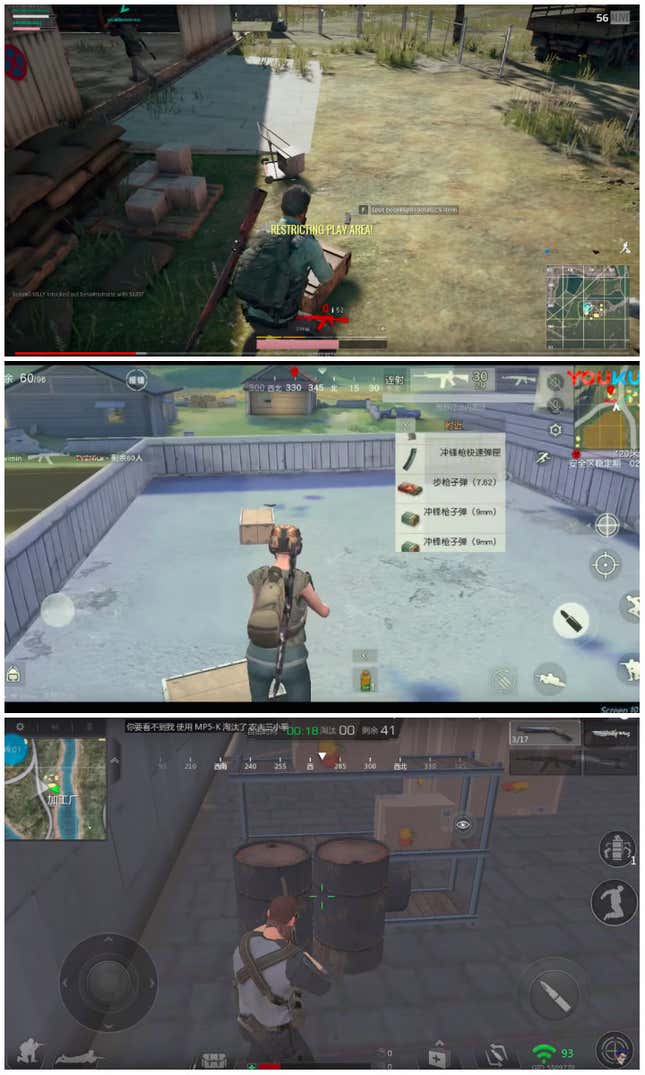 NetEase and Xiaomi didn't immediately reply to requests for comment. In response to the Chinese regulator's October notice, Chang Han Kim, CEO of PUGB Corp, a subsidiary of PUGB's South Korean developer, said: "We respect the decisions of all review boards, and we look forward to working with them to bring PUBG to as many fans as possible around the world."
Chinese social-media and gaming giant Tencent is also launching its PUBG-like mobile game this month—Glorious Mission: Mission Action has already garnered more than 4 million pre-registrations on its official site.