Ten years on from the global financial crisis, bankers are facing another dilemma destined to destroy tens of thousands more jobs. New technologies, particularly automation, artificial intelligence, and blockchain, are disrupting the world's banking centers.
The attack on banking jobs has been relentless. British banks are set to close almost 800 branches this year, after shutting nearly 600 in 2016. The CEO of Deutsche Bank, Germany's largest bank, warned that the company could afford to lose half of its staff to automation. Swiss bank Nordea announced at the end of last month that it was cutting a tenth of its staff, and its CEO said the banking industry could cope with half its current number of personnel. Consultancy Greenwich Associates estimates that 15% of the finance industry's jobs are at risk of being lost to AI-driven alternatives.
"Everything that can be automated, will be," says Huy Nguyen Trieu, a former managing director at Citi and lecturer in financial technology (fintech) at Oxford University. But widespread financial job losses aren't inevitable, he adds. Right now, he argues, the problem is that not enough people working in finance—particularly older people—have the right skills to take advantage of the technological changes that are transforming their industry. At the same time, bank CEOs are too quick to fire people.
With his wife, Tram Anh Nguyen (a former capital markets trader), Nguyen Trieu created the Centre for Finance, Technology and Entrepreneurship (CFTE), which provides online courses in fintech. The first course, "Around Fintech in 8 hours," costs £299 ($397) and is taught by people who have lectured in the UK, Hong Kong and Singapore. It is split into four chapters, each with four 30-minute modules within them. The sections cover everything from challenger banks and cloud computing to peer-to-peer lending and cryptocurriences, as well as explaining the key people and companies in the burgeoning fintech world (some of whom make appearances as part of the course). The second session begins on Dec. 11.
In addition to teaching, Nguyen Trieu is leading by example with the launch of an AI-enabled mobile savings app, which is in the early planning stages. Quartz spoke with him at his office in London about how urgently the finance industry needs to prepare for a machine-led future. The conversation has been edited and condensed.
Quartz: After working at big banks for more than a decade, what led you to try out teaching instead?
Nguyen Trieu: Banking was my day job but I also had a night job mentoring entrepreneurs and writing my blog Disruptive Finance. Two years ago, I met Peter Tufano, the Dean of Oxford's Saïd Business School, and I was talking about trying to hire people at Citibank but a lot of the students weren't properly prepared. Peter said, "why don't we do something about it?" I became a resident expert at Oxford and so we started to do fintech lectures.
In early 2016, it all became too much. I was telling entrepreneurs you have to focus on something but I was doing a lot of different things. The reality is I couldn't really tell everybody, "finance is being transformed, big things are happening," and still do the same thing I'd been doing for the past 10 years. I left and launched The Disruptive Group with the objective of building the next Google of finance.
What does that mean?
Ten years ago, no one would have expected Google to be one of the biggest players in advertising. I think the same is happening in finance. There will be companies creating new products and services, which we can't even imagine today. The Disruptive Group had three pillars: building businesses, advising entrepreneurs, and education. I thought education would take up just 10% of time. But when I was trying to build businesses, I found that one of the big issues I was facing was talent—people who could combine finance and technology. Everyone's struggling to find good talent.
Who should take this course?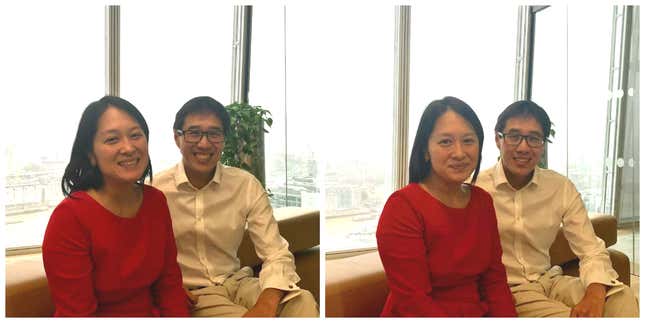 Initially, I thought my ex-colleagues in finance who are missing the boat and don't realize what's happening. But it's also for those who realize but don't know where to start. Fintech is going to impact their careers very quickly.
What was also especially important for my wife is the potential social impact. Fintech is having a huge impact, especially in emerging markets, where suddenly you can create companies that provide finance to people in a way you couldn't before. That's why we wanted to do something that was accessible for people beyond London.
But there's a big difference in fintech scenes across the world.
The mindset and the way people use technology and fintech is very different. If you're in Hong Kong, you have WeChat on your phone and you use it on a daily basis. Here, you don't use fintech on a daily basis. Some people might use Revolut but they still have a traditional bank account. Here, fintech is seen as innovations on top of existing financial services whereas in Hong Kong, fintech is finance.
So the course is for everyone, everywhere?
And not just for people in finance. When we did the beta test only 40% of the users were from the finance industry—the rest were from tech, or were entrepreneurs or consultants.
Did you find it surprising that finance take-up was so low?  
I talk to a lot of students and most of them still expect to enter the world of finance in the same way we entered it 10 or 20 years ago. They still think they will join banking, stay there for the next 15 years, and if they do well become managing directors. Only after a while do they realize it's not going to happen because those jobs might not exist at all.
So automation, AI, machine learning, and the like are all coming for your job if you don't retrain?
Banks are thinking today about cutting thousands of jobs and increasing their technology budgets. To me, it is is absurd for a CEO of a bank to think this way. What is the value of the service being provided to clients? They're still providing the same service as 10 or 20 years ago, but instead of having people you have machines. There is an opportunity for all of these people working in large banks to provide better and different services by using tools we have at our disposal today. We are trying to change this mindset, particularly in the western world, which is about just using automation to protect your bottom line.
How do you get execs at the top of finance firms to understand the impact of fintech? Do they need retraining, too?
We've had feedback from senior people who say it's interesting but they didn't say for themselves. They say it's interesting for their staff. We're starting to see a change in mindset but there's a lot of convincing to do.
What about policymakers and regulators? How many of them should take a course like yours?
All of them.
So, what finance jobs most at risk right now?
In general, anything that can be automated will be automated. But right now, compliance is at risk. Over the past few years there's been a lot of investment in compliance and KYC [know your customer], because regulators wanted the investment and it was a way for banks to demonstrate they were doing their part after the financial crisis. Now, that has totally changed. It's starting to cost a lot and regulators have said we want you to show that you are being efficient, not just hiring a lot of people.
What is going to be the most transformative force in the finance industry?
The big change for me doesn't even come from tech, it's enabled by tech. It's invisible finance. Finance is very boring. Everybody knows a pension fund is very important, but if you ask me how much I have in it, I have no idea. What we've seen over the past 20 or 30 years is that as the finance world has become digitalized, the level of customer service we have has gone down. My situation versus your situation is totally different but when we go to the HSBC site, we have the same kind of information.
What will make it happen is APIs. I used to be in the telecom industry and 10 or 15 years ago if I wanted to launch an app I could spend a week developing the app and then three months making the same app for Samsung, Ericsson, Nokia, etc. There was no standardization. What was very successful were the ringtones. When you had standardization of iPhones and Androids, you had millions of apps because it was simple. In the world of APIs it will be the same in finance. It's going to be very easy to create a financial service just for you.
Is that the thinking behind your launch of an AI-driven savings app? 
It's a project from The Disruptive Group, which is a business builder. We're currently working on the bank project, and CFTE was also launched out of it. So they are sister projects, although most of the focus is on CFTE at the moment, if only because our timing for the bank is longer.