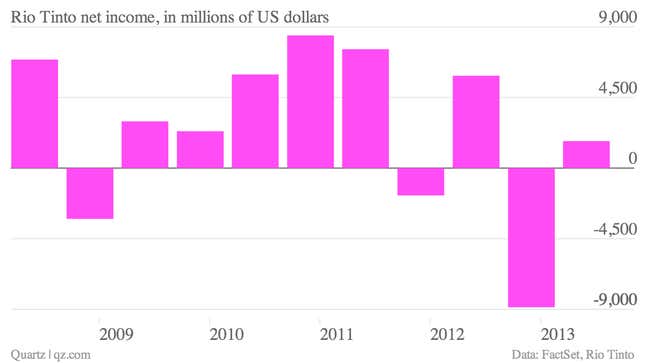 The numbers: Not good. Rio Tinto, the world's second-largest mining firm, reported a 71% drop in net income (pdf) for the first half of 2013 as against the same period last year. Underlying earnings, which eliminate recurring factors, fell by 18% year-on-year to $4.2 billion.
The takeaway: Falling commodity prices, largely due to falling demand in China, are continuing to hurt Rio Tinto and other mining companies. As a result, Rio Tinto has focused on cutting costs. It reduced capital expenses by 9% in the first half of the year, and it expects them to fall by another 20% for 2013. The future doesn't look (paywall) any better. Rio Tinto CEO Sam Walsh said, "the medium-term economic outlook remains volatile… Chinese economic growth has decelerated so far this year and is unlikely to recover significantly in the second half, but we do not expect a hard landing. This global economic volatility only serves to highlight the need to build a stronger and more resilient business."
What's interesting: Rio Tinto thought it could get some relief by selling assets, but that isn't going well either. The company said it couldn't find a buyer willing to pay a decent price for its aluminum assets in Australia and New Zealand. (A $14 billion write-down on its aluminum business was largely responsible for the $3 billion loss Rio reported for 2012.) In June, it decided to drop its sale of its $1.3 billion diamond business.