Never let a crisis go to waste, they say. India's dairy farmers are hoping to take advantage of the contamination scare in New Zealand to boost their exports to China and other emerging markets.
The Kiwi cooperative Fonterra, the world's biggest dairy exporter, said last week that a dirty pipe in one of its plants may have tainted whey protein with a bacteria that causes botulism, a potentially fatal food poisoning. The news prompted recalls in China, Vietnam, Sri Lanka, Thailand and most recently Singapore. New Zealand's government has expressed concern that the growing recalls would prompt China to extend the ban on milk powder to other dairy products from the country.
China is the biggest prize that's up for grabs. New Zealand accounted for 90% of China's $1.9 billion milk powder imports last year. In comparison, India, the world's largest milk-producing country, managed exports of just $230 million last year.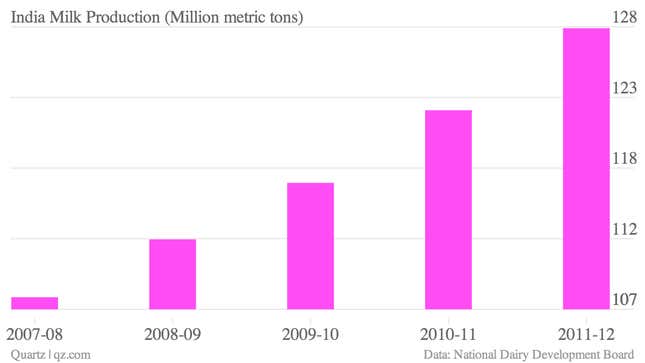 Part of the reason India exports so little milk is because the government keeps a lid on exports to ensure that domestic prices remain low. But with increased production—milk output is forecast to rise 5% to 133 million metric tons—slated to outstrip domestic demand, which is pegged at around 128 million metric tons, there is no reason to restrict exports.
The weakness in the rupee, which has fallen over 13% in the last six months, will also help make India's exports more competitive abroad.  The Gujarat Cooperative Milk Marketing Federation, India's top milk product exporter, expects skimmed milk product exports to jump by more than half to 100,000 metric tons this year. The managing director of the cooperative, RS Sodhi, told the Press Trust of India that the Fonterra crisis will be a "very good opportunity for India. Definitely our exports will rise this year."