It happened quietly, almost without notice. A 2015 blog post titled "Welcome Peter," which announced the investor's arrival as a part-time partner at accelerator Y Combinator (YC), gained an addendum: "Edit: Peter Thiel is no longer affiliated with Y Combinator."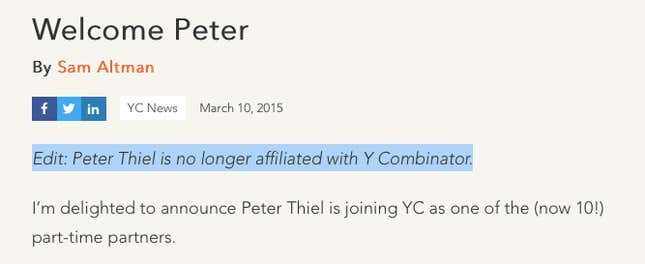 The change was first noted on Nov. 16 in a tweet from social networking company Gab (whose founder was expelled from Y Combinator). YC would not issue a comment on the record, although the accelerator appears to have recently ended its part-time partners program, through which Thiel was affiliated.
While details of the split between PayPal's billionaire founder and Silicon Valley's premier accelerator remains unclear, the unannounced change also highlights a divergence of views. Thiel is Silicon Valley's most outspoken Trump supporter, having donated to the president's campaign and spoken at the Republican National Convention last year. YC's principals, such as president Sam Altman, have made a point of calling out the threat posed by Trump.
Last October, Altman defended Thiel's spot as a part-time partner, despite widespread condemnation from founders and the wider Silicon Valley community. "Thiel is a high-profile supporter of Trump. I disagree with this. YC is not going to fire someone for supporting a major party nominee," he wrote on Twitter. "Cutting off opposing viewpoints leads to extremism and will not get us the country we want."
Yet Altman has called Trump's candidacy an "unprecedented threat" and has remained an outspoken critic of the president, as well as GOP policies seen as harmful to immigrants, minorities, and the poor. YC recently took on the American Civil Liberties Union as a nonprofit participant in its accelerator program, and Altman even personally backed Track Trump—the site  compares Trump's actions as president against his commitments—and personally recruited progressive candidates for the 2018 California elections.