Members of the US military serving in all of Japan have been temporarily banned from drinking alcohol both on and off base following a fatal accident in Okinawa.
A 61-year-old Japanese man in Okinawa was killed yesterday (Nov. 19) morning local time in Naha, Okinawa's biggest city, after being hit by a vehicle driven by a US marine stationed on the island. Police said the blood alcohol content of the marine was three times Japan's limit of 0.03%.
Following yesterday's incident, Okinawa military servicepeople are also restricted from activities off base and must stay on base.
The incident is likely to further inflame already tense relations between the local population and the large US military presence in Okinawa, which despite its small size hosts the majority of American forces in Japan, about 50,000 servicepeople in total. The fatal accident also comes as Okinawans are protesting the planned relocation of the US Marine Corps base at Futenma—which is in the midst of a densely populated area—to off the coast of Henoko, a fishing village. Residents say that extensive construction will destroy the ecosystem of the area, including its coral reefs.
Okinawans are also reeling from the crash of a US military Osprey helicopter near a school last month, though no one was hurt in the incident. US military helicopter crashes have happened from time to time in Okinawa, but fatalities involving local residents are infrequent (paywall). In 2004, a helicopter crashed onto a university campus in Okinawa, injuring its crew members.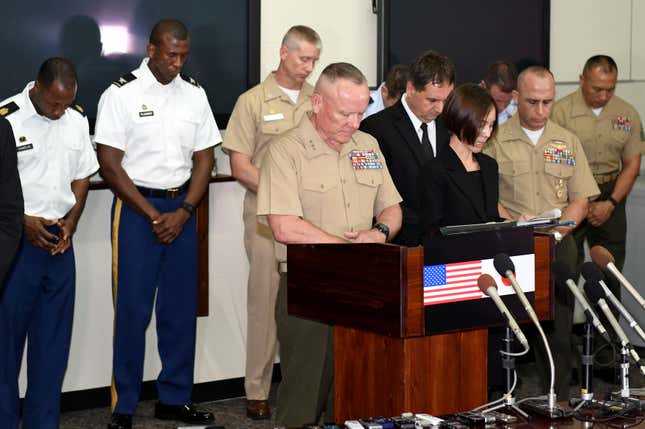 The last major protests against the US military presence in Okinawa took place in mid-2016 after a serviceman was sentenced two-and-a-half years of hard labor for raping a Japanese woman that year, while another was charged for the murder and rape of another Okinawan woman. As a result, US troops faced similar restrictions, including a drinking ban, in what was called a "period of unity and mourning." The ban was lifted after less than a month.