Clear the skies. By 2021, hawks and helicopters could be joined by 1.6 million industrious robo-compatriots: commercial drones. That's the global growth estimate of industry-dedicated sUAVs (small Unmanned Aerial Vehicles) projected by the Federal Aviation Administration. The figure forecasts a lucrative evolution of workflows in industries ranging from energy to architecture to construction.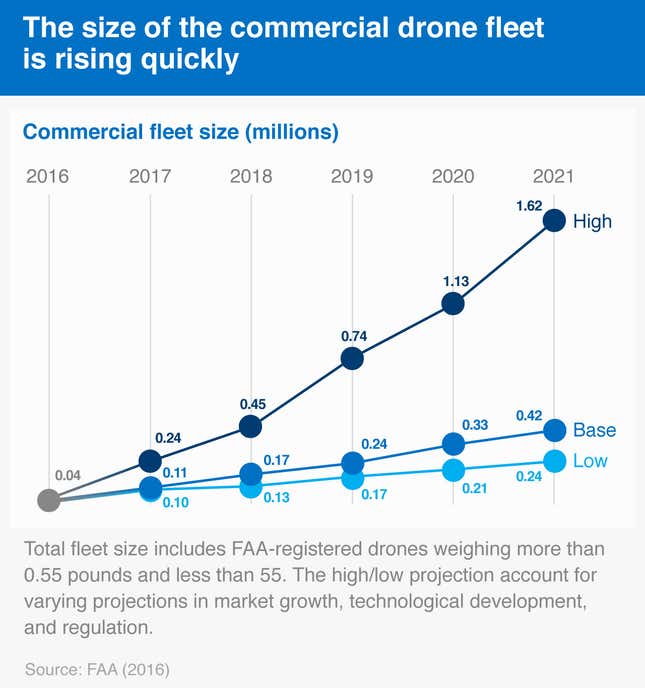 As drones evolve beyond their defense department origins, the commercial sector is seeing exponential growth. The FAA projects a three-fold increase in the number of commercial drones by 2020, for a global revenue yield of $6.6 billion, according to Gartner. And that's just the beginning. Goldman Sachs estimates the total addressable market for commercial drones at over $23 billion. PwC is even more bullish, venturing $127 billion.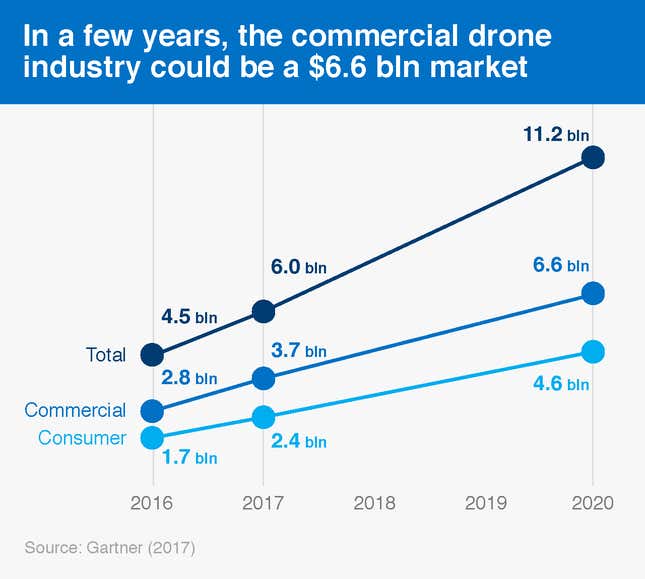 In spite of starry-eyed buzz around aerial pizza delivery, the prospect of everyday drone delivery remains speculative (truly a pie-in-the-sky), owing to a range of logistical obstacles. But for fixture industries such as energy, construction, mining, utilities, and agriculture, UAVs' capacity for fast, data-smart inspection is already proving a boon. This is particularly apparent when weighing drone inspection against conventional inspection strategies—such as abseiling or helicopter surveys—which are costly, dangerous, and often require that operations be shut down.
The industries standing to gain the most from drones are construction (addressing $11.2 billion of services/labor) and agriculture ($5.9 billion), according to Goldman Sachs. PwC sees a $45 billion opportunity across infrastructure, which includes oil/gas (refineries, offshore, pipelines), green energy, utilities, roads, and railways.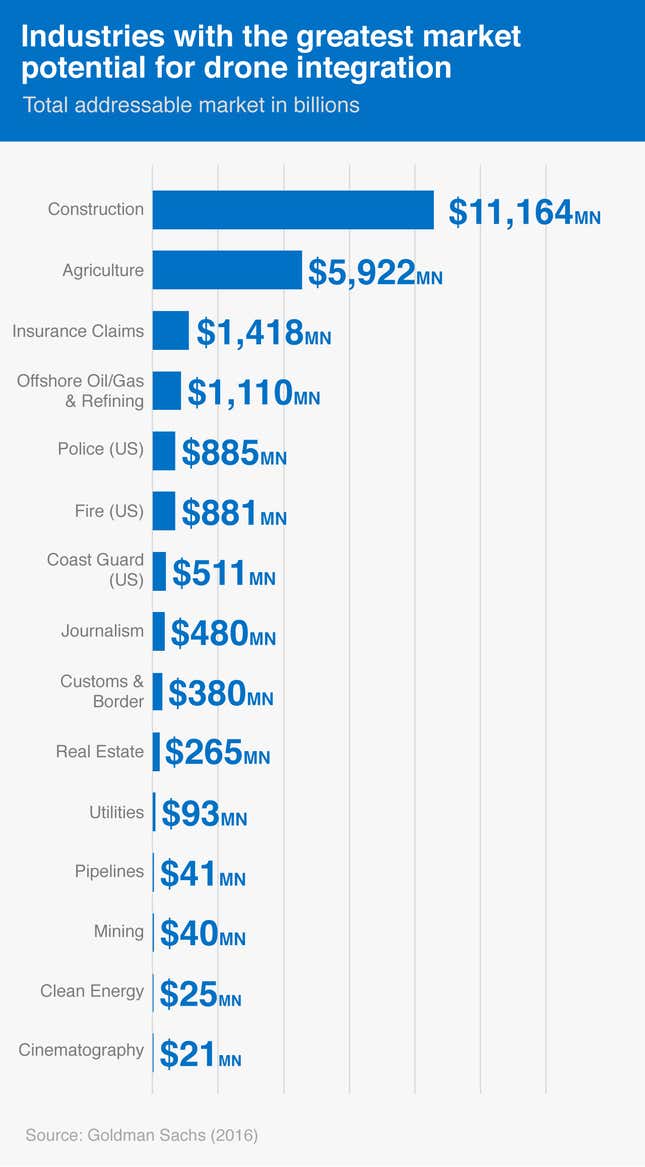 Commercial drones—such as the Intel® Falcon™ 8+ system—aren't your typical hobbyist toys. Engineered to handle high winds and electromagnetic interference, this hawk can fly in demanding environments like oil rigs and under bridges. With a high resolution camera and the ability to capture thermal imagery, they're able to securely collect data in unprecedented quantities.
We're already seeing such high-tech, high-powered drones surveilling rhino poachers in Malawi, delivering blood to Rwandan clinics, performing at the Super Bowl, and analyzing archaeological sites in Turkey. And while entertainment and media have been quickest to embrace commercial drones for their photography capabilities, industries like construction, energy, and agriculture are expected to drive commercial drone demand in the coming years.
All told, drones are becoming increasingly cost-effective for industrialists, who can now perform low-cost aerial inspections, benefit from high resolution sensors, more easily survey crops and worksites, and in many instances perform daily tasks with greater efficiency. For example, one wind energy firm is using non-autonomous drones to inspect 10 to 12 wind turbines daily, and believes autonomy will raise this to an estimated 15 to 20 turbines daily. Traditional methods capped out at 2 to 5 turbines daily.
Though many commercial drones have automated-flight capabilities, demand for certified drone pilots is still expected to increase. Between 2016 and 2021, the FAA estimates anywhere from a 12- to 80-fold increase in drone pilot certification—with a baseline projection of 442,000 pilots in 2021. To put that in perspective, there were 590,349 commercial airline pilots working in the US last year.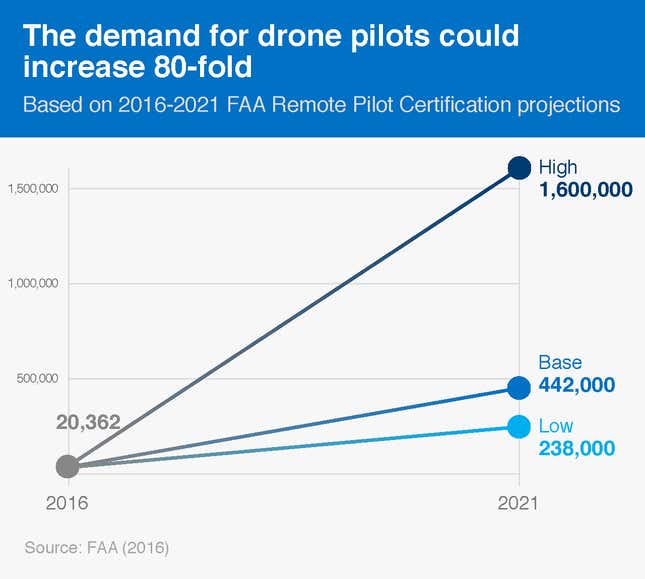 Newly created jobs like these could help to answer some of the concerns about workforce automation, as drones begin taking over some of the more dangerous responsibilities in industry. In the US, workplace injuries and illnesses cost employers almost $1 billion per week in workers' compensation costs alone, according to OSHA. The leading cause of fatal workplace injuries? Falls.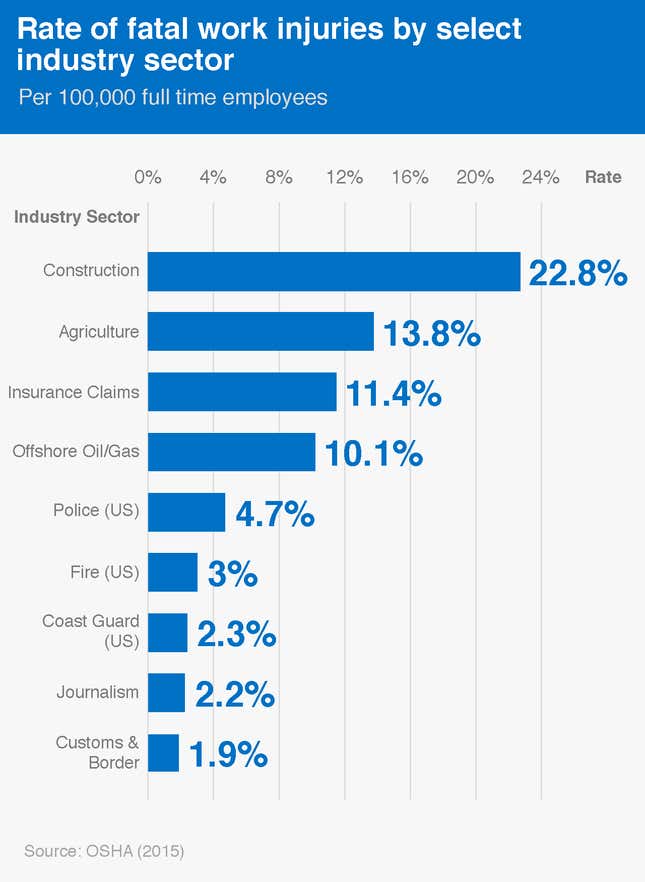 To fly a drone, rather than sending a person up precarious scaffolding or cellular towers, will likely reduce the rate of falls. Likewise, it's safer to have drones working in hazardous areas.
The value of commercial drones is further evident in the level of investment the industry is seeing. Since 2013, drone companies have raised $1.5 billion in funding across 302 deals, according to CB Insights. At 2017's current rate, deals are projected to hit a new record of 122 deals worth approximately $506 million in funding by year-end.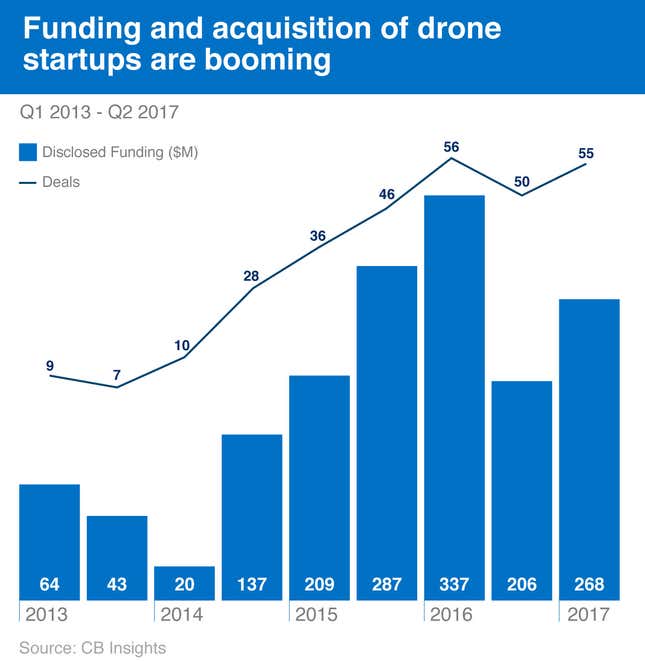 Intel is at the forefront of many of these deals, both funding and acquiring innovative drone startups, such as MAVinci and Ascending Technologies, which are industry leaders in commercial drone hardware platforms and flight planning software.
The booming valuation of commercial drone startups is a good sign of what's coming: a commercial drone revolution .
To find out more about commercial drones or to speak to a drone expert, visit www.intel.com/commericaldrones.
This piece was created on behalf of Intel by Quartz Creative and not by the Quartz editorial staff.