A North Korean made a life-threatening—but eventually successful—escape into South Korea on Nov. 13. The soldier regained consciousness in a hospital yesterday (Nov. 21).
The United Nations Command in South Korea yesterday (Nov. 21) released footage of the soldier's defection into South Korea from the truce village of Panmunjom in the Joint Security Area (JSA), where he was stationed. The soldier was shot at about 40 times during his escape, and hit at least five times. He was rushed to hospital in Suwon, South Korea, and was treated by a top trauma specialist.
The video shows the soldier driving a vehicle to the JSA, where he then gets out and runs across the Military Demarcation Line (MDL), the effective border between the North and the South. Four North Korean soldiers are shown pursuing the defector, including one who briefly crosses the MDL before returning to the North Korean side. A group of South Korean soldiers then crawl to retrieve the North Korean defector, who is lying wounded on the southern side of the JSA, from where he is eventually evacuated to hospital by helicopter.
The UN Command said that by crossing into and firing over the MDL, the North Korean soldiers violated the UN armistice agreement that halted the Korean War in 1953–the first time that North Korean troops had fired shots south of the JSA, according to South Korea's defense minister.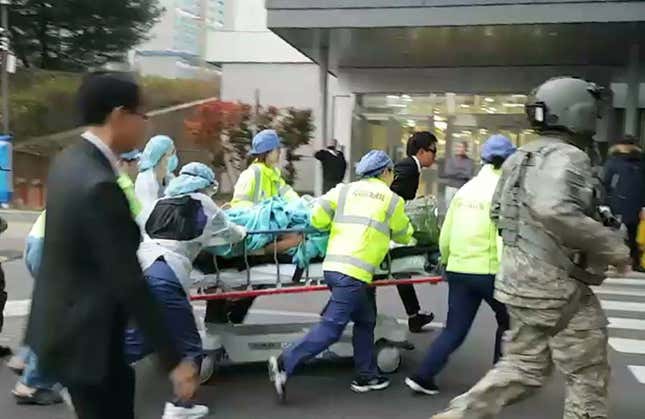 Upon regaining consciousness yesterday, the soldier requested to watch television, as proof that he was in South Korea. According to South Korean news agency Yonhap, doctors hung a South Korean flag in his room to help stabilize his mental condition. Yonhap reported that the soldier's identity has yet to be verified. At a briefing before the soldier woke up, his doctor said at a press conference that large parasitic worms were found in the soldier's body, pointing to the dire state of nutrition and hygiene in North Korea.
Hundreds of North Koreans defect each year, but doing so by crossing over the Demilitarized Zone that separates North and South Korea is extremely rare—the last time it happened was in 2007, and prior to that in 1998. After a surge in the number of people defecting in 2016, the number of defections in the January to August period this year has dropped compared to the same time last year, which the South Korean unification ministry attributed to tighter border controls between China and North Korea.