Tens of thousands of migrant workers are being forced out of their homes in Beijing under a citywide clean-up campaign in the aftermath of a fire that killed over a dozen people earlier this month.
The forced demolitions and evictions—the biggest the Chinese capital has ever seen in over a decade (paywall)—have raised concerns that the government no longer even tepidly welcomes people from poorer parts of the country dwell in its crowded mega cities. The term "low-end population" is now taking over China's internet in reference to the migrants who are believed to be targeted during the campaign.
It's a reminder that social inequality is festering in China's biggest cities, home to millions of both rich and poorer people.
What happened?
On Nov. 18, a fire broke out in a building in Beijing's southern Daxing suburb, killing 19 people including eight children. Most of the victims were migrants who had come to Beijing from other parts of the country. According to local authorities (link in Chinese), around 400 people lived in cramped conditions in the two-story structure, which also served as a workshop and refrigerated warehouse for local vendors. Nearly 20 people including managers and electricians of the building have been detained over the fire.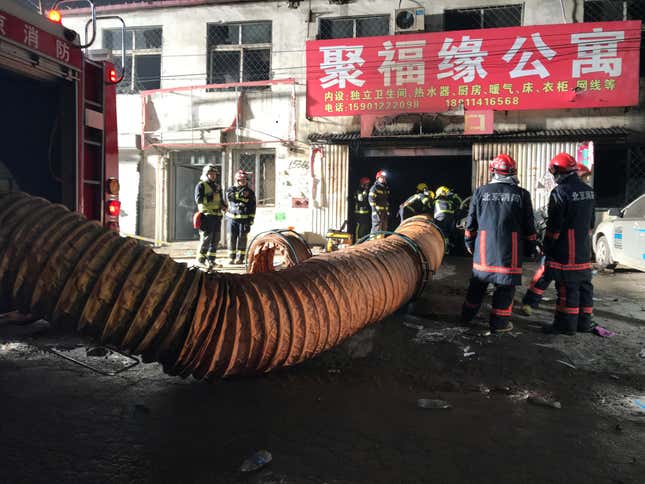 In response to the tragedy, the Beijing government last week kicked off  (link in Chinese) 40 days of citywide safety inspections, with a particular focus on warehouses, rental compounds, wholesale markets, and other constructions on the rural-urban fringes across Beijing. The campaign aims to demolish illegal dwellings on short notice, effectively leaving thousands of people living in Beijing's outskirts homeless overnight.
What was it like on the ground?
Migrant workers in Beijing usually live on the city's fringes where rents are cheaper and regulations are more loosely enforced on dividing apartments into smaller rooms and renting them separately. Now many of the community have found themselves in limbo, thanks to the latest official crackdown. While some are looking for places to set up new homes, others have decided to go back to their hometowns.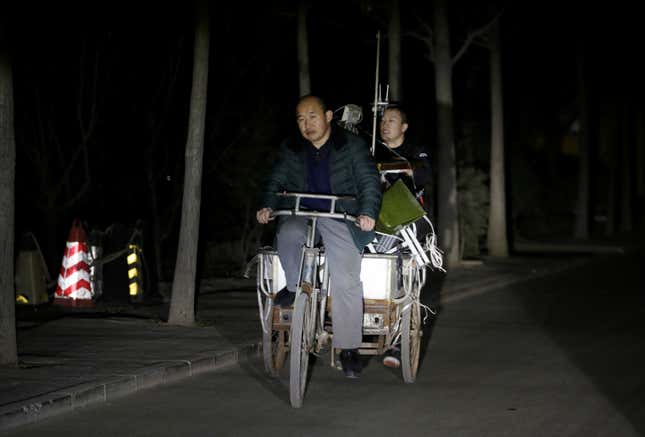 Journalists from Hong Kong-based Initium Media visited the Xinjian village (link in Chinese) where the building that caught fire was located, and found the area has already become a wasteland of demolished buildings and garbage. Authorities have reportedly cut water and electricity in the village.
What is the "low-end population"?
The Beijing government has dismissed the idea (link in Chinese) that the latest safety crackdown is targeting its "low-end population," after the internet overwhelmingly referred to the term, associated with harboring prejudice against migrants, to criticize the government for driving these workers out of the city.

The term "low-end population" seems to have surfaced in state media around 2010 (link in Chinese) to refer to those who work in low-end service jobs, including many that power China's digital economy giants, or manufacturing. More recently, local officials from Beijing's districts have picked up on the phrase in official documents (link in Chinese, cached version) about restrictions on migration under a bigger plan to cap Beijing's population at 23 million by 2020.

In China, people are supposed to receive their government benefits, such as health care and social security, according to the city where their hukou, or household registration, is recorded. Over past decades, the hukou system became slightly more flexible to encourage people to leave the land and take up jobs. But amid increasing traffic jams, limited water resources and notorious air pollution, Beijing has recently launched a series of campaigns (paywall) to force migrant workers out of the city, including attempts to tear down neighborhood shops and markets where they work, and prevent their children from entering local schools. Other big cities, such as Shanghai, have also tightened controls over migrants in order to rein in population growth and access to services.
What do Chinese say or do about the evictions?
Censors have ordered media outlets to follow the official line in reporting the Nov. 18 fire. Numerous social media posts about the forced evacuation have been deleted.

Nonprofits have swung into action to take in those who are forced out of their homes, but their voluntary services are mostly thwarted by police.
Chinese e-commerce giant JD.com has informed its migrant-worker couriers that the company will provide them with temporary housing and vehicles to move their belongings, if they have been displaced from their homes, according to a text message circulated online.
And more than 100 Chinese intellectuals have signed a petition letter urging the Beijing government to stop using safety checks as an excuse to evict migrant workers from the city, reported the South China Morning Post. The letter reads:
Beijing has been able to develop into what it is today not solely as a result of the hard work of Beijing citizens, but also because of the sacrifice and contribution of people from other parts of the country.

Therefore Beijing has an obligation to be grateful towards all Chinese citizens, instead of being forgetful and repaying the country people with arrogance, discrimination and humiliation—especially the bottom income group.