Snap announced today (Nov. 29), that it was rolling out a redesign for Snapchat that's intended to separate users' feeds between their friends from the brands that publish content on the app.
Founder and CEO Evan Spiegel published an op-ed in Axios this morning about the direction that social media has taken over the last few years, where content from brands and influencers has been given the same weight and placement as content from friends and loved ones in users' feeds. Spiegel also took to YouTube, for the second time in about two years, to explain how the new Snapchat works:
It's not a drastic overhaul in the design of the app, but more a structural change on how Snap views the content its users and publishing partners produce. Now, everything that's produced by a friend, whether it's a chat message, a snap sent just to one person, or a 24-hour public Story, will appear when a user swipes to the right from the main screen of the app.
Stories and videos published by brands will be housed on the right side of the app, which a user can access by swiping left from the main screen. This side of the app, which will still be called Discover, will also feature content from social media creators (think YouTubers, but vertical), and user-generated Stories curated by Snapchat editors.
The restructuring comes less than a month after Spiegel first hinted at the change on the company's quarterly earnings call on Nov. 7, partially in response to the company's slowing revenue and user growth.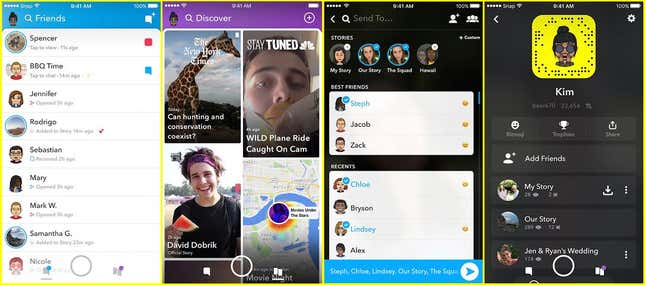 The new structure seems like a positive move. It's sort of solidifying the app, which turned down $3 billion from Facebook in 2013, as the "anti-Facebook." Facebook has muddled the line between content, news about friends, and pure internet garbage to the point where it's become nearly impossible for the average user to know what's important, or even true—on purpose.
Snapchat is reaffirming the value of staying connected to your friends, and enjoying news and entertainment content, but showing that the two activities should not be the same thing. Whether this restructuring will convince more people to start using Snapchat, however, is unclear.
It could be a boon to the company's bottom line, though: Separating out content and messaging, especially with Snapchat planning to open up Discover to more creators, could mean more places to show more ads to users. Snap recently introduced a new "Sponsored" advertising slot in the Discover section, which essentially acts like Snapchat story from an advertiser, and it's entirely possible that the company will use the redesign to push more ads between stories and messages between friends.
If Snap can't get more users, it can at least try to get more revenue out of the ones it already has, and come off looking like it has solved the fake-news problem in social media at the same time.