In the age of digital disruption, CVS Health is betting on old school brick-and-mortar.
The US drugstore chain operator is cementing its position on the ground by spending $69 billion to buy Aetna, one of the biggest health insurers in the country. The deal comes as the healthcare landscape is shifting. US health insurance policy is caught in the gears of Washington politics, and the threat of competition from the e-commerce giant Amazon is looming, following its acquisition of Whole Foods.
While CVS can't compete with Amazon on the internet, it owns nearly 10,000 drugstores across America. Those stores put it within a 5-mile proximity of 227 million people in the US—71% of the country's population. In a rough comparison, only 34% of US households are within 5 miles of a Amazon-owned Whole Foods stores.
Here's a state-by-state look:
To figure out the potential impact of the deal, Quartz used the locations of CVS pharmacy stores, along with population data from the US Census's 2015 American Community Survey, to calculate the number of people in proximity to the 9,680 CVS stores.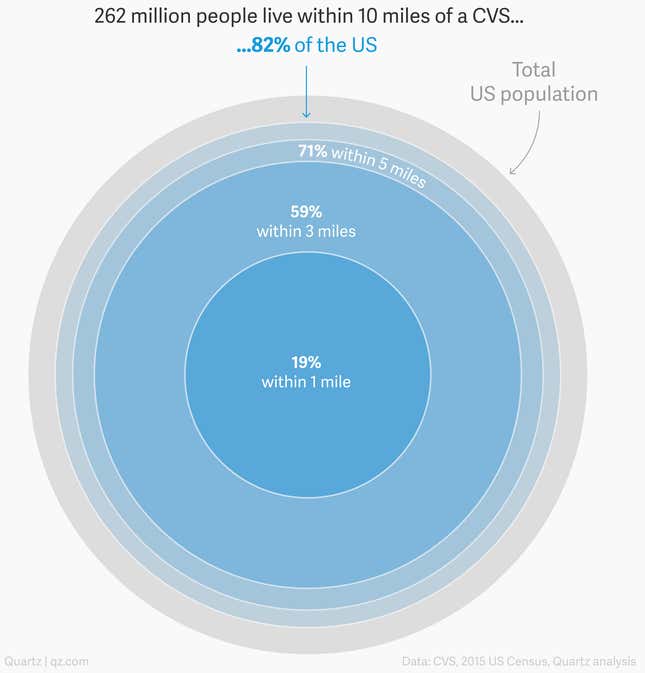 The CVS/Aetna deal has the potential to change the way managed care works: CVS may be able to offer primary care services directly from its drugstores and clinics, dispense prescriptions, and handle reimbursements from its own insurance provider. The company is creating something it—and others well-versed in management jargon—call "synergies." For consumers, that could translate to a one-stop health care shop. Assuming all goes as planned, that synergy will be as close as your local CVS.