India's Congress-party-led government, battling a falling currency and record current-account deficit, has a new headache: Soaring onion prices. Heavy monsoon rains destroyed crops, sending retail prices doubling in two weeks, and wholesale rates soaring 40% in three days to never-before-seen levels. The surge is adding considerable strain to household budgets already thrown out of whack by high inflation.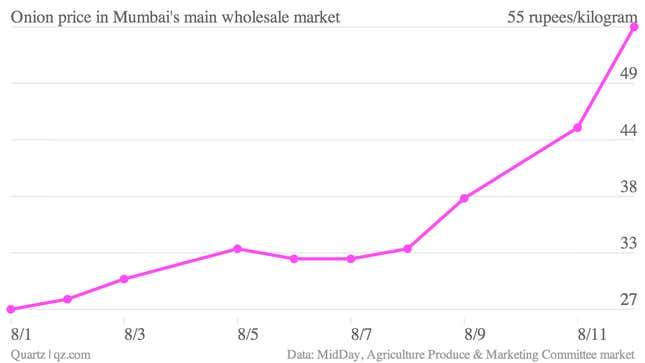 The humble staple has played an outsized role in Indian politics. In 1980, the Congress party won the national elections after turning the high price of onions into a key campaign issue. In 1998, the rival Bharatiya Janata party lost control of the capital, New Delhi, when a shortage of onions sent prices soaring.
Ironically, both the ruling and opposition parties have blamed hoarders for exacerbating the supply shortages. Congress leaders claimed hoarders are making a "deliberate attempt" to malign the government, while the BJP accused the government of playing into the "hand of hoarders who are creating artificial shortage." The agriculture minister of the western state of Maharashtra has threatened to "raid traders who are hoarding onions."
But Ashok Gulati, chairman of the Commission for Agricultural Costs and Prices, an agency that advises the government on farm produce prices, says traders are being scapegoated. "When prices go up, you start beating on the private sector as hoarders. They are just doing their business" he says. Gulati believes the only way the government can stabilize prices of essential food items is to encourage the food processing industry, which would provide substitutes like dehydrated onions in times of shortage. India's food processing industry currently handles less than 10% of the total agricultural output.
Here's a sampling of the outrage against the onion price surge and some novel ways Indians are expressing their protest.