In 2012, venture capitalist Robin Chan called up a few of his richest friends and—unbeknownst to anyone outside that group, until now—secured commitments of $1 billion to buy BlackBerry and turn the company around by killing its hardware division. Unfortunately, he was $5 billion short, so BlackBerry limped along for another year, and now has little choice but to sell.
On Monday, after BlackBerry's board announced the company was entertaining offers, Chan was inspired to release the details of his plan in the form of a slide deck. It's radical. The two most important details are that Chan and his colleagues would have ditched BlackBerry's existing software and moved the company over to a special, enterprise-friendly version of Android, Google's mobile OS. This would allow the company to sell off or shut down its hardware division and concentrate solely on its lucrative service contracts with governments and corporations.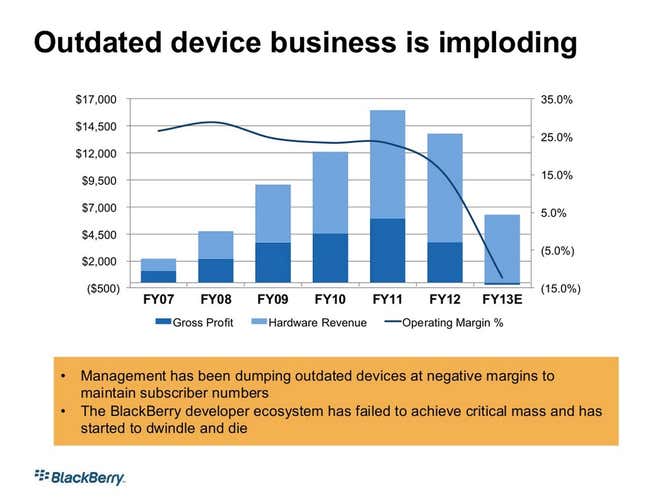 This is exactly what IBM did when it sold off its PC division and concentrated instead on solving its customers' problems by selling them services and expertise, whatever underlying hardware and software might be required.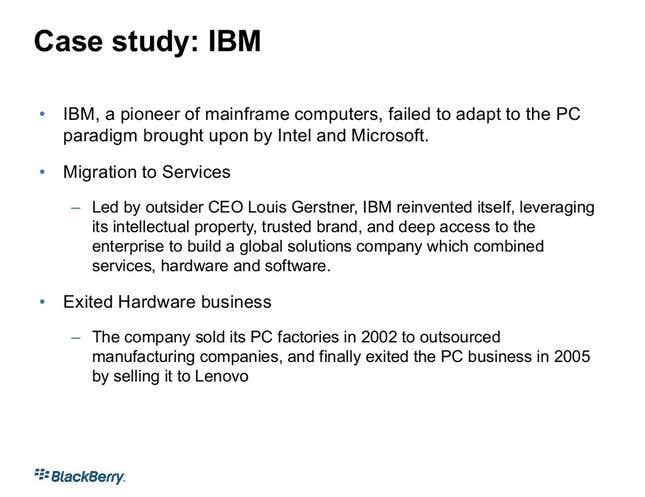 Would it have worked for BlackBerry? Kevin Tofel of GigaOm thinks so, and for the same reasons it worked for IBM. Services are a high-margin business, hardware, not so much.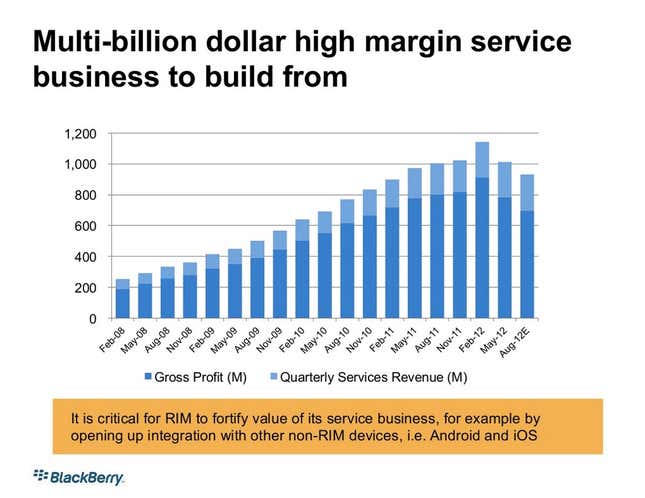 Will BlackBerry move in this direction now that it's for sale? It seems unlikely Chan would have released his plan if he didn't want to move prospective buyers in that direction. Quartz has reached out to him for comment. Possibilities for BlackBerry's future range from a sale to Chinese mobile handset manufacturers to going private and continuing with business as usual.