Growing up in Shafter, a small city in California's Central Valley, Faith Florez would pass farmworkers stooped over in the fields each morning on the way to school. "There were strawberries, carrots, almonds, cotton—everything you could imagine," she says. The world of the farmworker was a familiar one. Florez's great-grandparents had arrived in Shafter from Mexico and, with money earned by harvesting crops, built their own house from the ground up.
Not that it had been easy, of course. "I heard a lot of horror stories from family members about the brutal conditions," says Florez, now a high school senior. "They would work 10 hours or more a day, through 100-degree heat, sometimes without breaks, water, or shade." When she was 10, Florez's family moved from Shafter to La Cañada Flintridge, a city 15 miles north of Los Angeles. Here she entered a very different world: instead of Latino and working-class, La Cañada was mostly white and affluent. But it was Shafter that left its mark. "Growing up there instilled a lot of the values that I have, of hard work, dedication, and loyalty," she tells me.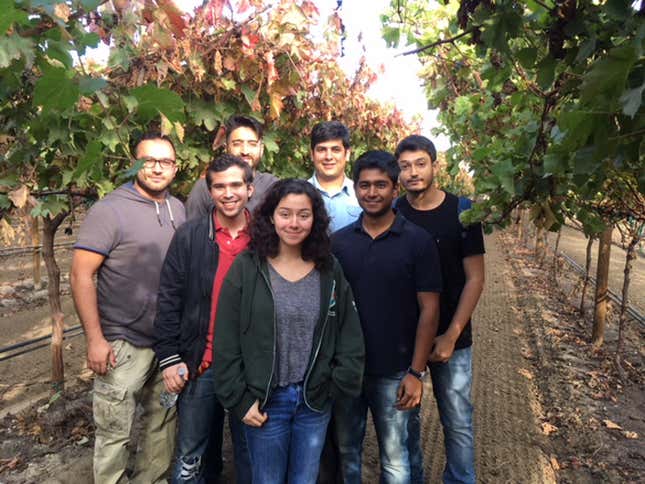 In 2016, Florez, then a high school sophomore, learned that University of Southern California's (USC) Viterbi School of Engineering was soliciting proposals for coding projects that addressed social justice issues. She flashed back to Shafter, and to those working in the fields under the scorching California sun. Florez knew that farmworkers routinely suffered heat illnesses, and that many didn't know their rights. And she certainly knew what their rights were: Her father, Dean Florez, was a former state Senator who had helped write California's heat regulations after four farmworkers died in the fields during the summer of 2005.
"I wanted to start a project that was based on solving that specific problem," she says. Her proposal, which USC accepted, sought to create a mobile application that would alert farmworkers to heat dangers and educate them about their rights. Over the past two years, Florez and a team of graduate students have met with growers, farmworkers, and state regulators as they designed their new project, called CalorApp. (Calor means "heat" in Spanish.)
The key feature of CalorApp is a notification system that alerts farmworkers when the temperature reaches 95 degrees. That's when, under California's first-of-its-kind heat illness protection law, farmers must give their employees 10-minute rest periods every two hours in a shaded area with access to cold water. The law is straightforward, but it's not easy to enforce. The fields of California are vast, and inspectors are only able to visit a small number of crews on any given day. (In Kern County, where Shafter is located, agricultural fields cover more land than New York City, Los Angeles, and San Francisco combined.)
CalorApp aims to give farmworkers the immediate information they need to serve as their own inspectors, alerting each other—and their employees—when conditions become potentially dangerous.
"Many times, heat stress happens because farmworkers don't take breaks," says Florez. "They've been working the job for many years, and their family before them for many years, so they have a sense of reduced risk associated with the job. They think they know what they're doing. Often times they do—but sometimes they don't."
Those risks will increase in the future, as temperatures rise with climate change. And despite California's forward-thinking approach, there is still much more work to do. Last year, according to California's Division of Occupational Safety and Health (Cal/OSHA), heat killed one farmworker and made another 63 sick. (The heat illness number is almost certainly an undercount, as many farmworkers likely don't seek medical treatment.)
"Too many California farmworkers have died from extreme heat," said Arturo Rodriguez, president of the United Farm Workers, the union that helped push through California's original heat regulations in 2005, which were strengthened in 2015. He says the app will "supply workers with an important tool with which to protect themselves."
Along with temperature alerts, CalorApp will allow farmworkers to quickly report unsafe work practices and be connected directly to Cal/OSHA, whose inspectors can be dispatched to the fields. It will also host a range of bilingual educational content, from videos on labor rights to tips about how much water they should consume each hour.
The next big step will come this summer, when they launch a pilot project of CalorApp with farmworkers at two companies, Fabbri Farms in Bakersfield and the Grapery in Shafter. During the pilot, 50 employees on grape and watermelon harvesting crews will use CalorApp and provide feedback to Florez and the graduate students. They plan to use the period to work out any kinks, and hope that, in the coming years, the app will be adopted on farms across the state.
"Most of the time, when I bring up the application to teachers of mine, they say, 'Wow, an application for farmworkers? Is that feasible? How much is that going to cost?'" Florez laughs. "But you go to Silver Lake, [a trendy Los Angeles neighborhood], and the waitresses have iPads with fancy seating charts and systems to make and cancel reservations. Farmworkers work in way more intense conditions than waitresses, and they deserve tech at their jobs, too."
This article originally appeared on Civil Eats.