"We have attacked, fired upon and dropped depth charges on a submarine operating in defensive sea areas."
It was 6:45 am on Sunday, Dec. 7, 1941, a date destined to live in infamy, when the commander of the USS Ward radioed that message to report that his ship off the island of Oahu, Hawaii had just fired what would be logged as the first American shots of World War II. It would be an hour before Japanese forces began their attack on the Pacific Fleet at the US naval base in Pearl Harbor.
Until last week, no one had seen the USS Ward since 1944—three years to the day of firing the first US shot of the war, when it was destroyed by kamikaze fighters.
Searching the deep
Now, in time for the 76th anniversary of the attack on Pearl Harbor tomorrow, a team aboard the Research Vessel Petrel (a 250-ft exploration ship owned by Microsoft co-founder and philanthropist Paul Allen) has discovered the deep-sea wreckage of the Ward.
Crews made the discovery on Nov. 30 after several weeks in the Philippines looking for the Ward as well as five Japanese ships sunk in the Battle of Surigao Straight in 1944. The team discovered the Ward wreckage near the island of Leyte in Ormoc Bay.
The Petrel's technology makes it one of the few ships capable of exploration at 6,000 meters (over 3.5 miles deep). The team used side-scan sonar technology, underwater cameras, and an "extensive suite" of computers and monitors, to identify the Ward. To ensure the location was accurate, researchers cross-referenced schematics and historical drawings.
Researchers also sent an underwater drone 650 ft below the surface to document and explore the wreckage:
A piece of history
The Ward was patrolling the entrance to Pearl Harbor when an officer on lookout saw the periscope of an 80-foot Japanese midget submarine tailing the USS Antares, a cargo ship, into the harbor. Three minutes after spotting the sub, the Ward was able to fire on and sink it, a full hour before Japanese bombers descended on Oahu and destroyed the US Pacific Fleet.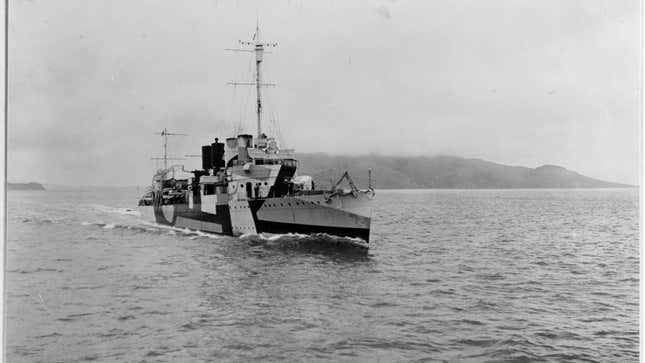 Though the US didn't officially declare war until the next day, the Ward is considered to have fired the first American shots fired in WWII.
"The USS Ward found herself in the crucible of American history at the intersection of a peacetime Navy and war footing," Admiral Scott Swift, Pacific Fleet commander, said in a statement released by expedition organizers. "She took decisive, effective and unflinching action despite the uncertain waters. Now 76 years on, her example informs our naval posture."