It's no surprise that few people love their pay TV providers.
In May, Variety reported that the American Consumer Satisfaction Index ranked cable television providers last in all consumer categories. Pent up frustration with cable and satellite TV providers fuels a steady buzz that Amazon, Apple, Google and Netflix will disrupt TV. These new entrants promise to offer variability in pricing and greater choice fueling notions that Americans have officially cut their proverbial cords.
But true disruption is wishful thinking. Data from the PricewaterhouseCooper's (PwC) global entertainment and media outlook for 2013-2017 doesn't support a disruptive market scenario. Incumbent cable and satellite pay TV providers and over-the-top (OTT) challengers such as Amazon and Netflix are both forecasted to grow.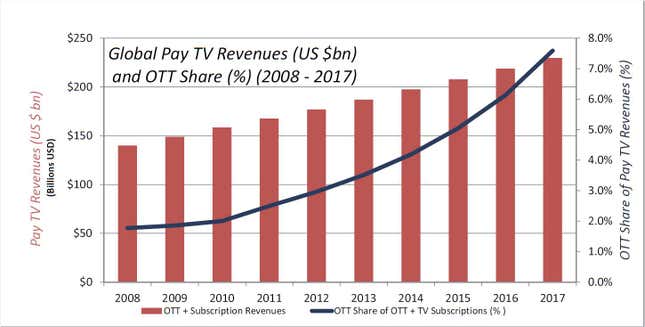 OTT TV has only reinvented a single part of the TV business, streaming archival movie and television content over the internet replacing physical DVDs and time-shifted DVR replay of TV programs. To displace incumbents, OTT TV has to continue to change TV business models in ways that appeal to consumers and attract content owners.
Only recently, OTT TV challengers Netflix and Amazon have started to deliver their own exclusive, originally-produced content. Netflix committed to finance six new series and Amazon, five. Compared to the average consumer's appetite for TV content, Netflix and Amazon's original content is merely an appetizer.
In its June 2013 Cross Platform Report, Nielsen reported that the average consumer watched over 157 hours of traditional television per month. Nielsen also reported that the average consumer watched only 3.8 minutes per day of OTT TV or about 2 hours per month. If all 11 original TV series from Amazon and Netflix appealed to the average consumer and he or she watched one hour from each series per week, original OTT television content would amount to 44 hours in an average month. The consumer would be left with 111 hours per month of unsatisfied television viewing appetite without cable or satellite pay TV.  OTT TV challengers don't have the economic scale to create or acquire enough content to replace incumbent pay television providers.
Consumers are not only dependent upon pay television providers for volume of content but also variety. Pay television providers are unchallenged by OTT TV in three live TV categories: news, sports, and reality TV. Very few households would choose to drop live TV. This explains why Nielsen's ZeroTV households, or cord cutters that are not pay TV, subscribers amount to less than 5% of all households.
When there is an incentive to move to the OTT TV, content owners will move. The NFL would find little motivation to shift to OTT TV from ABC, NBC, Fox and ESPN that pay $20 billion per season for broadcast rights. Setting aside for the moment the inability of OTT TV to monetize the NFL with advertising, OTT TV also lacks scale with total worldwide revenues of only $5.2 billion in 2012.
Moving TV news to the OTT TV might be the easiest way to diversify. Amazon CEO Jeff Bezos could be planning to add news content to Amazon's OTT TV with his recent purchase of the Washington Post. A free Amazon OTT TV news program based on the respected Washington Post brand could be monetized by promoting Amazon's TV and other consumer products.
With much lower production costs compared to scripted television, a reality TV show or two is within the budget of OTT TV. But these primetime live TV programs are monetized with advertising, which OTT TV does not really have yet.
About half of the cost of TV content is paid by consumer subscriptions, approximately $177 billion in 2012 as reported by PwC. The other half of TV content is paid for by advertisers, $157 billion also reported by PwC. PwC predicts that only 4% of television advertising will pay for OTT TV content in 2017.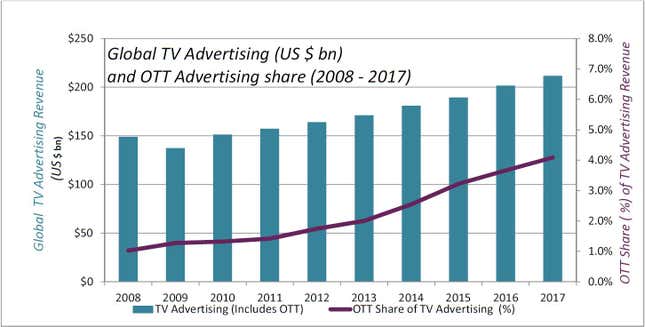 Given the accuracy and rich analytics of web advertising, it's reasonable to assume that the potential for a similar digital accountability would drive television advertisers to OTT TV. But the infrastructure for OTT TV advertising is still evolving. According to Ashley Swartz CEO of advertising technology collective, Furious-Minds:
"Television advertising would be improved with internet-like metrics, but the systems to operate digital television at scale have not yet been built."
The larger share of advertiser paid content will remain with cable and satellite pay TV providers until advertisers can move their ad purchases to OTT TV and get the same or better results than pay TV.
Amazon might be on the right track to effect disruption. It is redefining the way original content is sold from a direct business to consumer (B2C) model compared to studios that produce for networks that bundle and promote content.
It will take a long time for Amazon, Netflix and other OTT TV providers to create or acquire enough diversified content to sate the average consumer's 157-hour-per-month appetite. If Amazon can prove that direct to consumer marketing of its original content produces a better return, it might enlist studios and other content owners to distribute through Amazon in much the same way that authors choose to self publish with Amazon.