More than 80 women in the film industry have now accused Harvey Weinstein of sexual misconduct ranging from unwanted advances to rape. The disgraced movie mogul's alleged behavior is reportedly enabled by those around him: Associates set up private meetings between Weinstein and young actresses, who end up alone with him in hotel rooms or bars.
A new investigation purports to show that pattern of abuse in Asia as well. HK01, an online publication in Hong Kong, published a series of reports today (Dec. 13) detailing accounts from seven women (link in Chinese), including actresses and crew members, accusing Bey Logan, previously vice president of Asia at the Weinstein Company, of sexually inappropriate behavior. Two of the women said Logan had arranged for them to meet with Weinstein in hotel rooms, where they experienced unwanted advances.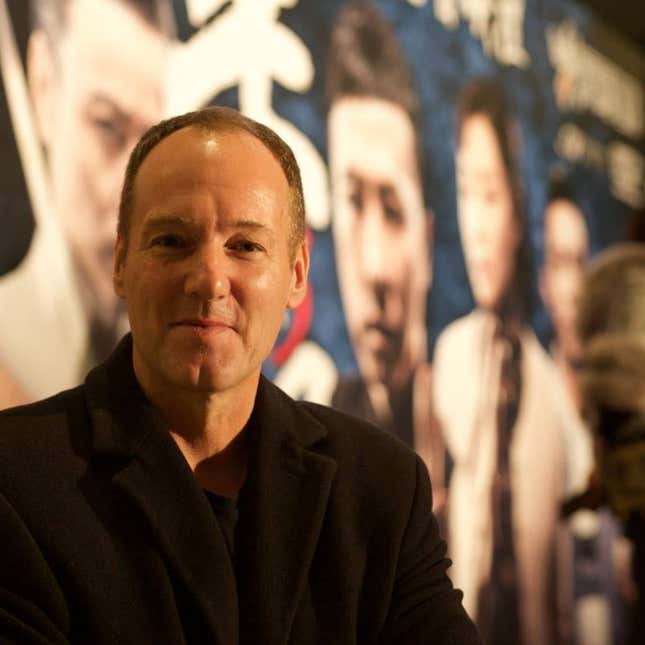 A British film producer in his 50s, Logan made a name for himself in martial arts films in Hong Kong starting in the 1990s. He was at the Weinstein Company from 2005 to 2009, and occasionally worked with Weinstein—who in October was fired by the firm he co-founded—afterwards. The two co-produced 2016's Crouching Tiger, Hidden Dragon: Sword of Destiny, a sequel to Taiwanese director Ang Lee's Oscar-winning kung fu movie in 2000.
One of the women, a former actress with Hong Kong's major broadcaster TVB, told HK01 that Logan arranged for her to meet Weinstein at the Mandarin Oriental hotel in Hong Kong about potentially hosting Project Runway's Asian edition. (Weinstein's ex-wife Georgina Chapman, who left him amid the sexual-assault accusations, has been a judge on the fashion reality show franchise.) The woman, now in her 20s, said that after she arrived at the hotel's coffee shop, Logan told her to go up to Weinstein's hotel room, where she found him alone.
According to the actress, who asked not to be named, while the two were talking, Weinstein edged closer to her to touch her waist, arms, and shoulders. Then he asked to see her body, reportedly saying: "If you don't take off your clothes, I won't be able to give you a job." When she refused, Weinstein told her to stand in front of a mirror, and forcefully pulled up her top. Later he asked if she could watch him take a shower, or let him watch her take a shower.
The woman characterized the encounter as "bargaining," with Weinstein constantly testing her limits. After she rejected his requests, Weinstein dismissed her.
The woman said she immediately complained to Logan about Weinstein's behavior. Logan reportedly responded by saying he thought she would be open to sexual advances when she agreed to go to Weinstein's room.
The other woman, a production assistant who asked to remain anonymous, also met Weinstein at his hotel room in the Mandarin Oriental, where she experienced unwanted advances, according to Selina Cheng, the reporter of the HK01 investigation. (Cheng was previously a reporting fellow at Quartz.)
Logan denied that he enabled Weinstein's behavior. "I never sent a girl to his room, I never invited a girl to his room, in fact I told people not to go," he said to HK01.
Neither Weinstein nor Logan replied to Quartz's requests for comment.
When asked by Quartz in October to respond to previous sexual-misconduct allegations against Weinstein, Sallie Hofmeister, a representative with Weinstein wrote in an email: "Mr. Weinstein obviously can't speak to anonymous allegations, but he unequivocally denies allegations of non-consensual sex."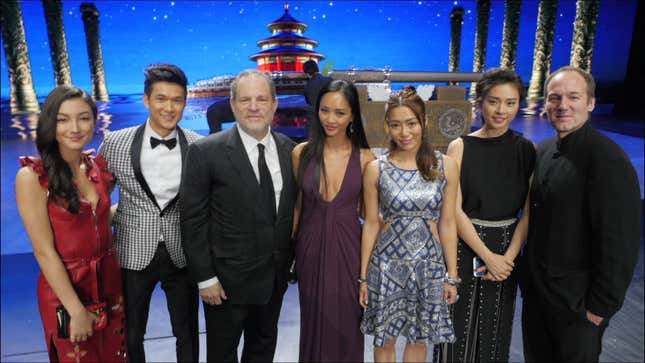 Among the three women who publicly came forward accusing Logan of sexual misconduct is Sable Yu, a former Indonesian-Chinese actress who starred in an unfinished film produced by him. Yu said Logan once pinched her nipple in front of the crew, and on another occasion, forced her to touch his penis when they were in an office alone.
Logan said most of the accusations against him are "either untrue or taken out of context" in an email to HK01. "I categorically deny any criminal wrongdoing. I have never forced myself on a woman," he added.
He said he regrets a "too carefree attitude" toward physical encounters with women. "I was insensitive because my position and the industry's culture had allowed me to consider my behavior then acceptable," he noted.
In the wake of Weinstein's scandals, a Chinese state newspaper published commentary claiming sexual harassment is less common in China than in the West because "Chinese men are taught to be protective of their women." The paper later retracted the article amid online backlash, as many think sexual misconduct is also pervasive in China.