Donald Trump gets away with things that would destroy any other politician or public figure.
Take his November 17 photo-op above: with an unreported remark, Trump appears to shock the championship University of Maryland women's lacrosse team (Donald strikes again!). Only the politician who took over the White House with 17 sexual assault allegations under his belt could appear with his mouth open and his eyes closed, seeming to scandalize a whole group women at such a delicate moment in US sexual politics.
That particular photo occurred at the same time that Alabama's failed GOP senate candidate Roy Moore had been accused of sexual relations with a female minor. It was published against a background of sexual harassment and abuse scandals that have rocked Hollywood and the media, and Washington, DC. And it perfectly captured two questions: What role does photography play in the current cultural accounting? And what does this picture say when it comes to Trump?
The Leading Photograph
Visuals have enormous impact in tying sexual harassment to public personalities. US senator Al Franken's unwanted sexual advances would not have had nearly the impact without that one suggestive photograph. In the highest profile cases, the right photo does more than back up testimonials and other documentary evidence; it imprints an image of guilt in the public mind.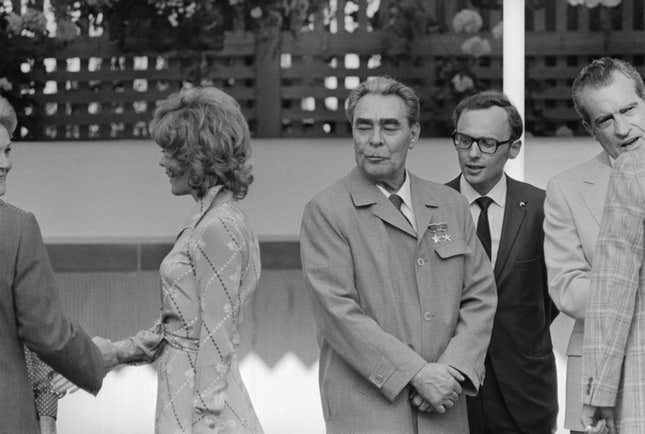 Former Washington photographer Wally McNamee captured one of the most famous stolen leers in politics in 1973: Leonid Brezhnev ogling actress Jill St. John at a pool party hosted by Richard Nixon.
Public condemnation was the result of video circulated of Bill Clinton and Monica Lewinsky embracing at a campaign fundraiser in Washington in 1996.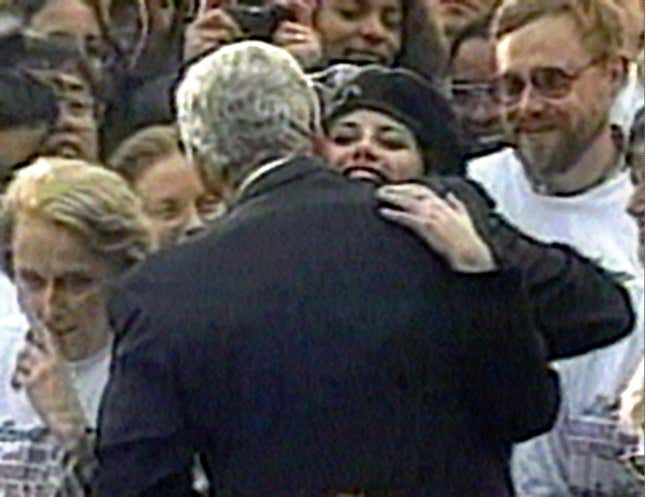 Sexting photos of former New York congressman Anthony Weiner also produced a damning effect. And the same goes for more recent compromising photos of Congressmen Joe Barton and Blake Farenthold, the actual images I'll spare you here.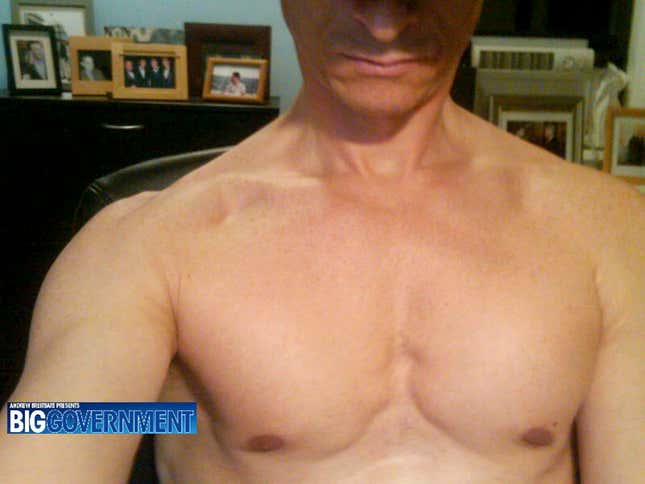 The United States' deep political polarization puts an even greater premium on the toxic photograph.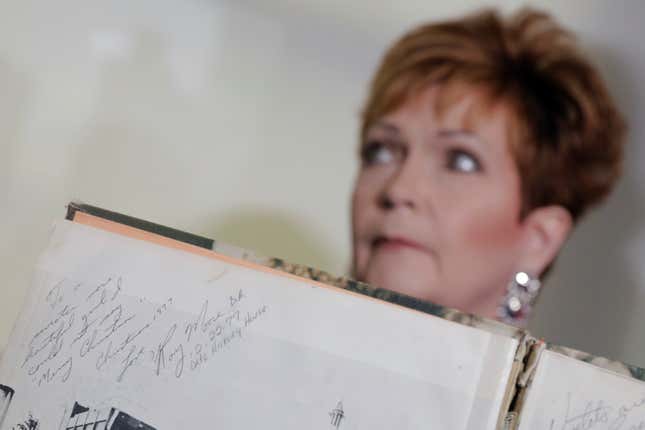 In the case of Roy Moore, images of a yearbook autograph lent credence to charges that he had sexual relations with a 14-year-old girl.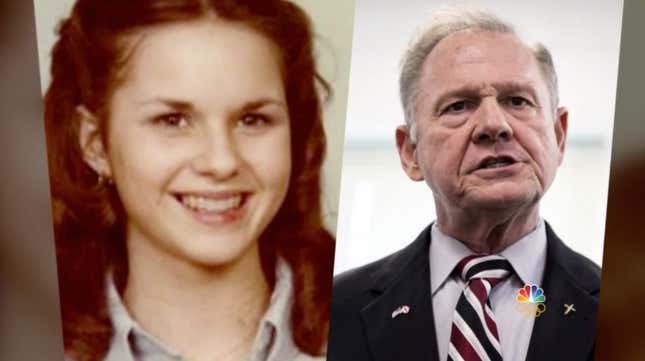 Although diptychs are typically a default and generally weak editorial device, in Moore's case it powerfully visualized the age gap between him and his accuser (if not entirely fair for showing Moore at present day, rather than at 32.)
Donald Trump's accusations, in pictures
There is a similar profusion of titillating photos of Donald Trump, himself accused of sexual harassment by many women. So far, though, the president has not seemed susceptible to the "Monday morning" accountability that has singed others.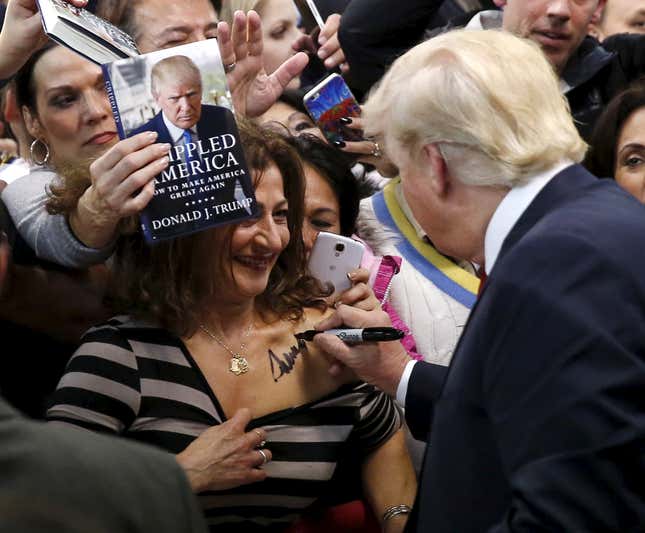 Take this photo from the campaign trail in December, 2015, where a woman, an active accomplice, lets Trump leave his signature just above her breast. Perhaps it is precisely because there are so many visual examples of strange behavior that he is insulated from the most damning ones.
Of course, the most provocative imagery of Trump so far is the Access Hollywood video. It shows Trump and Billy Bush with actress Arianne Zucker, and was published by The Washington Post on Oct. 7, 2016. The visual accompaniment to his verbal admission of compulsive sexual advances, including forceful kissing and "pussy grabbing," this tape spawned dozens of screenshots.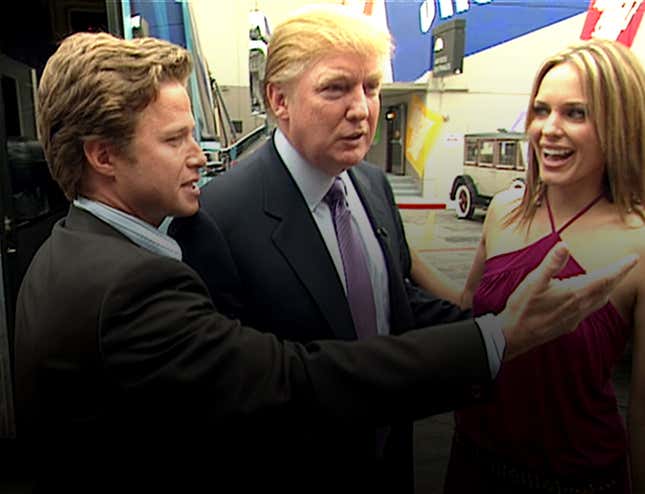 Paired with Trump's comments on the bus, not to mention some suggestive comments and flirting with Zucker in person, this material provides the most convincing support, to date, of Trump's nature. But the Access Hollywood tape never prompted a serious backlash—the tweet below was posted seven days after the tape was published.
Shortly thereafter, Jessica Drake and the ubiquitous Gloria Allred actually manage to produce a photo of the accuser.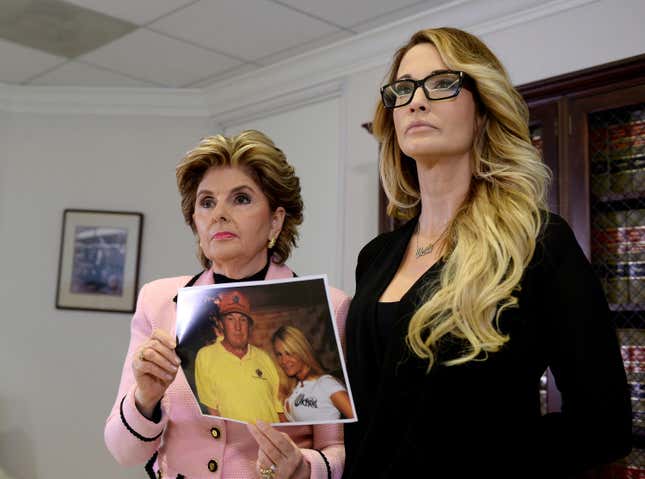 Suggestive as it is, the photo taken before Trump allegedly kissed Drake without asking and persisted in propositioning her for sex, this photo also failed to capture people's imagination.
Although he's cleaned up his act, Trump has continued to air opinions on women's bodies as president. Take the comments he made in France about Brigitte Macron's body on July 14, 2017. Standing in Paris' Hôtel National des Invalides, Trump was filmed looking Mrs. Macron up and down. He then told her "You're in such good shape," then he turned to the French president and repeated: "She's in such good physical shape." Turning and looking at Mrs. Macron one more time, Trump nodded with approval and added: Beautiful." At that point, Mrs. Macron appeared to step back and take Melania's arm.
Trump's moral positioning
Nevertheless, Trump has managed to defy scrutiny of the harassment and abuse allegation. In addition to challenging the legitimacy of the Access Hollywood recording, he tends to repackage himself as his complete moral opposite.
Here, reinforcing the adage that the best defense is a good offense, Trump uses Twitter and the Franken photograph to call the kettle black. In this case, Trump leverages a photograph with some word play to cast Franken as a monster. His invocation of "a thousand words" emphasizes how suggestive a photo can be.
A particularly audacious example of Trump's moral flipping (and, one might argue, his gift for misdirection), is this photo, taken the same day as the image in which he proved so flirtatious with the young women from the University of Maryland.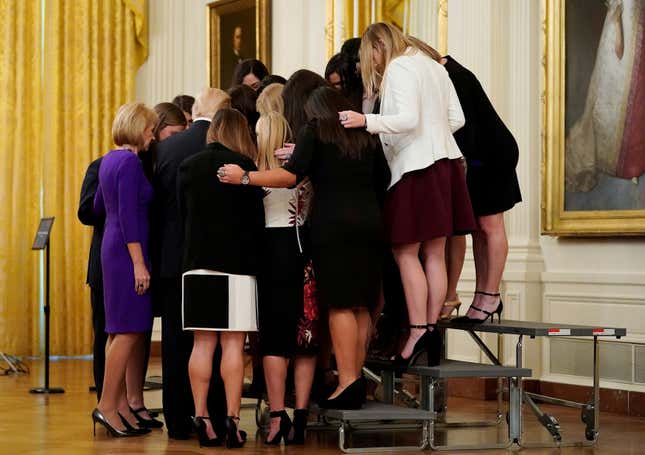 Here, the onetime playboy is the picture of piety in bowing his head with the championship women's Oklahoma University softball team.
It remains to be seen if Trump, the visual Houdini, continues to escape the larger picture of predation this prayerfully.
Follow Michael on Twitter at @ReadingthePix.