Philanthropy has entered the bitcoin era. Last week, a cryptocurrency enthusiast named "Pine" founded the $86 million (5,057 BTC) Pineapple Fund (motto: "Because once you have enough money, money doesn't matter."). As of Dec. 19, the Pineapple Fund had committed about $8 million to eight charities.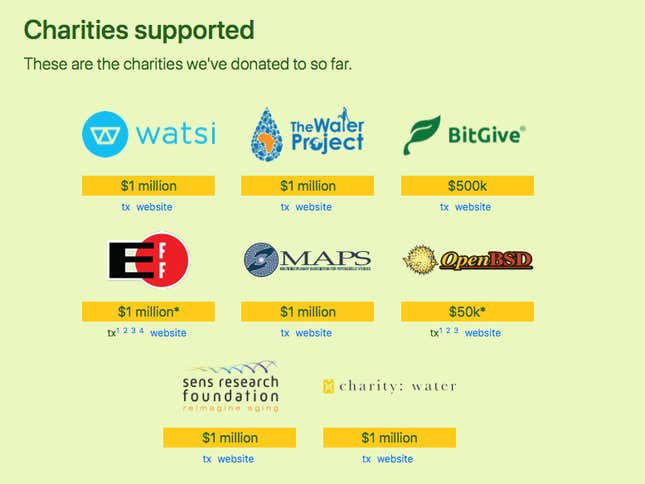 The anonymous philanthropist will reportedly donate a "majority" of his or her cryptocurrency holdings, according to the website. "I still don't believe reality sometimes," Pine writes on reddit. "Bitcoin has changed my life, and I have far more money than I can ever spend."
Bitcoin Magazine reports that Pine started minting bitcoin at home on an old PC and, unlike many early adopters of bitcoin who sold currencies to pay bills and expenses, he or she held on to them through a rally that has seen the currency's value rocket from about $200 to more than $18,000 in the last three years.
The Pineapple Fund will focus on medical research, mental health, wildlife and environmental conservation, fighting domestic violence and sexual abuse, and technology-related causes. "Why these?" the donor told Bitcoin Magazine. "Well, it's not that I think they are the most important or have the highest impact, because I think everyone has a different set of values. They align with my values, and I think any contribution to those causes will bring some good to this world we all share."
In keeping with the fast-moving ethos of the crypto world, Pine's week-old charity (it's not clear it's anything more than a bitcoin wallet and website) took to Reddit to solicit recommendations. In a rapid give and take, Pine responded to people posting on reddit by committing more than a million in donations to SENS Research Foundation, a Mountain View, California-based institute dedicated to curing the diseases of aging, and the Multidisciplinary Association for Psychedelic Studies (MAPS) for people to benefit from the uses of psychedelics and marijuana.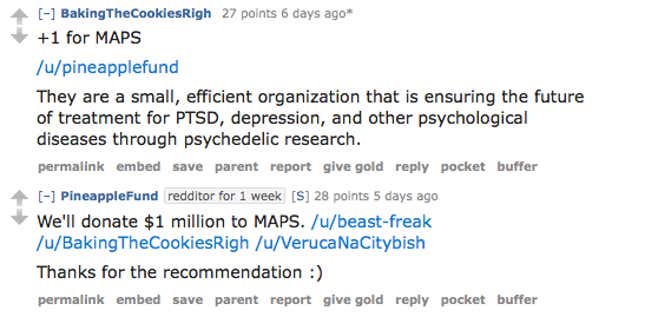 MAPS confirmed that the Pineapple Fund had donated 59.89 Bitcoin (BTC), worth $1,000,000, to the non-profit this week. The money will help fund MAPS' upcoming $26 million Phase 3 clinical trials for psychotherapy with MDMA (similar to the drug Ecstasy) to treat post-traumatic stress disorder.
But Pine's gift was only the start for MAPS. On Sunday (Dec. 17), MAPS received another $1 million or so (51.5 BTC) from an anonymous donor. That exceeds the $120,800 it has received in cryptocurrencies since 2013, said Brad Burge, MAPS' communications director.
Burge thinks it's the start of something bigger. Charities that wish to receive cryptocurrencies merely need to post a public "wallet," a number identifying an online address, where donors can make deposits. Most non-profits still don't have them. "I expect over the next new months it will become pretty standard," he said.
The cryptocurrency boom will likely start reshaping philanthropy as it enriches a new generation of millionaires. Emmett Carson, the founder of the Silicon Valley Community Foundation, says donors from the tech world aren't like their East Coast predecessors.
"The bulk of [traditional donors'] philanthropic engagement came later in life," Carson told Quartz last year. "Today, philanthropists are much younger. They have amassed incredible resources at a much earlier age, and they're engaging in philanthropy at an earlier age," often giving away the bulk of their wealth during their lifetimes. While building an enduring charitable foundation was once the vision, says Carson, many of today's tech philanthropists treat giving away money similar to how they amassed their wealth: making much bigger bets on a few causes far faster.