Magic Leap, the augmented-reality company that has raised nearly $2 billion over the last four years, finally has something to show for all that cash.
The company today, Dec. 20, showed off the Magic Leap One, Creator Edition. It's a system comprising a very bulbous, sensor-laden headset, a computer attached by a cable that looks like a Discman, and a handheld control that looks nearly identical to those made by Samsung and Oculus for their VR headsets. The setup is "built for creators who want to change how we experience the world," according to the company's website.
It's not entirely clear how the system actually works from the marketing copy on the website, which is full of jargon like "Digital Lightfield," "Persistent Objects," and "Visual Perception." In practice, it appears to be an augmented-reality system that's worn like the VR headsets produced by companies such as HTC, Oculus, and Samsung, which allow you to interact with high-resolution virtual images overlaid onto the real world.
On its site, Magic Leap shows ways to use the system, like browsing the web in a more immersive way (you can shop for handbags as they float on the table in front of you), turning your living room into a digital sports bar, with screens on every imaginable surface, and playing video games that burst out of the settings around you. The images are concepts, not actual programs already built, the company told Quartz, and it working with early developers to turn the ideas into reality. "We think of it as a computing platform," Magic Leap said.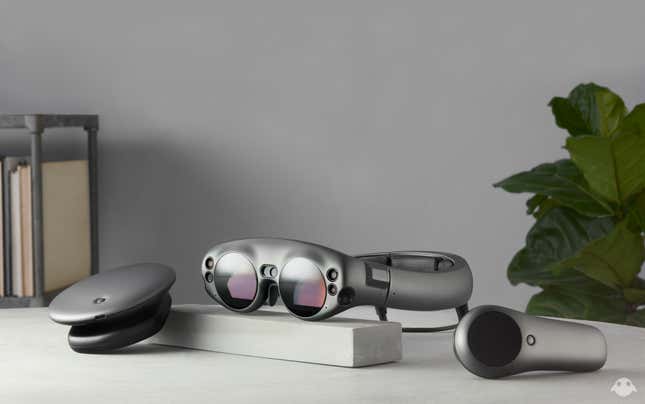 Many of the use cases look very similar to those of Microsoft's HoloLens, a $3,000 augmented-reality headset that's still very much under development. HoloLens is still being pitched to developers—not consumers—nearly three years after its unveiling.
There isn't a hard date for when Magic Leap One will be available (its site says it's "shipping in 2018"), and the company didn't release how much it will cost. It did say that it doesn't plan to have "American Idol-style" auditions for developers who want to have access to the technology; Microsoft initially made developers audition to get access to HoloLens, then later opened up its platform for anyone who would pay for it.
Magic Leap's site also says that a "Creator Portal," which will give developers access to the company's developer kit and documentation on how to build for the headset, will launch in "early 2018."
The design probably isn't the finished version for consumers, if and when Magic Leap decides to sell a proper product. But it will take a massive leap (ahem) to get consumers to strap on a headset and a wearable computer that looks remotely like what the company unveiled.
Early reactions have not been kind.
Whatever Magic Leap ends up shipping, the company has said sworn that its augmented-reality technology is second-to-none. Perhaps it's so good that we won't mind looking like we're wearing a pair of steampunk goggles strapped to a CD player to check our emails.