One way to get people to cut their energy consumption by 25%: raise utility bills by 28%.
That's what's happened in England and Wales, where average energy use fell by a quarter on average between 2005 and 2011 as natural gas and electricity prices rose, according to a report released by the UK's Office for National Statistics (pdf).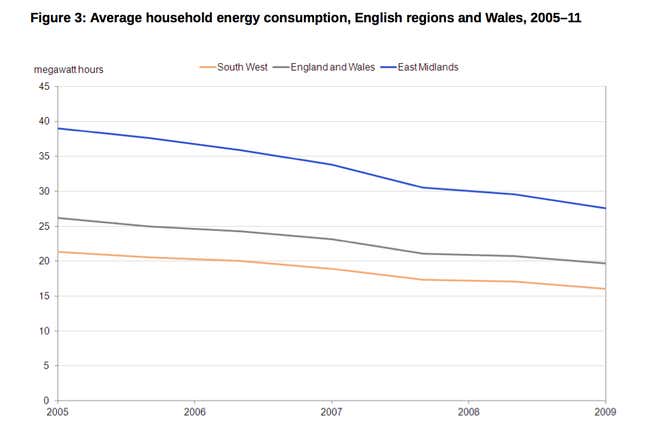 While price hikes coming in the midst of a deep recession almost certainly prompted residents to cut back on their energy consumption, the statistics office identified other trends that have prompted Britons to become so conservation-minded.
For one thing, residents have made their abodes more energy efficient, with the percentage of homes with roof insulation increasing from 44% in 2008 to nearly 60% in 2011. The UK also began requiring energy ratings of homes for sale as well as household appliances, allowing buyers to purchase more efficient properties, washing machines, refrigerators and the like. Improvements in household heating and hot water systems also contributed to the fall in energy consumption, according to the report. That's particularly important in the UK, where natural gas accounts for two-thirds of overall energy consumption.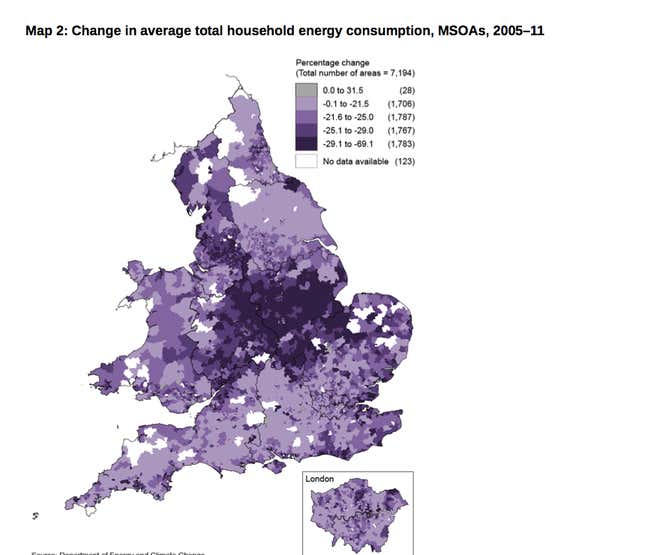 The decline in energy use is more dramatic in individual regions. Natural gas and energy use in the East Midlands, for instance, dropped by 37.5% between 2005 and 2011.
The trend isn't limited to the UK. The US Energy Information Administration estimates that energy intensity—energy use per person—will fall between now and 2040, thanks to energy efficiency improvements.