Russia's Christmas present to Britain? Sending a warship incredibly close to UK territorial waters. On Dec. 23, the Royal Navy frigate HMS St Albans was called upon to "keep watch" on and escort a new Russian warship "through the North Sea and areas of UK interest," the Royal Navy confirmed.
It's not the first time, either. The Royal Navy noted that "the festive season has seen an upsurge in Russian units transiting UK waters." On Christmas Eve, the HMS Tyne was called to escort a different vessel, a Russian intelligence-gathering ship, through the North Sea and English Channel.
"I will not hesitate in defending our waters or tolerate any form of aggression," UK defence secretary Gavin Williamson said in a statement this week. "Britain will never be intimidated when it comes to protecting our country, our people, and our national interests."
Russia's growing presence near UK waters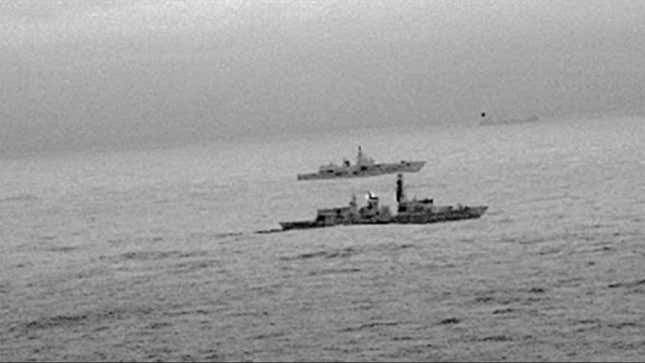 Over the past few years, Russian sea units have popped up all over the borders of Britain's territorial waters.
In January, three RAF Typhoon fighter jets and a British warship escorted a Russian aircraft carrier and other ships up the English Channel. In June 2016, the Royal Navy intercepted a Russian Kilo-class submarine, capable of carrying cruise missiles and torpedoes, after detecting it in the North Sea.
Earlier this month, Britain's most senior military officer also warned that Russia is posing a threat to undersea communications and internet cables. Air chief marshal Stuart Peach said any disruption to such communications would "immediately and potentially catastrophically" hurt the economy.
Russia could do damage even without its most advanced warships and submarines: According to a recent report by think tank Policy Exchange, fishing trawlers with deep-sea grappling hooks could be used to carry out an attack on undersea cables and communications. "Whether from terrorist activity or an increasingly bellicose Russian naval presence," the report said, "the threat of these vulnerabilities being exploited is growing.
"A successful attack would deal a crippling blow to Britain's security and prosperity. The threat is nothing short of existential."