Back in May, toilet paper became the latest staple to go missing from the aisles of grocery stores around Venezuela. It joined the ranks of toothpaste, butter, coffee, and other goods in short supply thanks to a combination of currency and price controls. The measures have stifled imports, by limiting the amount of money that can leave the country, and hindered production, by limiting prices so much that it's difficult to turn a profit on many items.
Since the toilet paper shortage began, a software developer has written an Android app to help Venezuelans find stores that actually have toilet paper and other scarce goods in stock. Though the app might help solve some distribution problems, it can't do anything to make up for the 40-million-roll lacuna in the country's toilet paper supply, nor can it prevent future shortages. That task is up to the Venezuelan government and toilet paper manufacturers. Here is their strategy:
Emergency imports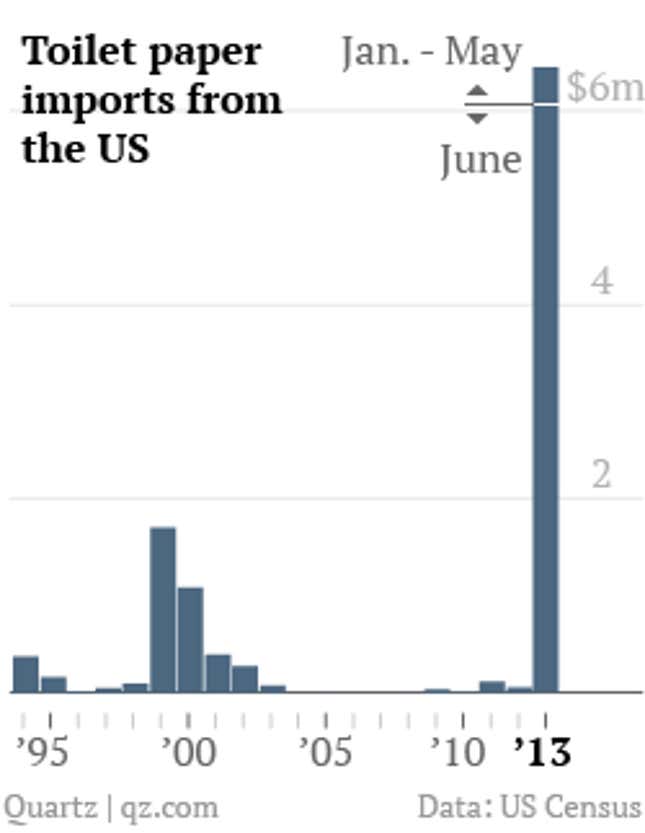 The Venezuelan government initially denied the existence of a supply problem, and instead blamed the media for stoking consumer anxiety and causing a panic that stripped toilet paper from grocer's shelves. Nonetheless, the minister of Commerce, Alejandro Fleming, announced the country would purchase 50 million rolls from abroad to "saturate the market." This past June, Venezuela imported more than $6 million in toilet paper from the United States, far more than it had in the previous 20 years combined. How much these imports alone will help Venezuelan consumers is unclear. The country uses 125 million rolls of toilet paper a month, according to Fleming.
Increased production
While Venezuelan consumers have had to go for weeks without toilet paper, Kimberly-Clark, the maker of toiletries and disposable laboratory supplies, has profited from the dearth. "Consumer tissue" was its fastest growing product segment in the second quarter of this year, by far. That growth was led by sales in Latin America, in general, and Venezuela, specifically.

Kimberly-Clark, which controls about 15% of the toilet paper market in Venezuela, operates factories in the country. In response to the shortage, it plans on spending $37 million to expand local production by 30% to 40% over the course of six months to two years. This is good for the company, not only because there's a proven market, but because local expansion gives it an outlet for spending its accumulated bolivars, which it can't ship home because of currency controls.