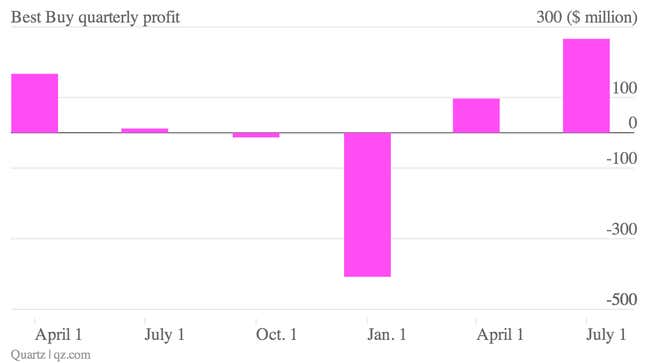 The numbers: Surprisingly strong. Best Buy, the world's largest consumer-electronics retailer, posted a net income of $266 million, or 77 cents a share, from $12 million, or 4 cents a share, a year earlier. Aggressive cost cuts and a $30 million payout from legal settlements drove the company's largest profit since February 2011. Sales fell 0.4% to $9.3 billion but topped analyst estimates. The stock, which has rallied three-fold since the start of the year, surged 14% in pre-market trading.
The takeaway: Hubert Joly, who took over as the CEO a year ago, has focused on stabilizing sales and controlling operating expenses. Best Buy has revamped stores and expanded store space for popular Samsung products and devices running Microsoft's Windows 8 operating system to attract more in-store customers. The retailer saved $65 million in annual costs in the quarter; its total cost reductions over the last nine months add up to $390 million. Best Buy fired 400 employees in its headquarters and pulled out of European markets earlier this year.
What's interesting: The reduction in operating costs has given Best Buy room to offer customers deals that match discounters and other online retailers. Meanwhile, the company has renewed its push to improve its customers' online shopping experience. It piloted a "buy online—ship from store" initiative in 50 stores and invested more in marketing to support the growth of its mobile business.