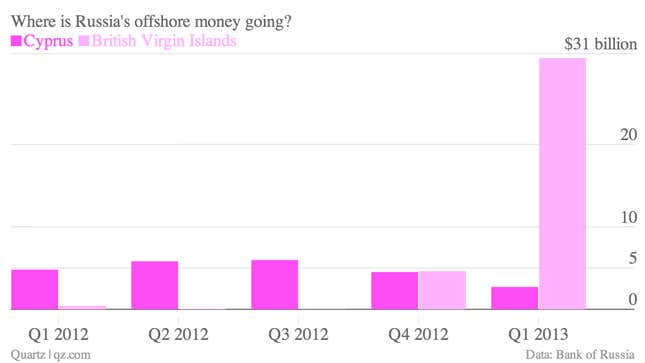 The distance between the Mediterranean and the Caribbean isn't so great when it comes to offshore finance.
The former is the site of Cyprus, Russia's offshore tax haven of choice until its financial system collapsed and this spring's European bailout of Cyprus included a heavy levy on deposits. Other European governments weren't interested in bailing out Russia's tax evaders. The latter is the home of the British Virgin Islands, which appears to have replaced Cyprus as the host of Russia's offshore money.
Data released by the Bank of Russia last week shows Russian foreign investment by country. In the chart above, you can see the last year, with steady quarterly flows to Russia and almost no money going to BVI until the end of 2012, when it became apparent Cyprus was in real trouble. The bailout deal was sealed at the end of March 2013.
At $67 billion, foreign investment in that quarter was higher than any single year in the last five. Most of the big outflows come from offshore deals by Russian corporations: Rosneft purchased a $28 billion stake in two BVI-registered oil companies. One of the oil companies was owned by Russian investors who took some $15 billion in proceeds from the deal and invested in a third holding company, this one based in Luxembourg, which was the second largest recipient of Russian funds in the first part of 2013.
St. Kitts, another Caribbean island-cum-tax haven, also had a big quarter, picking up just over a billion dollars in Russian investment, its largest quarterly flow in two years.
We won't know for a while exactly how much the deposit taxes tagged onto its bailout and the capital controls that followed hurt Cyprus as an offshore finance center, but it's clear that the anticipation of its failure as a financial sector was enough to shift Russia's foreign financial flows. Even if Cyprus never returns to its former glory, apparently there are plenty of other options.