The debut yesterday of Al Jazeera America has prompted plenty of chatter among the chattering classes about whether a nation accustomed to a steady cable news diet of hype, shouting heads and celebrity shenanigans will take to the Qatari television network's promise of serious journalism.
Time will tell—but it's already clear that when it comes to climate-change coverage, Al Jazeera has made its mark. In just its first few hours on the air the network devoted half as much broadcast time to the subject as rival network news programs did in all of 2012, according to Media Matters, a left-leaning non-profit that monitors news coverage.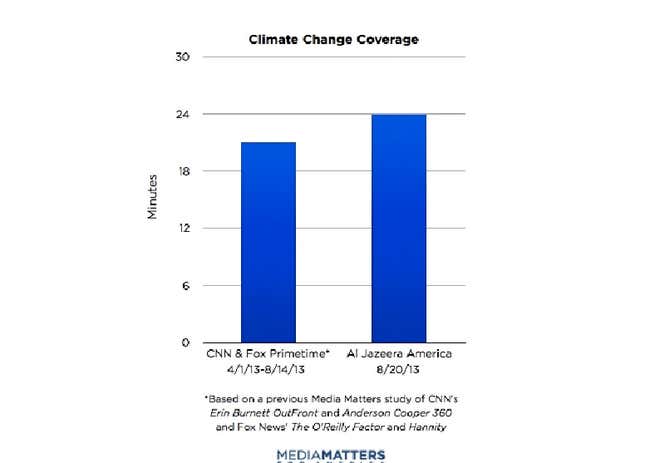 In fact, the 24 minutes allotted to climate change on Al Jazeera's "Inside Story" program exceeded the total air time that CNN's "Erin Burnett OutFront" and "Anderson Cooper 360" and Fox News' "The O'Reilly Factor and Hannity" gave to the topic over the past four-and-a-half months, Media Matters said.
"Perhaps most significantly, 'Inside Story' explored public opinion on climate science, and even presented differing views on climate policy, without once offering marginal contrarian viewpoints as a 'counterbalance,' the Media Matter analysis stated. "Notably, no politicians were interviewed, as few politicians are credible sources of information on, say, sea level rise. Instead, the guests – Michael Mann, Heidi Cullen and Klaus Jacob –were all scientists familiar with the topic at hand."
The downside is that many US residents won't see that coverage. A little under half the country's 100 million homes will be able to get Al Jazeera America through their cable providers, and in order to win deals with those carriers, the network has blocked Americans from viewing its internet stream or videos on YouTube.