The chicken satay at this well-reviewed restaurant at a historic Singapore spot is arguably among tastiest in the world: the sauce is dense and creamy, characterized by a nutty flavour that is heightened by mild spiciness and ends with a sweet aftertaste brought on by pineapple. Those hungry for dessert afterwards can hit the adjacent two-star Michelin restaurant, which serves a uniquely homemade tiramisu that complicates sweetness with a pinch of salt.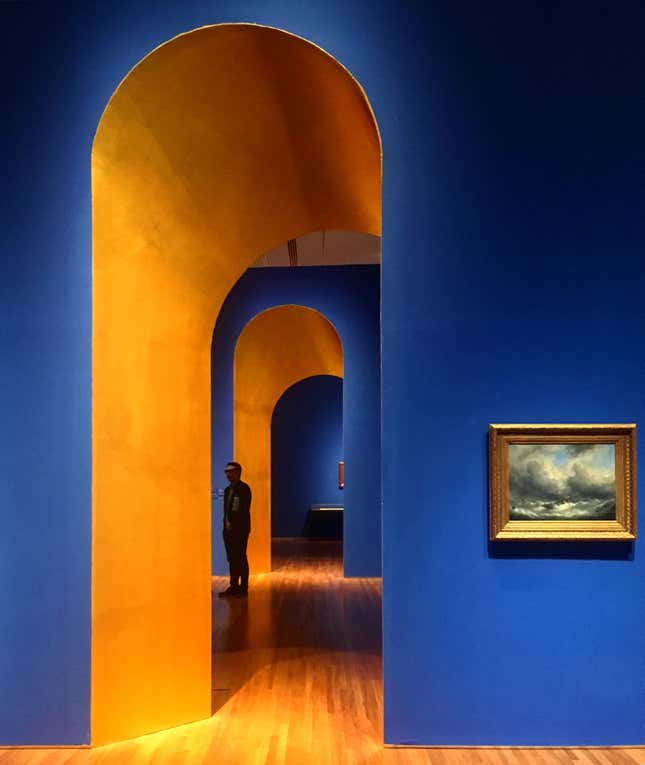 These dining experiences aren't happening at one of the gourmet food halls that are increasingly ubiquitous in cities. They're part of the experience of visiting National Gallery Singapore, the city-state's biggest museum that houses one of the world's largest public collections of Southeast Asian art. But apparently, museums aren't just about art anymore, and the nine dining outlets available at this museum set a new standard for how institutions can operate in order to be a cultural destination appealing to the masses.
"We are certainly living in a foodie age when people snap photos of food with the same enthusiasm they do for the Mona Lisa," says Gail Lord, president of cultural consultancy Lord Cultural Resources, and co-author of Cities, Museums and Soft Power. "Museums do not fully exploit the senses of taste, sound [music] and kinesthetic [the body]. This is coming for sure."
Kola Luu, National Gallery Singapore's director of partnership development, says that while promoting Southeast Asian art in a global context is the museum's prime mission, offering visitors a holistic experience is pivotal in order to stay competitive.
"We are conscious of the fact that the gallery is competing with other cultural destinations and tourist attractions for how visitors choose to spend their leisure time," says Luu. "The F&B outlets allow the gallery to be positioned as a lifestyle destination to embrace the food-loving public with a view to making museum-going an interesting past time to enjoy food, culture and entertainment with family and friends."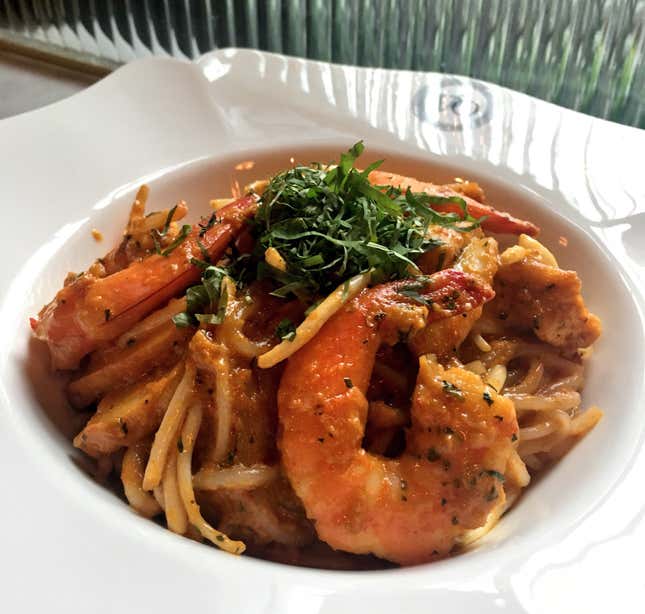 The importance of food to art
Food outlets at museums initially existed simply feed the hungry stomachs of art-loving visitors, and to keep them there longer for the true fare: an aesthetic experience.
"Viewing exhibitions can be physically and mentally tiring and so a proper opportunity to rest, revive and refuel is an important part of the overall experience and can encourage a longer duration of visit," says Magnus Renfrew, founder of art consultancy firm ARTHQ / Group and the former founding director of Art Basel in Hong Kong.
Some art experiences melded the experiences of art and dining early on. Art Basel, founded in 1970 in Switzerland, is one of the world's biggest art fairs and although it is open to the public, it targets extremely wealthy collectors who are on a major art shopping spree. Champagne, caviar and oysters are often on the menu at the original Swiss edition.
Perhaps a decade later, some museums began focusing more on food, according to Lord.  "It goes back to the 1980s and the Victoria and Albert Museum [in London] introduced quality catering and the slogan 'nice cafe with a museum attached' emerged," she says.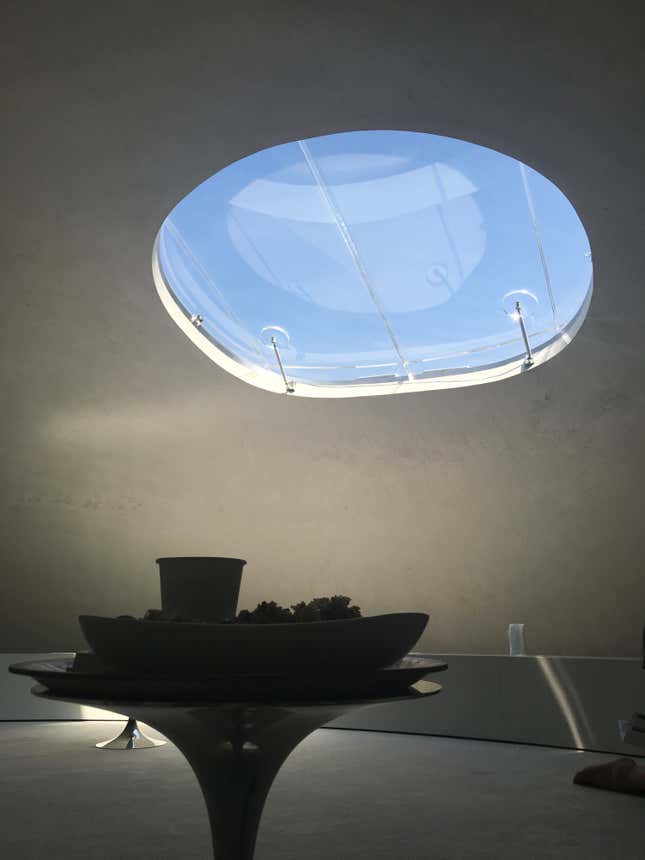 Lord cites the Basque cuisine at the Guggenheim in Bilbao (the Michelin-starred Nerua is sometimes rated among the world's top 50 restaurants, while the original Guggenheim's The Wright restaurant has rather more mixed reviews). She also gave a nod to The Modern, the two Michelin-starred restaurant at the Museum of Modern Art in New York, and Georges, on the roof of the Centre Pompidou in Paris. "The World War II Museum in New Orleans has a canteen with music and photos from the 1940s and nostalgic cuisine," she adds.
The museums on the islands of Seto Inland Sea of southern Japan, such as the Chichu Art Museum in Naoshima and Teshima Art Museum in Teshima, serve simple yet tasty dishes that mirror the nature of the museums. Chichu Cafe offers dishes made from olives produced in the Inland Sea area, and has a spectacular view of the sea from the roof of the building designed by master architect Tadao Ando. Teshima Art Museum's restaurant serves rice produced locally in the fields of the island in an otherworldly tranquil space built by Ryue Nishizawa.
But the National Gallery Singapore, and other recently opened museums, are taking things to a different level.
How National Gallery Singapore sets a new bar
When Lee Kuan Yew and his cabinet were sworn into office in 1959 at City Hall, the late founding father of Singapore couldn't have known that the site—together with the adjacent Supreme Court building—would one day become the most successful tourist attraction in the city-state. In 2016, it won in the category of best attraction at the 2016 Singapore Tourism Awards, beating other entries such as Universal Studios Singapore.
Opened in November 2015, National Gallery Singapore is located in the refurbished national monuments, with a total area of 64,000 square meters (690,000 square feet). It has a collection of more than 8,000 artworks including important works by masters such as post-impressionist painter Georgette Chen from Singapore, Indonesian romantic pioneer Raden Saleh, landscape painter Fernando Cueto Amorsolo from the Philippines, and Chinese modern master Wu Guanzhong. It hosts five to seven exhibitions of various scales at any given time.
The line-up of nine F&B outlets is equally diversified: the affordable ones are Gallery & Co and Courtyard Cafe; fine dining outlets include the two-star Michelin French restaurant Odette, by chef Julien Royer, National Kitchen by Violet Oon, and the up-market Peranakan restaurant, which serves the chicken satay. Innovative cocktails and bar snacks (and a view) can be found at Courtyard Lounge.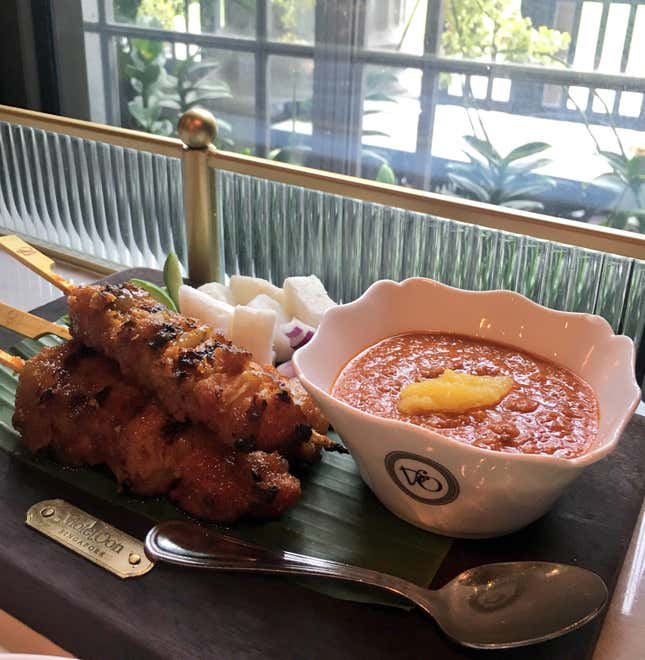 Luu says some dining outlets offer temporary special menus inspired by artworks on show. For instance, themed desserts drawing inspiration from the artworks of Japanese artist Yayoi Kusama, who was featured in a retrospective last summer, were served at Gallery & Co.
Visitors out during Singapore Art Week, which started Jan. 17 and comes to a close today (Jan. 28), may have experienced the special menu inspired by the current show Century of Light, which is, in fact, a juxtaposition of modern paintings from the west, as seen in Colors of Impressionism: Masterpieces from the Musée d'Orsay, and Southeast Asia, shown in Between Worlds: Raden Saleh and Juan Luna. The menu is a mix of Southeast Asian dishes and a French dessert, a light and refreshing mousse cake in the shape of an apple, available until March 11, when the show closes.
The combined attractions of art and food appear to be working. Since the museum's opening, attendance went from more than 670,000 in its first year to more than 1.5 million in 2016. The Kusama retrospective alone had 235,000 visitors last year.
New museums get reviews from food critics too

When the Whitney museum in New York opened at its new location at one end of the High Line park, it didn't only get reviews in the art section. Its Danny Meyer restaurant, called Untitled, was also reviewed by food critics, who noted the presence of well-regarded chefs from Meyer's popular Gramercy Tavern restaurant. Last June, the Metropolitan Museum of Art opened its former members' Dining Room to the public, and changed its name to Dining Room at the Met.
Renfrew, the author of Uncharted Territory, which reflects on Hong Kong's art world over the past two decades, expects museums will continue to up their game in the food department. "While it's not the primary attraction, poor F&B offerings can be a letdown and leave a negative impression of the overall visitor experience," he says.
Hong Kong, the favorite frenemy of Singapore, will soon get a chance to catch up too. For a long time, public museums of the former British colony have been criticized for their sub-par food outlets and souvenir shops. But a number of new facilities are set to open: M+, the visual culture museum at West Kowloon Cultural District; Tai Kwun, the new arts and cultural hub in the refurbished Central Police Station heritage compound; and the government-run Museum of Art, which has been closed for renovation. The food outlets that will be featured in these institutions is as yet unknown.
Further afield, a number of major new museums have recently opened or will open doors in the coming few years, and expectations of their food offerings will be just as high as expectations of their art, says Lord.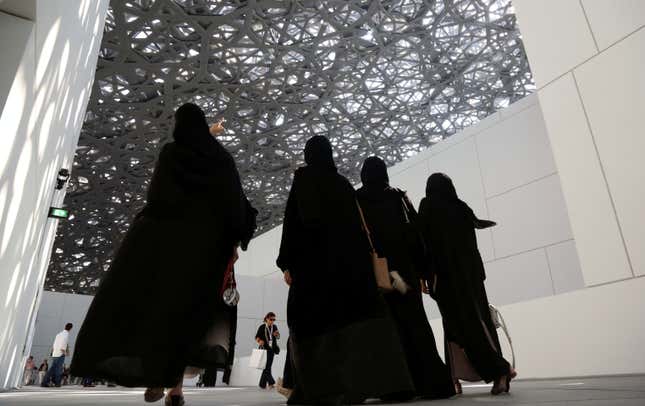 The Louvre Abu Dhabi, designed by Pritzker prize-winning French architect Jean Nouvel, opened in November 2017. Currently, it has a museum cafe offering a Wagyu burger that attracts long queues, but a high-end restaurant is expected to be opening there soon. In 2019, the Humboldt Forum, a museum complex showing collections from outside of Europe and housed in the reconstructed Berlin Palace, is expected to open. Oslo in Norway will see the opening of two new museums—the new National Museum and the new Munch Museum, both slated for 2020.
Young institutions in China are already jumping on the food bandwagon. Guangzhou's cultural and creative cluster Redtory has dining outlets serving a range of food from Hong Kong-style milk tea to high-end Chinese cuisine. Design Society in Shenzhen, which drew global attention when it opened last year, thanks to hosting an exhibition from the Victoria & Albert Museum, also offers fancy Chinese food.
The message is clear: Come for the art. Stay for the Instagram-worthy food.