North Korean leader Kim Jong-un has proven he knows how to use leverage when he's negotiating with the rest of the world, whether it's nuclear weapons, an industrial park or food aid.
His latest bargaining chip? Offering up family reunions to try to lure South Korean tour companies back to a cash-cow luxury mountain resort on the North's east coast, called Kumgang or Diamond Mountain.
Reunion talks began on Friday between North and South in a border peace village called Panmunjom, where South Korea hopes to persuade Kim's negotiators to allow family members split by the Korean War sixty years ago to visit each other. Between 2000 and 2010, over 22,000 Koreans met with their separated families before North Korea pulled the plug on reunions, and they haven't seen each other since.
The Kumgang resort was Kim's preferred location for the talks, but the South balked, insisting negotiations about the resort and the family reunions be kept separate. Still, Kim has made his desires clear, and Seoul is particularly keen to restart family reunions. Talks are planned for September about reopening the resort.
At their height, South Korean visits to the resort were worth some $20 million a year, but tourism from the South shut down after a soldier shot and killed a South Korean tourist in 2008. As Cho Bong-hyun, a fellow at Seoul's IBK Economic Research Institute, put it to the Wall Street Journal: "The Kumgang tours, to the North's eyes, are an easy tool to earn hard currency without exposing a number of North Koreans to the outside world."
As long as you don't upset the guards, there's actually quite a lot to be said for Kumgang, which still welcomes Chinese tourists to its range of hotels, golf courses, beaches and 520 square kilometers of mountains. Pictures taken in 2011 by a visiting journalist show that not only can guests experience an atmosphere of grandeur, but also treat themselves to 18 holes of golf, or just hang out on the greens: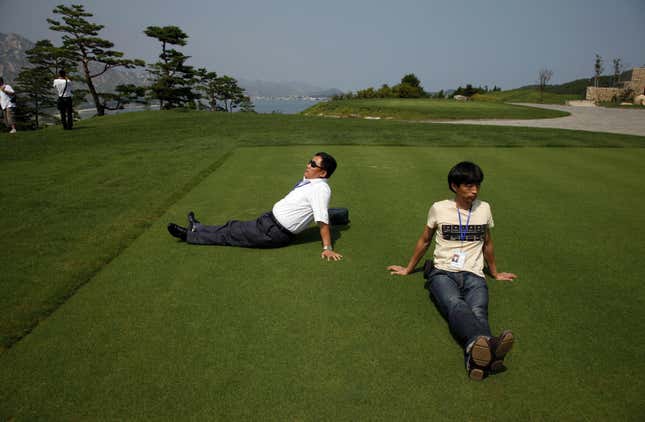 They could scale the 1,600-meter Biobong peak near the resort grounds…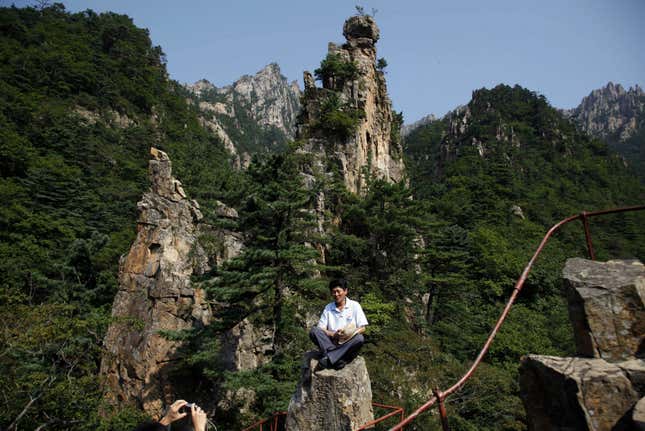 …and relax in the resort's comfortable seaside villas.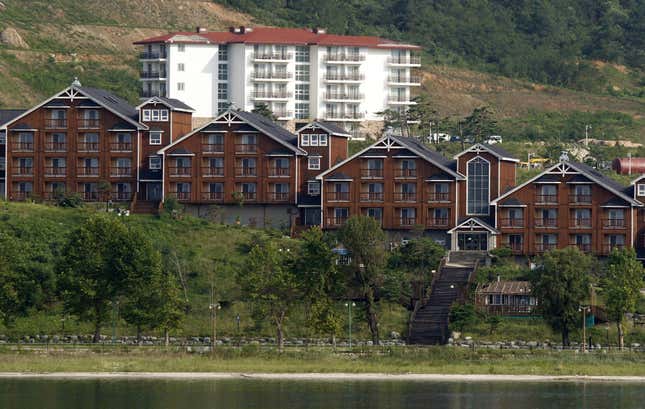 Guests can sample true North Korean regimental discipline, along with a serving of traditional bulgogi (marinated beef sirloin):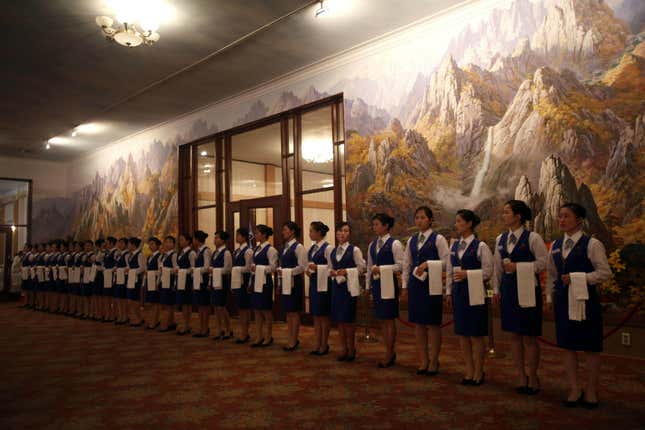 Or, if, like this Chinese tourist, you really fancy it—you can even pretend to be North Korean.