Lifeguards used a drone to rescue two teenagers from rough seas off the northern coast of New South Wales in Australia today (Jan. 18).
The lifeguards happened to be piloting the new technology when they received a distress signal and deployed a drone to search for the struggling swimmers. Footage relayed from the drone camera (which can be viewed here) caught two people in distress near Lennox Head in the northern coastline of the state. The video shows the drone releasing a flotation device, which the two teenagers swam toward and clung onto as they are pounded by waves. Ben Franklin, parliamentary secretary for Northern New South Wales, said the whole process only took 70 seconds, compared to the six minutes it usually takes a lifeguard to rescue swimmers.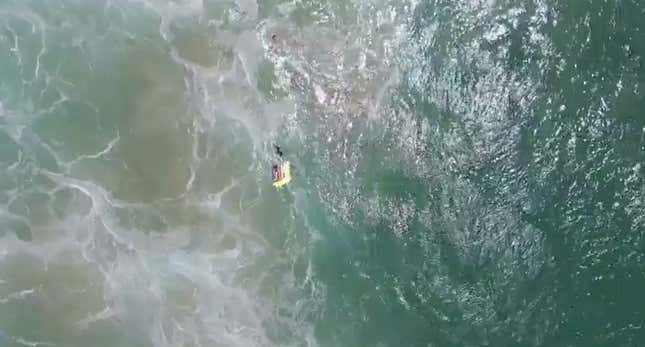 Deputy premier and minister for regional New South Wales John Barilaro said it was the first time such technology had been used to save lives in the sea.
The New South Wales government invested A$430,000 ($340,000) last year in a fleet of drones to patrol for sharks in the northern beaches of the state. Some of those drones are fitted with artificial intelligence to detect sharks. Drones have also been patrolling for sharks on Australia's west coast, including one incident (paywall) in December where lifeguards evacuated a beach in Perth after spotting a three-meter shark swimming near a surfer and a group of children.
Kevin Weldon, who founded the company that makes the Little Ripper drones, which were used in the rescue in Australia, was inspired after he saw an unmanned helicopter searching for survivors in New Orleans in the aftermath of Hurricane Katrina in 2005.