New Zealand's prime minister is pregnant. In 2018, that's still a huge deal.
Jacinda Ardern, who became prime minister in October, announced today (Jan. 19) that she'll give birth to her first child in June. She'll be the first leader to have a child while in power since Pakistani prime minister Benazir Bhutto in 1990.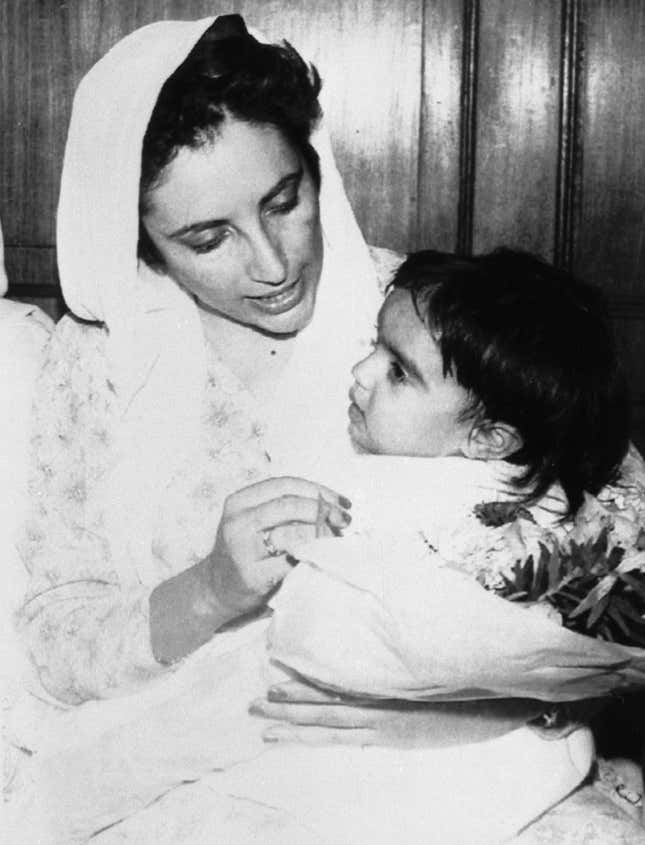 Bhutto, who was assassinated in 2008, gave birth to her daughter Bakhtawar in January 1990 when she was prime minister. She also gave birth while she was campaigning in 1988. She told the BBC that her family's long-time foe, president and military general Zia ul-Haq, called Pakistan's first democratic election since 1977 after he learned that she was pregnant, "thinking that a pregnant woman couldn't campaign, I could, I did and I won so that disproved that notion."
Zia scheduled the election for mid-November of that year, the same month that Bhutto was expected to give birth. Her son Bilawal was born prematurely in September. Bhutto's party won the election, and she became the first woman to lead a Muslim-majority country.
While Ardern made her pregnancy public through social media, Bhutto's second pregnancy in 1990 was a much more stealthy affair. One member of her cabinet at the time, Javed Jabbar, described the pregnancy in a recent series on BBC World Service on Bhutto's assassination:
"To carry a child to be pregnant and to keep it a secret, a super straight secret, which none of us in the cabinet virtually knew, that this prime minister was about to deliver a baby, and then lo and behold suddenly we learn, that she has not only gone and delivered democracy she's also delivered a baby."
Bhutto's pregnancy was promptly criticized. Syeda Abida Hussain, the opposition leader, called Bhutto "greedy" for wanting to have "motherhood, domesticity, glamour, and whole responsibility" rather than making sacrifices for her country as demanded of a leader.
Bhutto gave birth to a third child, Aseefa, in 1993.
Ardern's pregnancy marks the coming together of two trends: younger leaders and later childbearing. Most women leaders in the past only ascended to power in their fifties or sixties, after having had children earlier in their lives. Like Bhutto though, Ardern is in her late thirties.
In response to Ardern's news, New Zealand politicians extended their congratulations to the prime minister, who has said that she intends to remain completely contactable while she is on her six-week maternity leave, with deputy prime minister Winston Peters standing in as interim leader. "I think it's fair to say that this will be a wee one that a village will raise, but we couldn't be more excited," said the prime minister.
While New Zealand has a decidedly much more baby-friendly attitude towards its politicians—speaker of the house Trevor Mallard has taken care of legislators' babies while they debate on the floor—women in other countries face much more hostile circumstances. In Japan, a legislator in Kumamoto prefecture, Yuka Ogata, was given an official warning for bringing her baby to a council session last year.