Today Amazon is officially opening Amazon Go, a cashier-less grocery store in Seattle that lets shoppers buy items without paying cash, swiping a card, or interacting with a single human being.
The opening marks a watershed moment in retail, signaling a future of automated, AI-powered shopping and checkout. But Amazon is not moving toward this future alone. A bevy of companies in China, where Amazon is pretty much a non-player in tech, are also racing to popularize cashier-less stores. And while few can match Amazon's technology right now, the speed at which the stores are opening suggests that such shopping could become widespread in China faster than it does in the US or elsewhere.
Armed with $80 million in fresh funding, BingoBox is one of several venture-backed startups opening cashier-free convenience stores across China. Compared to Amazon Go, it's low-fi. Amazon uses artificial intelligence and computer vision to match the face of the buyer with the items in one's bag, to eliminate checkout altogether. At BingoBox, all items are labeled with an RFID tag. When checking out, users scan the items using a standard self-checkout machine and then pay using WeChat. The company is working on phasing out its RFID tag system, however, and moving toward image recognition for automatic purchases, similar to Amazon Go.
Formally launched in 2016, BingoBox now has over 200 shops in 29 cities in China that sell snacks, beverages, and other items, according to a company spokesperson.
Dozens of other startups have emerged in the past year launching similar or identical concepts. According to data aggregator ITJuzi, in the third quarter of 2017 alone, China's cashier-less stores sector attracted 1 billion yuan (about $156 million) in funding.
Some of these business are even simpler than BingoBox. F5 Future Store, headquartered in Guangzhou, is a cashier-less shop that lets users buy snacks and small meals. While it's an enclosed space with no humans on the watch, it's more like a glorified vending machine than an unmanned store. Users select food on a touchscreen, make a payment through WeChat, and a snack pops out from a chute. There's also a "self-cleaning" table. F5's venture backers include Sinovation Ventures, an AI-centric fund founded by machine learning expert Kaifu Lee, the former head of Google China.
China's internet giants have also made forays into cashier-less stores. Last month JD, one of the country's largest e-commerce companies, announced a partnership with property developer China Overseas Land & Investment to roll out hundreds of stores that combine facial recognition, QR codes, and RFID to eliminate checkout and boost data analytics (there are five so far). Last week in Shanghai, social media giant Tencent opened a pop-up store in partnership with EasyGo, another venture-backed startup focused on cashier-less stores, where customers could purchase WeChat-themed merchandise. While e-commerce powerhouse Alibaba Group has yet to launch a genuine unmanned store, last summer its Taobao business launched Tao Cafe, a pop-up outlet that was cashier-less but still staffed with human baristas.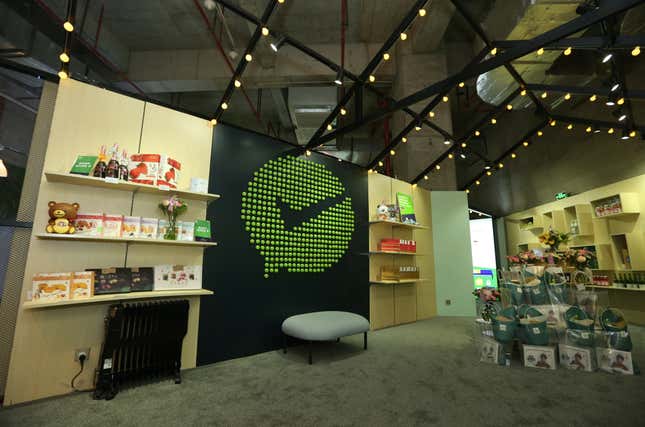 China's wave of "unmanned" outlets includes more than shopping. Cashier-less restaurants, karaoke booths, and mini-gyms have also spread across the country. Like the stores, these outlets are relatively low-tech, enabling payments using WeChat or its ilk. But as a whole, the rapid emergence of all-things "unmanned" in China shows how quickly the country's tech companies will jump on a new trend—at times, much faster than their stateside counterparts.