Over the last few years, the hyperloop has gone from a theoretical concept mulled over by Elon Musk in his spare time to something multiple companies are trying to turn into the future of transportation. If a hyperloop is ever completed, it'd essentially be a magnetic bullet train in a vacuum tube that transports passengers at over 700 mph. That would mean getting from New York to San Francisco in under four hours, without the hassle of an airport.
One of the first companies to try to take Musk's idea and run with it is Hyperloop One, which formed in 2014. After Virgin Group founder Richard Branson made a significant investment into the company, it affixed "Virgin" to the front of its name. The company hasn't had the easiest start. Co-founder and initial backer Shervin Pishevar has stepped away from the company after allegations of sexual assault, and Brogan BamBrogan, a second co-founder and former SpaceX engineer, filed a lawsuit against Pishevar after the latter resigned. BamBrogan cited labor disputes, wrongful termination, and myriad other issues. The suit was settled out of court and BamBrogan has since set up a competing hyperloop firm, Arrivo.
Quartz recently caught up with Virgin Hyperloop One chief executive Rob Lloyd at this year's Consumer Electronics Show in Las Vegas, a few miles away from the company's test site. At CES, Virgin Hyperloop announced it was partnering with Here, the mapping software company jointly owned by German automakers Audi, BMW, Mercedes, and others, to develop directions for navigating between the company's eventual hyperloop stations—which it calls "portals"—and other modes of transport. We asked Lloyd about the company's current plans for the near future, how close it is to realizing its goal of building a working hyperloop system by 2021, and why releasing an app seemed like a good idea, when Virgin is still years away from building its first complete hyperloop.
This interview has been lightly edited for clarity. 
Quartz: Where are things right now, and what're the company's goals for 2018?
Lloyd: In May 2016, we kicked off the global competition, which asked governments, transportation regulators, universities, private individuals, and engineering firms: "Where should we build the world's first hyperloop?"
We ended up with 100 viable submissions. We shortlisted that down, and effectively came up with 11 projects around the world that actually are currently undergoing the next level of study [needed to make the project viable]. When you're doing any kind of transportation project, you need to do an engineering study, you need to go through an environmental impact [survey]. We've formed partnerships in Colorado, and Texas.
The simple answer to your question is the goal of the company in 2018 is to actually to select the first one or two of those projects that are ready to move ahead to construct and develop the hyperloop for production.
Do you think that'll be in the US or elsewhere?
I'll tell you very candidly that the first project that we sign will be international.
What was the rationale behind launching an app right now, before you even have a hyperloop anywhere?
We launched this app is because although we're going to make the journey time between this point and that point crazy fast, we want to actually change the entire experience, so you have a seamless [transport] experience end-to-end. [To understand] what [the hyperloop] would mean to the "transportational" efficiency of the state of Colorado, you need to understand how people move from the airport…and how we would connect to their bus system. We're going to interface with the quick backbone that we've built and with the other modes of transport. If we're going to solve the [transportation] problem, you can't just do one part of the journey, you have to do it end-to-end.
Partnering with Here, we've actually created an example of a multimodal passenger experience that's seamless end-to-end that allows you to get the cheapest, fasted, and greenest [transport] decision. You can say, "Oh, I'm going to ride the last part of a bikeshare," or "I'm going to run the last part of public transit," or, "I need an Uber or Lyft (or eventually, an autonomous vehicle) to pick me up right at the station." So the app was to demonstrate that we can continue to compress the end-to-end journey time for passengers, and for logistics and cargo.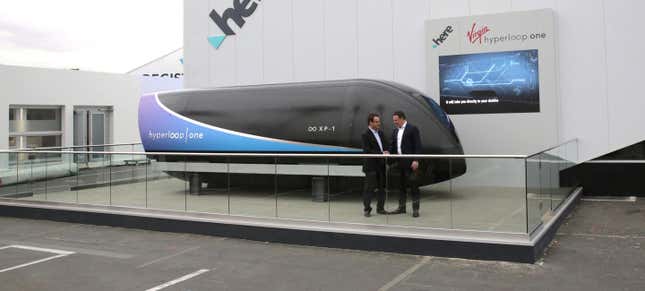 Why Here?
We call the end points [of the hyperloop] "portals," not stations. Because when you think of a "station," you think of platforms and people lined up in big long lines, and 600 people getting on a train at once, stopping at every destination. So the idea of a portal: If there was a portal in Las Vegas, that portal is going to be close to a convention center, or a casino, probably above or below ground.
The walking navigation and directions that we get with Here allow us to actually to do multi-level guidance. In our examples we're connecting airports to existing train stations (which have elevators, levels, and platforms). Here and their data look at the multi-level mapping, which doesn't give you a blue dot to follow down a sidewalk, but could actually instruct you to the escalator, how to get out of a casino, and how to get a portal. And that's an important part of the experience.
What's it been like working with Virgin?
Great. It's a company that takes their brand very seriously. The fact that it made an investment in our company, [and] we agreed to incorporate the Virgin brand—well-known for innovation and experience, with an entrepreneur that's done this before—has brought tremendous credibility in the eyes of customers. The fact that Richard Branson agreed just two weeks ago to be our chairman has added so much credibility. I think the relationship is going to become a real success.
What do you think about the fact that Virgin has had just about as many failures as it's had successes?
Look, [Branson's] exactly the person that you want to be associated with hyperloop, because it's going to take a couple years, and you want someone that's gone through that experience and has some guideposts to work with us and help us through that experience. This guy, of course there's some businesses that he started and closed, but he's an entrepreneur. He sees the ideas. He came and visited our location, he drove out to the test site, we showed him the test site, we showed him the test. And he was like, "Guys: I run trains and I run planes. This is a game-changer. I'm in."
Does the fact that Virgin Galactic has had a fatality, and multiple setbacks, bother you at all?
This is more than a branding exercise. This is part of an ecosystem and a partnership needed to introduce the world's first new mode of land-based transport in a century. We can't do it ourselves. Our investors are strategic: They're not classic, venture "put-the-money-in-and-it's-going-to-turn-out" people. They're port operators, they're logistics companies, they're Virgin Group. It's going to take an ecosystem to make this work, and Virgin's a great part of that ecosystem, both for the brand and experience.