Download and open up Google Earth. Click to zoom in. As you rush through the atmosphere, the flat expanse of the middle of the United States looms into view. A few seconds later, the viewer is suspended a few thousand feet above several small apartment complexes in Lawerence, Kansas.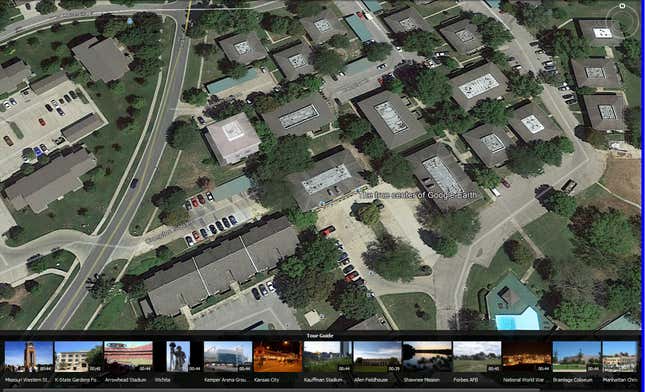 That, says Brian McClendon, a former vice president of engineering at Google, is his old apartment in a town where he grew up and attended college. It's also now the base from which McClendon is launching his campaign to become Kansas' next secretary of state.
"I reached a tipping point in November 2016," he says by phone. "I decided I was going to move back and combine my desire to move home and make a change in Kansas."
McClendon spent the last three decades working at Silicon Valley's tech giants as a former vice president at Uber and Google, helping lead the companies' mapping efforts. Now, he says he's coming home to friends, family, and the University of Kansas where he earned a PhD in electrical engineering and works as a research professor advising startups.
Placing Lawrence the center of Google Earth was one way to stay in touch with his roots in Kansas (the zooming trick only works on versions of Google Earth downloaded to PCs; a friend from University of Kansas adopted the software for Macs moved the center 100 miles away to Chanute, Kansas).
McClendon's campaign for secretary of state will be a sharp break with his predecessor, Kris Kobach, who led Trump's voter fraud commission, which disbanded amid accusations of voter suppression, and is now planning to run for governor of Kansas. As secretary of state, Kobach led controversial efforts targeting immigrants and raising barriers to vote such as requiring Kansans to prove their citizenship with a birth certificate, passport or other documents. Since these are often complicated for some voters to obtain, thousands of people were blocked from voting in Kansas' last gubernatorial election (the laws are now under consideration in the courts).
McClendon says he will change this and many other laws that make it harder for citizens to vote. He outlined steps such as shifting the burden of proof to disenfranchise voters on the state, rather than forcing individuals to register for extra documentation, and expanding the times and methods for citizens to send in ballots. "I've become convinced this is something we really need to change," he says. "The secretary of state should be leading the effort to make it easier to vote."
McClendon's bid comes at a time when Kansas is back in the political limelight. The state's politics burst into the national consciousness with the 2004 publication of What's the Matter with Kansas, a book exploring how anti-elitist populism managed to win over a state once known for moderate views (and a left-wing populist movement during the 19th century).
At the moment, McClendon has not raised any funds (he's prohibited for fundraising until filing to run), but he's traveling around the state and meeting with potential voters. He's planning a non-traditional campaign heavy on technology and social media (tactics that worked well in Virginia's special elections), and light on TV and direct mail, which political scientists have shown to be largely ineffective.
Does he stand a chance? McClendon will face several primary challengers, as well as a Republican contender for secretary of state. In Kansas, Trump won 56.2% of the votes compared to just 35.7% for Hillary Clinton (paywall).
Yet McClendon foresees the state returning to its moderate roots. Last year, Kansas legislators mustered enough votes to override governor Sam Brownback's veto of a bill repealing his 2012 tax cuts. The tax hikes patched a gaping hole in the state's budget after economic growth and higher tax receipts failed to materialize.
"That shows you Kansas is changing," he says, predicting a Democratic resurgence in the state. "In 2018, it will be much bigger, more balanced representation in government."