Is it finally here? SpaceX's Falcon Heavy—a large rocket roughly equivalent to three of its Falcon 9 launch vehicles strung together and expected to be the most powerful rocket in operation when it lifts off—has been promised for years.
Today, after weeks of dress rehearsals on their launch pad at Kennedy Space Center, engineers fired the enormous rocket's engines for twelve seconds, a test known as a static-fire performed ahead of a maiden flight expected in just weeks.
CEO Elon Musk weighed in to say the results were promising:
The Falcon Heavy performed its first test firing at SpaceX's Texas propulsion lab before arriving at the company's Florida launch facility in 2017. The company's engineers have spent years figuring out how to strap powerful rocket boosters together so they work in precise harmony, a process beset by stops and starts. The final product will be the largest rocket since the Apollo program's Saturn V, able to launch the heaviest satellites into orbit and send scientific missions out into the solar system.
Its launch will represent another major first for SpaceX, and promises to be quite the sight. In the company's pursuit of reusability, all three boosters are expected to fly back down to earth once the payload has been launched:
And what is that payload? In the spirit of stunt debuts, SpaceX will launch Musk's Tesla Roadster into space, an attempt to put the vehicle in orbit around Mars for a billion years.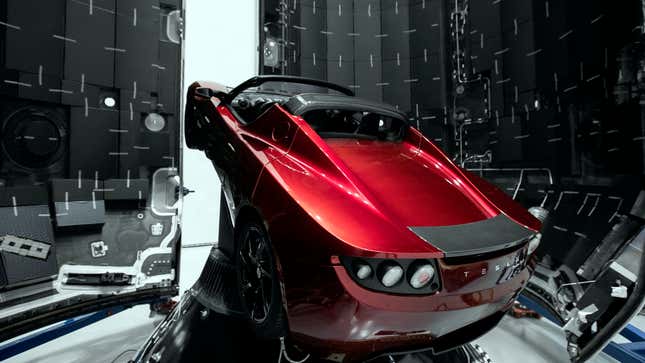 But that's only if the rocket and its payload don't wind up in pieces in the Atlantic.
"There is a lot of risk associated with Falcon Heavy, a real good chance that that big one doesn't make it to orbit," Musk said in July 2017. "I want to make sure to set expectations appropriately."