Amid growing concerns that the US might be losing its world-leader status, the country is still leading the pack in at least one metric: The number of attendees at Davos.
According to data from the World Economic Forum (WEF), which organizes the annual meeting at the Swiss Alpine town, 26.5% of almost 3,000 participants this year come from the US, followed by the UK at barely 9%.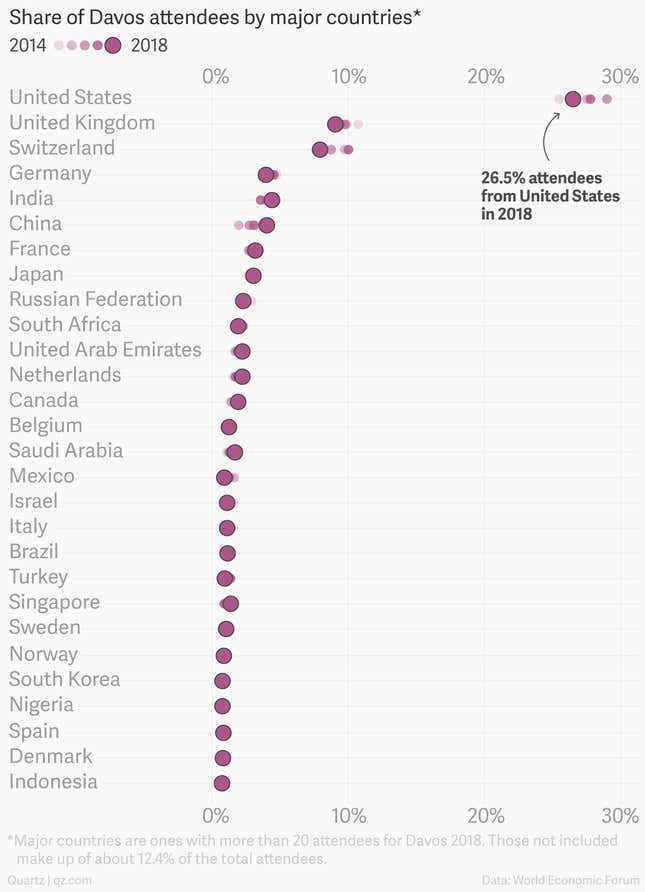 In the past five years, some European countries like the UK, Switzerland, and Germany have seen decreases in their shares of attendees to the annual gathering, while China and India have increased their presence. Meanwhile, the US's share stayed consistent over the same period, roughly between 25-29%.
Participants of Davos are leaders from public and private sectors. Political leaders and leaders from international organizations and the media do not pay a fee, while business partners pay somewhere between $63,800 to $638,000 for the WEF membership which covers most part of the conference. About two-thirds of this year's participants are from the private sector.  More than 1,000 private jets arrived at the small town this year, according to the Washington Times. Business leaders or not, Davos is still a party for the rich.
The US is rich. Forty-three percent of the world's total millionaires (in dollar value) resided in the US in 2017. If a country's share of the global top 1% is a good indicator of its share of attendees at Davos, then the trend of US leading the pack is likely to continue.