Teresa Teng's love songs made her one of the most famous Chinese singers in the world. Though her music was sometimes banned in China, the Taiwanese artist was dearly beloved by Chinese people all around the world.
A national icon, Teng died unexpectedly at the age of 42 after an asthma attack in Thailand. When her body arrived at Taipei's airport, senior Taiwanese officials were there, and her funeral was attended by commanders of the three branches of the military. Google today (Jan. 29) is commemorating Teng with a doodle on what would have been her 65th birthday.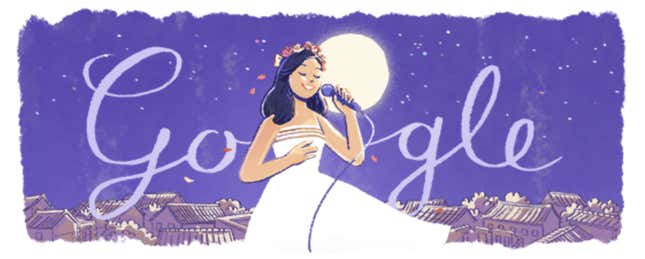 Considered a brilliant linguist, Teng sang in Mandarin, Cantonese, and the Hokkien Chinese dialect, in a style that blended traditional folk music with jazzy, pop styles. Teng also sang in Japanese and Indonesian.
Among her most famous songs are "When Will You Come Again?" and "The Moon Represents My Heart":
Teng's father was a military official in China's Nationalist army, and her parents fled to Taiwan after the communists won the civil war in 1949, where she was born. Her political pronouncements—support for Taiwan's military and for the student protestors at Tiananmen Square in 1989—didn't hamper her popularity in China.
Teng was seen by many as a "wholesome girl-next-door figure," but the Chinese Communist Party criticized her songs for being bourgeois, decadent, and pornographic. Her popularity in China nonetheless flourished with cassettes sold on the black market, and her music sold quickly there when censorship controls were lifted. Despite the controversy surrounding her views and music, she had been invited to perform in the mainland multiple times. She always declined, saying she wouldn't perform in China unless communism fell there.
Pointing to her influence in the country, there was a common saying that compared her to former Chinese leader Deng Xiaoping. Because they shared the same last name, she was often referred to as "little Teng":
"Old Deng dominates the world by day, but by night it belongs to little Teng."
A translation, per the New Yorker: "Everyone listened to 'old Deng' because they had to. At night, everyone listened to 'little Teng' because they wanted to."
Teng was also extremely popular in Japan, having lived off her royalties in the country after semi-retiring in the late '80s. She entered the Japanese market in 1974, two years after Japan severed diplomatic ties with Taiwan. (She was deported in 1979 and briefly barred from returning to Japan because she entered the country on a fake Indonesian passport she bought for $20,000.) The songs "Airport" and "Empty Harbour" helped establish her stardom in Japan.
According to Nippon.com, she helped bridge Japanese and Chinese cultures by covering Japanese kayokyoku pop music in Chinese and was known for working closely with songwriters and producers to fully understand the lyrics of songs she recorded in Japanese.
Though Teng died more than two decades ago, she remains relevant today. In 2013, Taiwanese artist Jay Chou performed with a hologram of Teng in concert. A musical about her life that debuted in Hong Kong has also been performed globally, including in Singapore and the UK. Thai singer Vanatsaya Viseskul, who's often referred to as Little Teresa Teng, became known for her physical and musical resemblance to Teng.