As Donald Trump prepares to deliver his first State of the Union (SOTU), he no doubt plans to flaunt his government's most controversial victories, including tax reform, getting out of the Paris climate-change agreement, rescinding immigration protections for Haitians and Salvadorans, ending DACA and picking up the fight against pot.
Yet the union Trump will describe may not account for the efforts that local state and city governments have made to resist his first-year agenda.
Tension between federal and state government is part of the American political tradition, and last year, both left- and right-leaning states pushed back hard. As a result, the America experienced by someone living in California, Nevada or Iowa may be a little different from what the president envisions, depending on the issue.
Before the State of the Union, here is our State of the Division: An analysis of actions taken by local authorities to keep their distance from the current government.
Immigration
Reducing immigration has been a top priority of the administration. But as Trump moved to make life harder for immigrants from Muslim and Latin American countries, a large number of cities and states declared themselves sanctuaries.
Alabama: Trump's immigration agenda is very much in line with Alabama state policy. However, the city of Birmingham refused to have its police cooperate with the government in enforcing immigration rules; shortly after Trump's inauguration,Birmingham passed a "sanctuary resolution" to "exercise its power to ensure the equal protection, treatment, and representation of all persons without discrimination including, but not limited to, age, citizenship status, color, gender identity  or expression, marital status, mental disability, national origin, physical disability, race, religion, religious observance, sexual orientation, and source or level of income."
California: Since October, California has been a "sanctuary state," meaning that protections offered to immigrants are extended state-wide. In theory, this doesn't actually stop local authorities from cooperating with the federal Immigration and Customs Enforcement (ICE)—but so far none of the state's counties or cities have complied with federal requests to detain peopl who might be eligible for deportation.
Colorado: Though there aren't state-wide policies, the cities of Boulder, Denver, and Esters Park all stated in 2017 that they would not cooperate with ICE to deport immigrants, or to participate in drives to check residents' immigration status.
Connecticut: Cities including Hartford and New Haven announced they would not cooperate with the federal requirements to report undocumented immigrants. The mayor of Middleton said of his decision, "We don't just take orders from the president of the United States."
Florida: In a conservative state that has traditionally pushed against immigrant rights, St. Petersburg is a genuine sanctuary. Its mayor has declared "shelter in the Sunshine City," and criticized "president Trump's demonization of Muslims."
Georgia: As of January last year, Atlanta has been a "welcoming city."
Illinois: In August, the governor of Illinois signed a bill limiting the level of cooperation between local and state police and ICE.
Massachusetts: The state's highest court ruled in July that a person cannot be held in custody simply for an ICE order. The state's attorney general welcomed the decision as "a rejection of anti-immigrant policies that have stoked fear in communities across the country."
New York: Ithaca, Rochester, Syracuse all passed sanctuary city resolutions in 2017.
New Jersey: Over a dozen towns in New Jersey were already sanctuary cities before Trump's election. Since then, Jersey City, Maplewood, Newark, Prospect Park and Union City also became sanctuary cities in response to federal guidelines on immigration.
Ohio: Cincinnati was declared a sanctuary city last January as an open rejection of Trump's executive order on immigrants from Muslim-majority countries.
Oregon: As a state, Oregon has protected immigrants from deportation since 1987. This year, however, at least three cities (Portland, Beaverton, Corvallis) issued orders emphasizing their intention to abide by that state law.
Climate change
Before announcing action on the Paris climate change agreement in June, Trump fostered the uncertainty around his position. When he eventually decided to withdraw from the global pact, many local US authorities replied with open criticism, and announced they would continue to follow the agreement's emission requirements.
Sixteen governors from California, Colorado, Connecticut, Delaware, Hawaii, Maryland, Massachusetts, Minnesota, New York, North Carolina, Oregon, Puerto Rico, Rhode Island, Vermont, Virginia, and Washington joined the US Climate Alliance. They pledged to support the Paris agreement, and pursue "aggressive climate action to make progress toward its goals."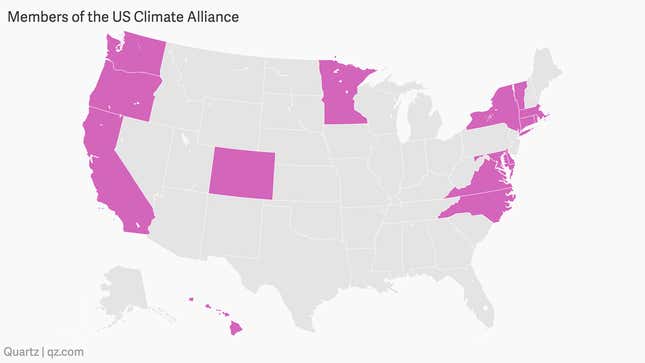 Furthermore, 391 mayors in all but three states, including those of America's biggest cities, signed a document committing to "increasing investments in renewable energy and energy efficiency. We will buy and create more demand for electric cars and trucks. We will increase our efforts to cut greenhouse gas emissions, create a clean energy economy, and stand for environmental justice." They represent 69 million Americans all over the country.
Clean air
The state-level fight for clean air dates back to the previous administration. In 2013, a group of northeastern states petitioned the Environmental Protection Agency (EPA) to expand the so-called Ozone Transport Region, a coastal Atlantic area where special measures are aimed at improving air quality. Obama's EPA recommended rejecting the petition, and Trump's followed the advice.
In response, governors of the states that had presented the petition (New York, Connecticut, Delaware, Maryland, Massachusetts, Pennsylvania, Rhode Island, and Vermont) sued the EPA, saying that the decision violates the Clean Air Act.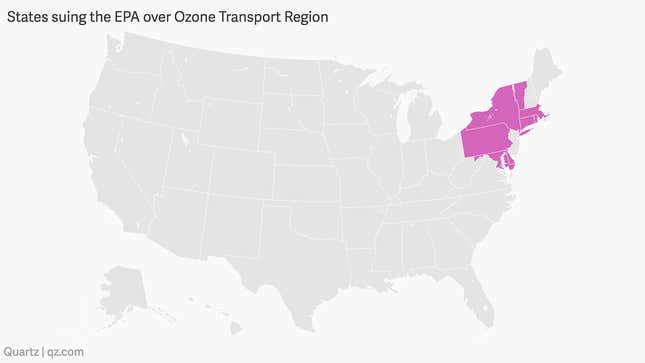 Net neutrality
In December 2017, the Federal Communications Commission (FCC) removed rules created by the Obama administration to protect net neutrality. The move is believed by many, including half the Senate, to unfairly threaten internet access and information availability. Less than a month later, Democratic attorneys general from 22 states sued the FCC, claiming that reversing the net neutrality rule broke federal law.
California, Connecticut, Delaware, Hawaii, Illinois, Iowa, Kentucky, Maine, Maryland, Massachusetts, Minnesota, Mississippi, New Mexico, New York, North Carolina, Oregon, Pennsylvania, Rhode Island, Vermont, Virginia and Washington, and the District of Columbia are all part of the suit.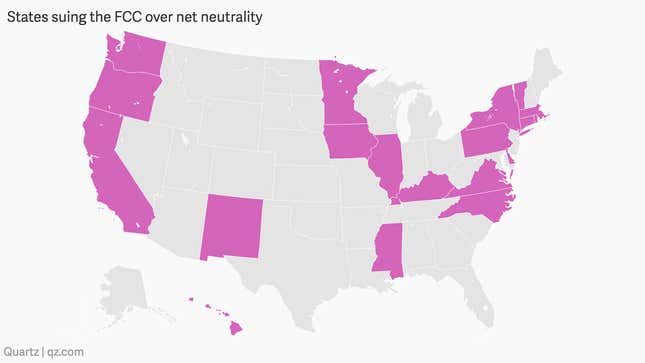 Reproductive health
Besides showing support to legislation reducing access to abortion, the Trump administration has allowed companies to eliminate contraception from their insurance policies.
Since the mid-1990s, 28 states have ruled that contraception should be covered by insurance. After Trump's election, several states also pre-emptively passed laws ensuring that contraception would be covered by insurance even if the Affordable Care Act was repealed.
In 2016, ahead of the elections, Vermont was the first state to pass a law requiring free insurance coverage for contraception. Colorado, Maine, Nevada, Oregon, Washington, and Virginia followed, each issuing laws protecting contraception coverage from potential attacks by the federal government.
This is what the legislative landscape looks like right now:
Since Republican attempts to repeal the Affordable Care Act failed, states only differ from federal policy if they mandate coverage without religious exemptions.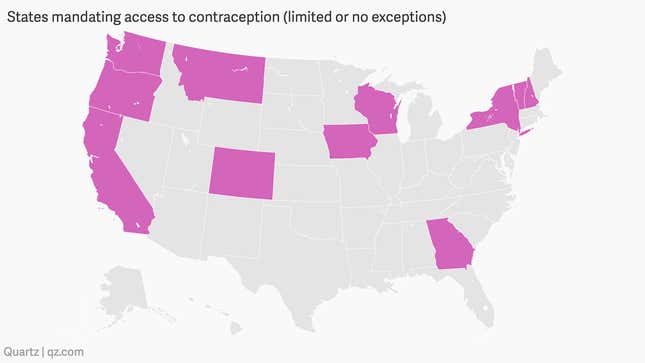 Gender equality in the workplace
So far, the only measure recently passed on gender equality in the workplace has been a provision to reduce it: In August, the Trump administration cancelled an Obama-era provision that required businesses with over 100 employees to provide a salary breakdown as proof of fair payment.
In contrast, several states this year have applied measures to encourage pay equality, particularly by making it illegal for prospective employers to ask candidates for their salary history—a practice that penalizes women and minorities.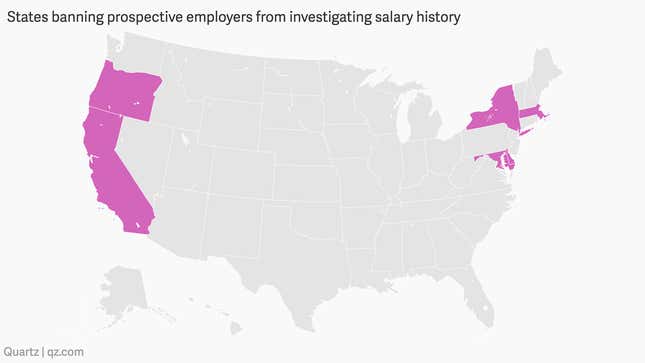 Pot legalization
Attorney general Jeff Sessions is not a fan of pot. Early this year, he moved to restrict pot use by rescinding the Cole Memorandum. The memo, approved by Barack Obama, promoted a hands-off approach to marijuana-related prosecution, leading to fewer convictions and paving the way for legalization.
Undeterred, several states have moved on with plans of selling legal medical and/or recreational marijuana. As with contraception, these aren't just progressive states: Alaska, California, Colorado, Maine, Massachusetts, Nevada, Oregon, Washington, Vermont all have legalized marijuana.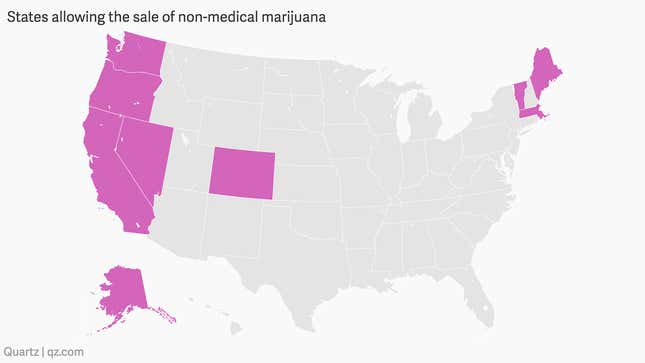 Utah, Missouri, Virginia, Oklahoma, New Jersey, Michigan also appear ready to join the group by the end of 2018.