Facebook has announced a new policy that will ban ads for initial coin offerings (ICOs), cryptocurrencies, and other goods and services that "promote financial products and services that are frequently associated with misleading or deceptive promotional practices."
According to a blog post, the policy will be "intentionally broad," and will affect Facebook's flagship site as well as Instagram and Facebook Audience Network, which runs ad campaigns on third-party sites.
Facebook states it's introducing the new rules in order to curb predatory schemes. "We want people to continue to discover and learn about new products and services through Facebook ads without fear of scams or deception. It lists the following slogans as examples of the types of ads it intends to stamp out.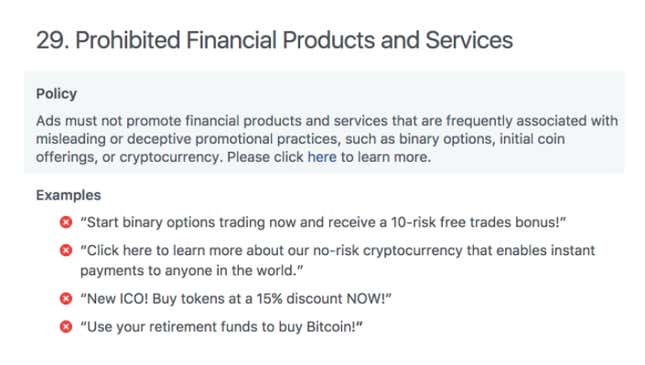 The news marks the latest development in a stream of changes the social network has made or committed to. On Jan. 29, Mark Zuckerberg announced on his personal Facebook page that the site would ramp up local news in News Feed. Earlier this month, it announced it would prioritize posts from friends and family over news outlets and brands in News Feed.
Yet this announcement also comes not long after Mark Zuckerberg hinted at an interest in cryptocurrency. In a Facebook post from Jan. 4, he described cryptocurrency as a "counter-trend" to the internet's centralized systems—which Facebook itself in many ways represents.
With the rise of a small number of big tech companies — and governments using technology to watch their citizens — many people now believe technology only centralizes power rather than decentralizes it.

There are important counter-trends to this –like encryption and cryptocurrency — that take power from centralized systems and put it back into people's hands. But they come with the risk of being harder to control. I'm interested to go deeper and study the positive and negative aspects of these technologies, and how best to use them in our services.
That's led some to be skeptical that Facebook is introducing the policy to curb scams, and speculate that the company will launch a cryptocurrency or blockchain product of its own.