What's better than having a boyfriend? Having four fake ones.
At least that's what the Chinese women who are obsessed with a mobile game called Love and Producer might be thinking.
It's the hottest game among China's young women at the moment. According to data from research firm Jiguang (link in Chinese), the date simulator has accumulated more than 2 million daily active users since its launch in December, with the overwhelming majority being females in their early 20s. Already, the game is ranking among the top grossing apps in China's App Store. Players are also estimated to (link in Chinese) have spent at least 200 million yuan (around $32 million) in January to improve their odds of having a successful virtual relationship via in-game purchases.
In Love and Producer, you star as a female TV producer who must save your late father's production company by reviving a hit show, while developing romantic relationships with four heartthrobs. They are: Li Zeyan, a young founder and CEO who's tough on the outside but soft on the inside; Bai Qi, a special force police officer who always makes women feel protected; Xu Mo, a genius scientist with both ultra-high IQ and EQ, and Zhou Qiluo, a pop icon who's sweet, gentle, and carefree. All four will fall in love with no one but you. What's even better: You don't have to choose between them. 
Of course, it's not all taking and no giving; you'll need to spend some "purple diamonds" to go out on dates with your virtual boyfriends. And in order to keep your studio running, you have to keep producing high-quality shows using "bonding cards" of different rarities that increase your company's key advantages like "decision-making" and "creativity." Both the diamonds and the cards are given as rewards when you accomplish a mission, but you can always get them much faster if you are willing to pay real money for them.
Love and Producer is in essence a "visual novel," an interactive game genre that originated in Japan in the 1990s. In a visual-novel game, players simply need to tap the screen to keep the narrative moving forward. Along the way, they need to make choices, which will lead the story to different directions. Players will also receive phone calls from their boyfriends, but can only reply to them via text from a list of prepared responses.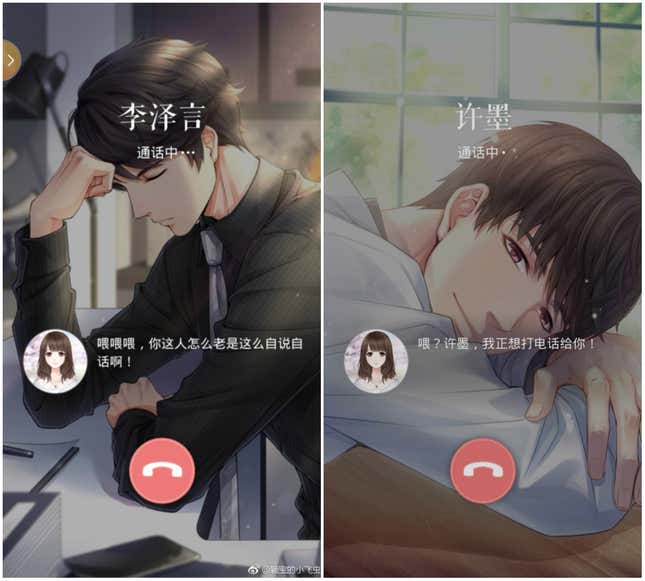 Another element loved by fans is that all four male characters have their respective superpowers. For example, Li, the CEO, is able to freeze time, and Bai, the police officer, is able to control the wind and fly in it. (One of Bai's most romantic quotes is, "As long as you are in the wind, I can feel you.") The idea is borrowed from popular Korean TV dramas like "My Love from the Star," which tells the story of a starlet who falls in love with an alien.
Love and Producer was developed by Pape Games, a female-focused gaming firm based in Suzhou, a city near Shanghai. The company's last hit was Miracle Nikki, a fashion game launched in 2015 where players have to unlock fancy clothes, shoes, and hairstyles for the female protagonist. Pape Games didn't respond to a request for comment for this story.
"Simulation and character collection are popular feminine game themes, especially when potential love stories are added as the plot develops," says Turian Tan, a gaming analyst with research firm IDC in Beijing. "Female players are especially active within mobile games which are easy to operate, relaxing to play, and have more feminine content."
Love and Producer's success also underscores how women are becoming the new driving force in China's mobile gaming industry, and not only in "feminine" games. Women, for example, outnumber men in games such as Tencent's battle arena game Honor of Kings. Tan also notes that more games inspired by Japanese anime and comics have been released into the market, since they are a big draw for female gamers. "We can see a clear trend where the number of female gamers is increasing over the past few years," he says.
For a sign of how crazy female gamers are over their imaginary boyfriends, fans of Li, the time-freezing CEO, recently bought a $39,000 ad on an LED banner on a Shenzhen skyscraper to wish him happy birthday. They even left a postscript to him on the screen: "Don't be surprised, we bought it with your black card."