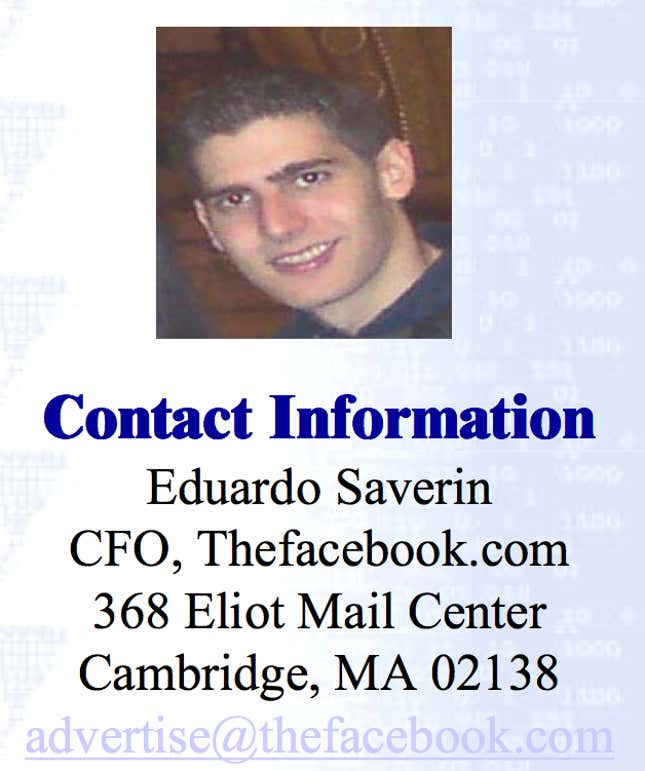 Add this to the annals of internet history: Facebook's presentation for potential advertisers in April 2004, just two months after the nascent social network launched at Harvard University.
Digiday earlier today published a similar slide deck from October 2004, which led us to this one from half a year prior. Mike Grynbaum, now at the New York Times, dug it up from his reporting back in college. Facebook, then still known as thefacebook.com, said at the time that it just needed enough revenue to cover costs like additional servers as the site grew from Harvard to other campuses. This was its first attempt to sell ads.
"We're not out there to make money from advertising," Chris Hughes—then Facebook's spokesman and now, among other things, the publisher of the New Republic—told Grynbaum in May 2004. (Facebook, now a public company, made $1.6 billion from advertising in the second quarter of this year.)
The April 2004 ad sales effort was led by Eduardo Saverin, who would later sue Facebook co-founder and CEO Mark Zuckerberg to retain a stake in the company. In the presentation, Saverin describes himself as the chief financial officer and lists an on-campus address in Harvard's Eliot House. Listed ad rates were as low as $1 per 1,000 impressions.
Here's the entire presentation: