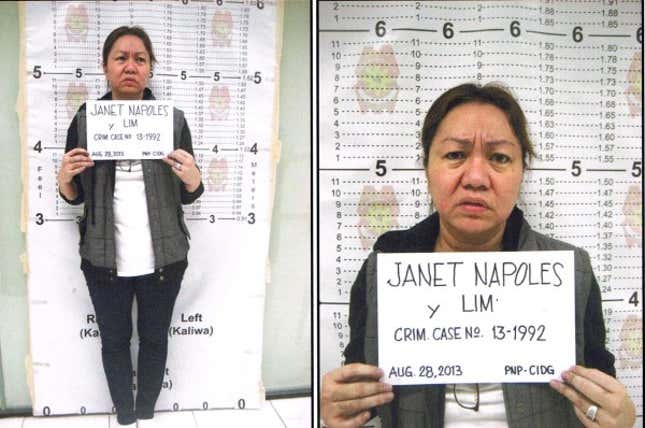 It's been a busy summer for corruption scandals, with dirty businessmen and politicians under fire in China, India, Spain and the United States, but the saga of Janet Lim Napoles may trump them all. The Filipina businesswoman surrendered to her country's president, Benigno Aquino III, on Wednesday night after a nationwide dragnet, ending a months-long drama that included billions of Philippine pesos allegedly siphoned from the national treasury, displays of luxurious excess by Napoles's 21-year-old daughter, and a march by hundreds of thousands of Filipinos protesting the country's long, tortured history of corruption.
Napoles turned herself in after Aquino offered a 10 million peso ($224,000) reward for her arrest in the kidnapping of Benhur Luy, a distant cousin of Napoles and also her personal assistant. According to Luy, Napoles kidnapped him on suspicion that he wanted to replicate her scam, which involved the creation of some 20 non-governmental organizations (NGOs) that were the beneficiaries of billions of pesos in pork-barrel government contracts that are authorized by legislators with little oversight.
Rather than carry out the work they were contracted for, the NGOs transferred the cash to Napoles in luggage and duffel bags that were piled in her condominium, according to affidavits by Luy and other whistleblowers. Some of the proceeds were allegedly transferred back to the legislators who approved the programs in the first place. Five senators and 23 representatives named by the whistleblowers—including senator Ferdinand "Bongbong" Marcos Jr., the son of the late dictator—have denied any involvement or knowledge of the scheme.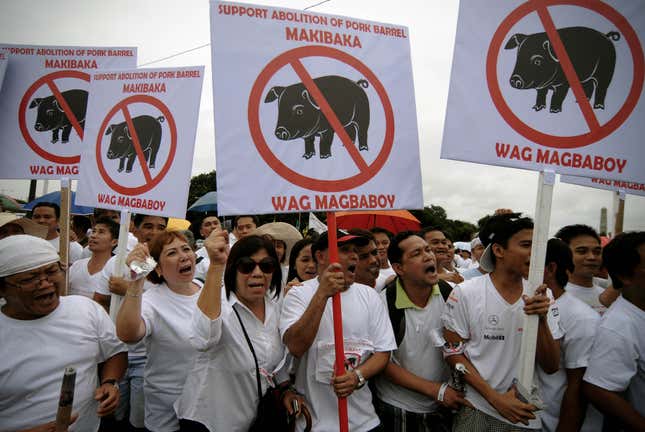 The downfall of Napoles has certainly invigorated the public about corruption. Citizens took to the streets this week for a 70,000 person anti-corruption rally. Begnino Aquino, the son of former president Corazon Aquino, whose 1986 "People Power" revolution toppled the elder Marcos, has vowed to take on the country's entrenched culture of corruption. Securing the personal surrender of Napoles is a undeniable sign that he's made some progress.