Most urban transportation experts agree that people will have to stop driving their own personal cars and move to shared vehicles if cities are to cut congestion. But driverless vehicles moving around by algorithms won't be enough. To get cities efficiently transporting people around, they will need a centralized system that incorporates and coordinates data across bike-share, ride-share and car-share companies.
Several companies are already working on such systems. Ford recently announced its Transportation Mobility Cloud, and Deloitte is collaborating with the World Economic Forum to create a "seamless, integrated mobility system." Now Alphabet also wants in. On Thursday (Feb. 1), Alphabet's smart cities division, Sidewalk Labs, announced a new company called Coord dedicated to creating this centralized platform. Coord spun out of a different Sidewalk company, Flow, that launched in early 2016 to help cities tackle transportation challenges.
Alphabet's entrance into urban transportation with Coord illustrates how tech companies are increasingly determining how cities operate. Aside from purchasing office space for their employees, they are influencing city's digital infrastructure upgrades through their data collection, management, and analysis services. As US cities seek private investment to participate in US president Donald Trump's speculated infrastructure plan, cites will likely rely even more on tech companies for digital and physical upgrades.
Coord's CEO, Stephen Smyth, said Coord is currently building a data library to help cities better manage their traffic. It offers real-time dynamic toll prices for 85% of US tollways, which it aggregated and standardized from different public and private sources. It's also working with cities to digitally map on and off-street parking, so they can better allocate curbside space to meet demand.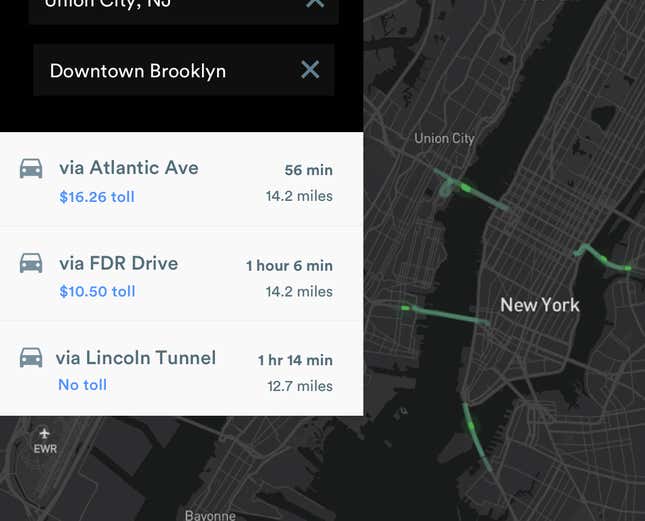 The data, however, can only help commuters if a third-party app developer chooses to plug into Coord's data library. Coord currently is working with Google Maps to pilot a feature in Seattle and San Francisco that helps commuters find parking spots with its real-time parking data. It's also building partnerships with other navigation apps and aims to eventually offer real-time data for bike-share price and availability as well as for other transportation services.
Coord's data could unlock a suite of navigation app features that would create a more coordinated transportation network. Commuters would see a much more comprehensive list of transportation options and their costs—much in the same way Uber, Lyft, and transit are currently integrated into Google Maps—plus a recommendation for which combination to take. If they chose a private or shared car, their driver would know the nearest available drop off spot to their destination.