Critics proclaimed Justin Timberlake's Super Bowl halftime show a lackluster, sonically messy dud.
For Nike, it was a win.
To the 100 million or so Americans who likely watched the performance, it was impossible to miss Timberlake's pristine white Air Jordan III sneakers. They noticeably popped against the black backdrops and Timberlake's dark camouflage outfit, created by designer Stella McCartney (paywall), drawing eyes as they danced around for several minutes on screen.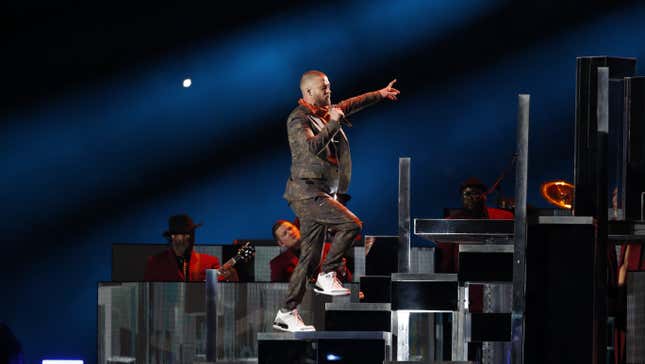 According to Apex Marketing Group, an advertising and branding consultancy that estimates the value of product appearances on TV, that exposure was worth about $2.86 million in marketing to Nike, owner of the Jordan brand. It bases its estimates on a variety of factors, including how big the brand logo is, where it appears on screen, and how long it's visible. Compared to the more than $5 million Nike would have had to pay for a 30-second Super Bowl ad this year, that visibility was probably a bargain—particularly as Nike is trying to reignite interest around its Jordan shoes.
Timberlake can't move the sales needle singlehandedly for Jordan brand. Still, he is playing his part in Nike's bigger marketing scheme around its subsidiary. Timberlake's choice of those Jordans wasn't coincidental; they are part of a line he collaborated on with Nike design legend Tinker Hatfield.
It's not clear whether he was paid in some form to wear them for the show specifically, but he likely stands to benefit himself from promoting a collaboration with his name on it. (We've reached out to a Jordan brand representative  and will update this story with any reply.) The $200 shoes went on sale via Nike's SNKRS app immediately following halftime. They sold out right away.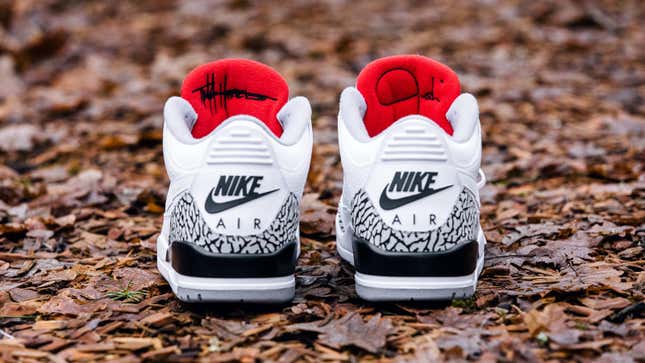 Historically, Nike has been nothing if not a shrewd marketer. "We've come around to saying that Nike is a marketing-oriented company, and the product is our most important marketing tool," Nike cofounder Phil Knight told the Harvard Business Review in a 1992 interview. The company has in the past used similar tactics to highlight its products.
At the moment, it happens to be working to restore Jordan brand's cachet. While Nike overall remains number one in the important US market, Jordan recently lost its long-held number-two spot to Adidas. Its shoes have become too ubiquitous, hurting the exclusivity that made them some of the most sought-after in the sneaker world for decades. In 2018, however, the brand said it plans to correct that problem by "proactively managing the exclusivity of specific iconic styles."
The Timberlake shoes are based on the original Air Jordan III, which celebrates the 30th anniversary of its debut this year, and they're tweaked to incorporate influences from Timberlake's new album, "Man of the Woods." The particular pair Timberlake wore last night (Feb. 4) had a reflective swoosh to catch the lights during the show.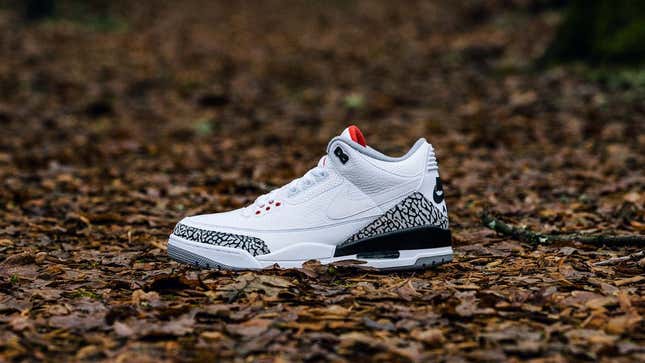 Timberlake has been promoting his Jordan line in other instances, too. He wore a pair in the rehearsals for his halftime performance, at a press conference about the Super Bowl, and he's been plugging them on his Instagram account to his many followers. During his upcoming concert tour, Nike will release more versions of the shoes. Whether or not the tour fares better than Timberlake's halftime show, Nike's marketing machine is at least running smoothly.