India's currency may be floundering but its smartphone market is on fire—sales have nearly tripled in the last year, led by the local upstart Micromax, which is nipping at the heels of Samsung for market share dominance. Micromax now commands a 22% market share, up from 18.8% in the first quarter. Samsung's share has slipped to 26% from 32.7%.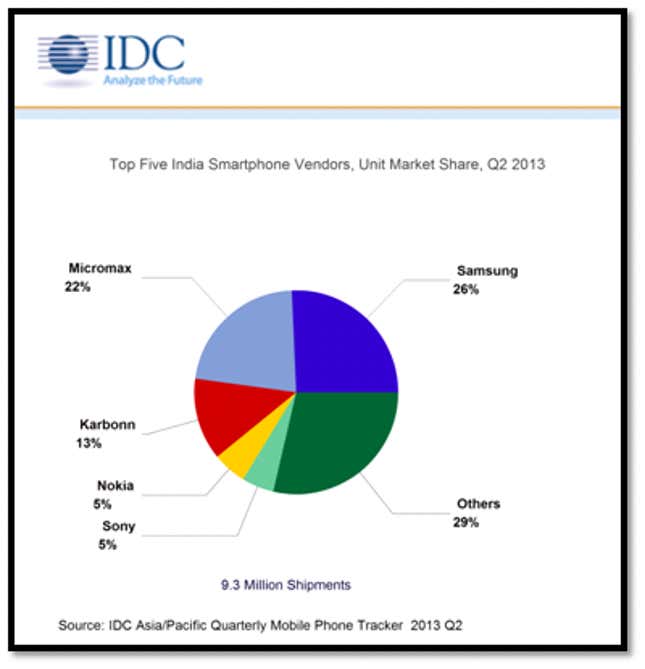 The scenario that is playing out in India—initial dominance by foreign brands like Samsung and Sony, which is quickly eroded by homegrown manufacturers like Micromax and Karbonn—is eerily similar to the dynamic seen in China, where Samsung and Apple had an early advantage that is being steadily erased by Huawei and Lenovo.
Other companies that fit a similar mold include Coolpad in China, Smartfren in Indonesia, Ninetology in Malaysia, Cherry Mobile in the Philippines, i-Mobile in Thailand, and Q-Smart in Vietnam, as IDC noted earlier this month. There is plenty of money on the table: emerging market sales are expected to surge from 400 million units in 2013 to 749 million in 2017.
In India's case, the trend will be accelerated by the country's currency woes, which are making foreign imports much more expensive—the rupee has declined by nearly a third in the last six months. But even without foreign exchange fluctuations it could spell bad news for companies like Samsung and Apple, which derive huge portions of their profits from smartphones, yet have largely saturated their existing markets and are facing increasingly intense domestic competition in new ones.
Micromax, now within shouting distance of becoming the top smartphone maker in the world's largest market after the United States and China, at first glance bears some similarities to Xiaomi, the Chinese firm that drew attention this week by poaching a top executive from Google's Android division, which makes the operating system used by some 80% of the world's smartphones, including Samsung and Micromax.
Like Xiaomi, Micromax's top-of-the-line phones are significantly cheaper than the premium-priced handsets from Apple and Samsung; its newly launched Canvas Doodle 2 phablet sells for Rs 19,990 ($300). (It also has a gimmicky "blow-to-unlock" feature.) The company has bet heavily on the super-size phones known as phablets, which now make up 30% of the Indian smartphone market. "[G]iven the growth we are seeing in the phablet category (Canvas series), we are aiming to be the top player by Diwali, which is Q3," Micromax co-founder Rahul Sharma told the PTI news agency.
Market research firm IDC said that India's second-quarter smartphone sales nearly tripled to 9.3 million, from 3.5 million a year earlier, led by devices with super-sized screens of five inches and bigger. These so-called phablets now make up 30% of the Indian smartphone market.
If there's anything standing in the way of Micromax's march to dominance in India it might be the lack of a charismatic executive at the helm, a la Xiaomi's Lei Jun, often called "China's Steve Jobs." Rajesh Agarwal, the co-founder and managing director of Micromax, was forced to resign at the beginning of August after he was arrested for attempting to bribe municipal engineers to obtain approval for the construction of a banquet hall. The incident could derail the company's anticipated IPO; it is backed by private equity firms Sequoia Capital, Sandstone Capital and Madison India Capital.