From Euclid, we know that the shortest distance between two places is a straight line. But it isn't necessarily the cheapest, especially if you are in East Africa—the hardest place in the world to move stuff around by land, according to the African Development Bank.
East Africa's transportation nightmare is putting a damper on one of the biggest oil and gas bonanzas on the planet. Multinationals are starting a gigantic infrastructure buildout to develop enormous natural gas finds in Mozambique and Tanzania, and oil discoveries in Kenya, Somalia and Uganda. But first the companies must get what they need in place.
Say you want to move a bit of cargo from Singapore to Uganda. You'll probably ship it through Malaba, a Kenyan town on the border. If you start today, you will wait 37 days, according to a study by the bank: 19 days for the 4,450-mile ocean journey to the Kenyan port of Mombasa, then a staggering 18 days for the 590-mile overland leg to Malaba.
The choice of ports matters. If you are looking to ship some cargo into the Burundian capital of Bujumbura, will you do it from Mombasa or the Tanzanian port of Dar es Salaam? Though Dar es Salaam is closer by a hair (890 miles versus 938 miles to Mombasa), the latter will be far less expensive—about $220 per ton versus about $400 a ton through Dar.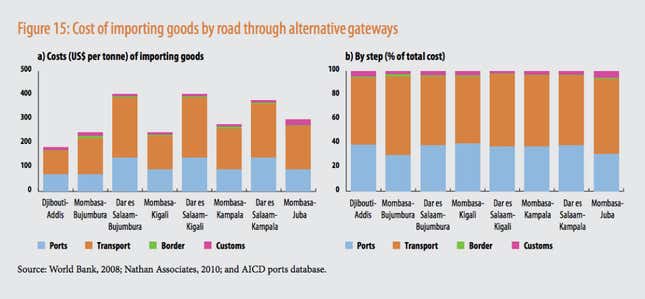 Some of the problem is the time required to figure out how much to bribe the roadside and border officials. But the largest single delay is a bottleneck in the ports themselves—for more than half of the 18 days from Mombasa to Malaba, for instance, the cargo will be just sitting in the port.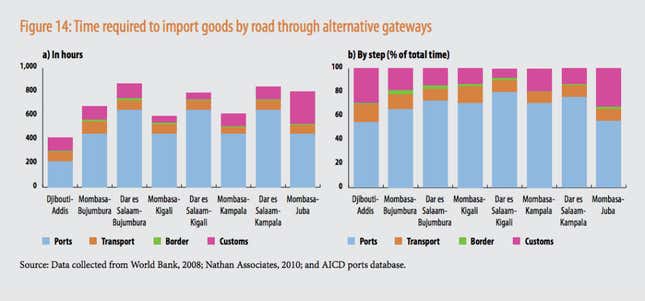 Kenya and Tanzania are in competition at the moment for dominance of East Africa's shipping and infrastructure boom. Kenya is building up Mombasa with a $320 million upgrade and planning a $13 billion railroad connector to Uganda and Rwanda. Tanzania has allocated $10 billion for a new port at Bagamoyo, north of Dar es Salaam. First, of course, they'll need to ship the building materials—just like everyone else.